Once, two weeks after a relationship ended, I went to see My Sister's Keeper because I had actually become a little bored of the object of my tears, but even still, all I really felt like doing was crying. It's the standard aftermath of a breakup: tears, tears, and still more tears. No one has studied exactly how long people tend to cry over a broken heart, but Ad Vingerhoets, a psychologist at Tilburg University in the Netherlands, has come close. One of the world's leading experts on human tears, he's surveyed about 5,000 young adults, asking two simple questions: How long was your last crying episode? And what emotions triggered your tears? He shared the results with me in an email: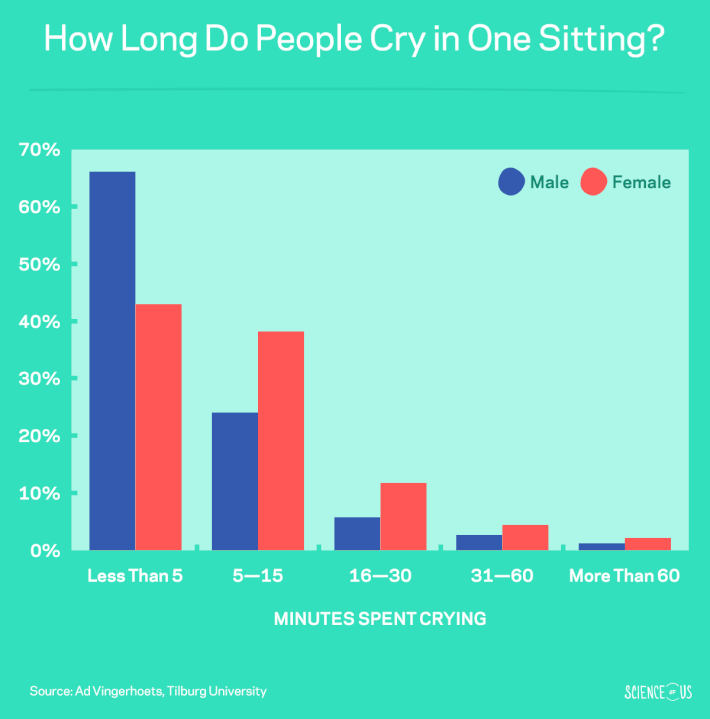 Overall, not surprisingly, men's crying bouts tended to be shorter than the women's (or, at least, they said they were). Most of the guys who answered Vingerhoets's survey said that the last time they cried, they did so for five minutes or less. Likewise, most of the women also said their most recent crying episode lasted five minutes or less, but more women admitted to longer sessions than the men. Some of us are crying for more than an hour at a time. Which is a lot of Kleenex.
For men, the longer crying durations were associated with fear, humiliation, and frustration; for women, longer crying spells were also linked to fear and humiliation, but guilt instead of frustration. Happy tears, on the other hand, tended to result in the shorter episodes. Vingerhoets added in an email that earlier research has found that crying is most often caused by feelings of helplessness; he called this emotion the "core of crying," and, well, he should know.