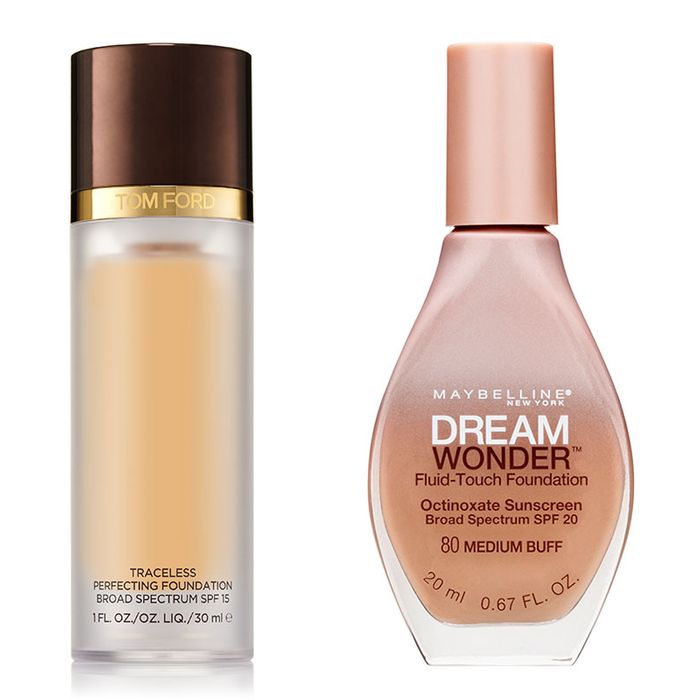 Finding a new foundation is a lot like finding a new lover — both require time, little tests, and trials of commitment. So when several new formulas launched this fall, senior market editor Diana Tsui and I decided to do a little round of foundation speed-dating: We would each test the same eight foundations in different shades, and record our results. (We both have oily skin; Diana's complexion resembles Liu Wen's, while my skin color looks more like Kerry Washington's.) We tried the new selections from Tom Ford, YSL, Maybelline, Clé de Peau, Laura Mercier, Dolce & Gabbana, Lancôme, and Kevyn Aucoin, each of which offer different variations of skin-evening formulas that provide medium to full coverage for a range of skin types. Click through the slideshow for our take on the latest foundations — and how to pick the best one for your skin.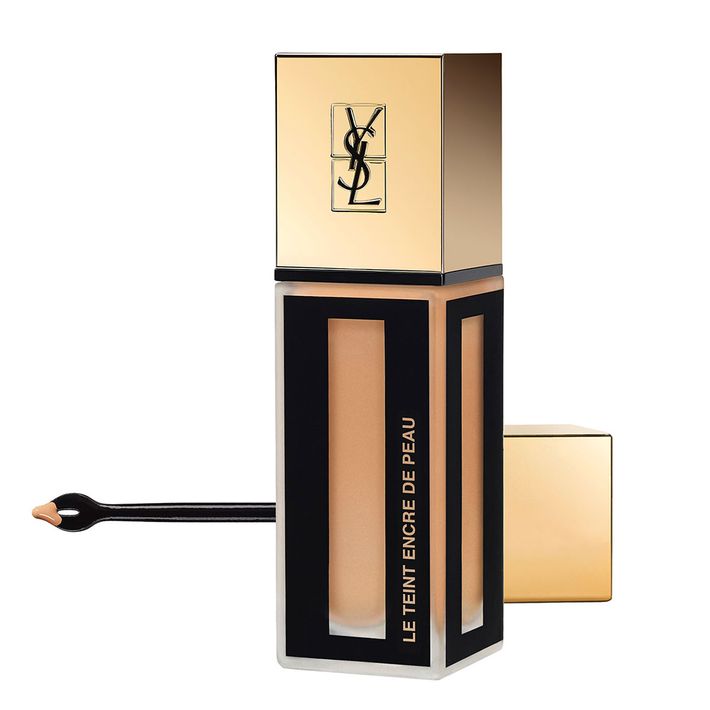 The Best for Oily Skin: YSL Fusion Ink Foundation
Ashley: YSL's Fusion Ink Foundation comes equipped with a handy application wand. It dries to a satin, almost mattelike finish. The formula carries a scent reminiscent of Gap's Grass, smelling earthy but fresh. On the coverage scale, Fusion Inks falls somewhere in between light to medium, but it somehow looks just like an extension of my own skin. Diana: I call this the fancy version of the Maybelline foundation — similar in concept though definitely more luxurious. My complexion looked perfectly matte, even toward the end of the day when my eyelids normally turn oily, making this the clear winner for oily-skin users.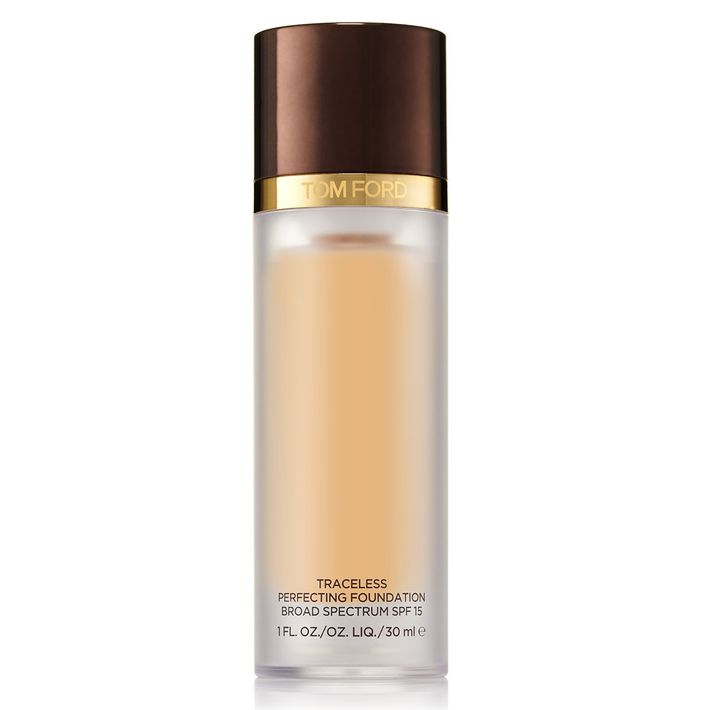 The Best For Coverage: Tom Ford Traceless Perfecting Foundation
Ashley: This was the thickest foundation in the bunch. It took a few trial runs before I could realize its potential. Because it's on the creamier side, it conceals dark spots and discolorations really well. The formula is ideal for those with dry skin, although my oily skin learned to behave with the help of a matte primer and finishing powder. Out of all the foundations I tested, this made my skin appear the smoothest. Diana: If you're talking about luxurious, fancy foundation, this is the gold standard. The formula is rich and managed to cover a dark acne scar on my cheek. Like Ashley, I did need to set it with a dusting of powder because it was a tad too dewy for my skin.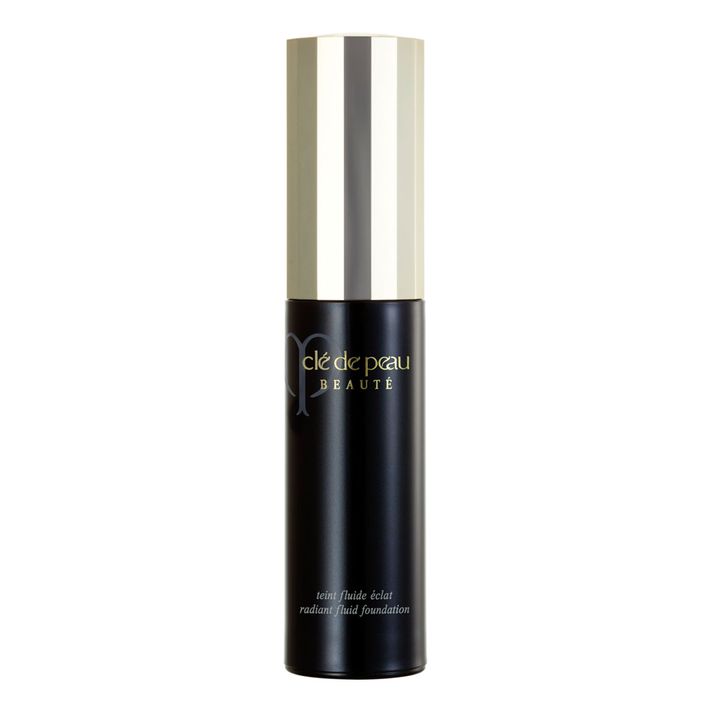 Best for Dry Skin: Clé de Peau Beauté Radiant Fluid Foundation
Ashley: This is a dewy foundation that sunk into my skin like a fancy moisturizer. It covered minor imperfections and didn't turn my oily skin into a greasy mess at the end of the day (which was a welcome surprise). But I was disappointed when even the darkest shade was too light for my skin tone. As the foundation proclaims, my skin did appear radiant, though that radiance was offset by my ghostly white complexion. Diana: On a particularly cold and dry day, I tried this foundation and it melted nicely into my skin. It almost served as a layer of protection for my skin, which was much appreciated. This is strictly a winter formula for me, as it would be too dewy come spring and summer.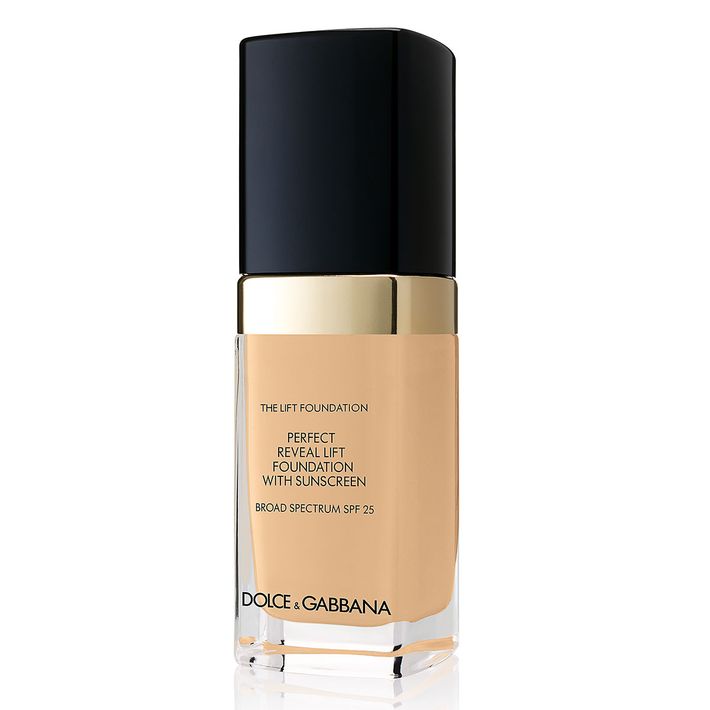 Best for a Dewy Complexion: Dolce & Gabbana The Lift Foundation
Ashley: Full disclosure: I am not the ideal candidate for a wrinkle-smoothing foundation, though that didn't stop me from giving Dolce & Gabbana's the Lift Foundation a whirl. The formula spread easily and proved adept at light to medium coverage, which made my morning makeup session go swimmingly. Diana: I use a sunscreen religiously, but it's always nice to have extra SPF in my foundation (this has SPF 25). I found that it spread nicely and offered medium coverage. I tend to use it on my cheeks where I have mild scarring and drier skin along with the start of some fine lines. Overall, it reminded me of the Tom Ford Foundation, making it the ideal choice for naturally dewy-looking skin.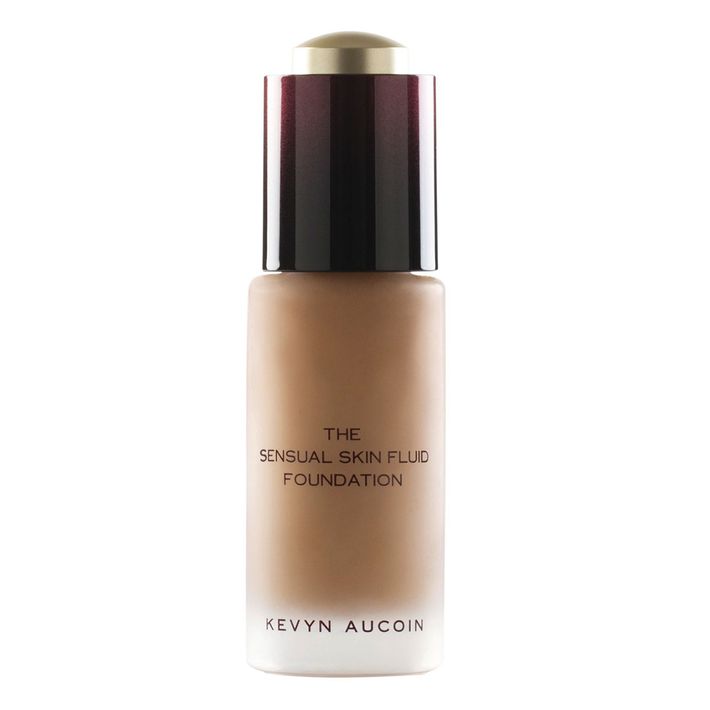 Best for a Natural Finish: Kevyn Aucoin The Sensual Skin Fluid
Ashley: When I first saw the Sensual Skin Fluid, I was concerned. In the bottle, the foundation appears pink — but on my face, well, that was a different story. The formula was especially thin — almost like a serum — and absorbed like a serum as well. Yet, despite its super-thin consistency (which would make a perfect summer makeup option), the foundation covered blemishes and dark spots with the same intensity as the heavier formulas. Diana: I was incredibly wary of this formula due to its pink hue and strong perfumed scent. But once I shook it up and used the dropper applicator on my skin I was sold. It blended in flawlessly and felt like I was wearing nothing at all, with a satinlike finish.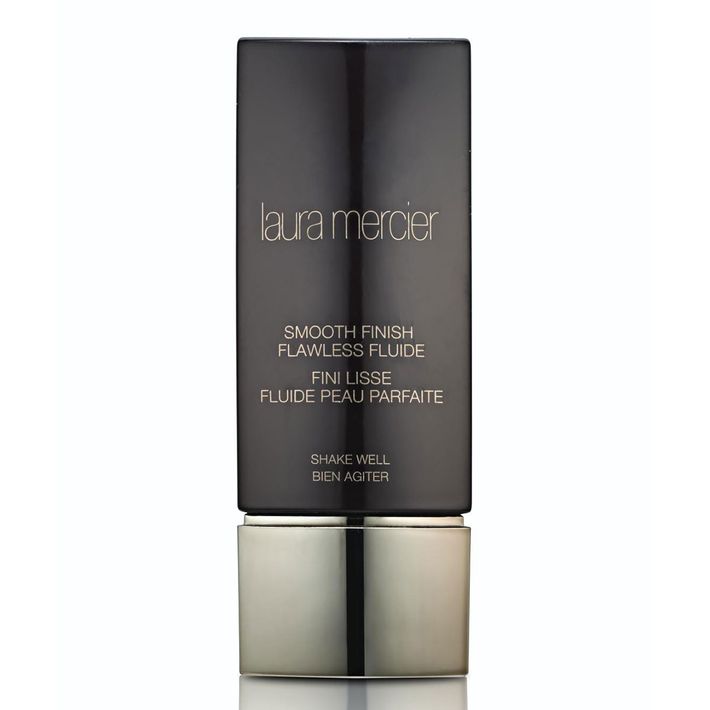 Best for Prolonged Use: Laura Mercier Smooth Finish Flawless Fluide
Ashley: Laura Mercier's new foundation claims to produce a smooth and flawless finish, and thankfully, it does. Like Aucoin's foundation, this one was supremely thin, though that did not negate the formula's ability to cover minor imperfections. I was particularly impressed with the foundation's staying power — it lasted an entire day without sliding down my face. Diana: The tricky thing with ultraliquid-y foundations like this one and the Kevyn Aucoin is that they tend to dribble down your face when you squeeze them out. I tilted my head backward to apply and quickly blended after I learned the hard way about errant makeup dropping on my clothes.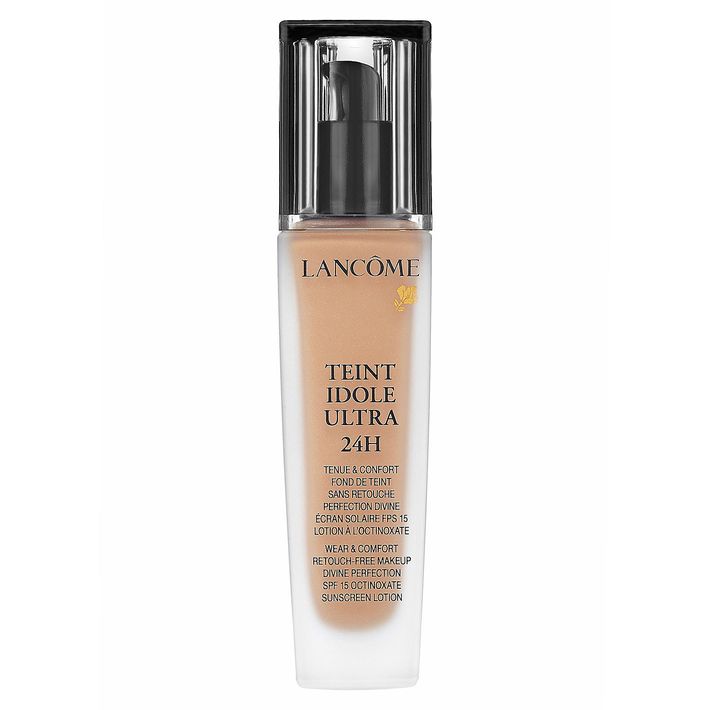 Best for all Skin Tones: Lancôme Teint Idole Ultra 24H
Ashley: In terms of consistency, Lancôme held middle ground: It was thinner than the Tom Ford and Dolce & Gabanna, but thicker than Maybelline and YSL. I can also appreciate that the foundation is available in a wide range of shades. The 24 hours of use the foundation professes to deliver will remain a mystery to me, as I typically remove my makeup by hour 16. Diana: With its slightly dewy finish, I found that this version didn't last the entire 24 hours on my oily skin. If anything, by 5 p.m. I required a touch-up along with a second dusting of powder. This would be a better option to use during the coldest days of winter, when my skin is at its driest, and not during late fall when I still manage to shine.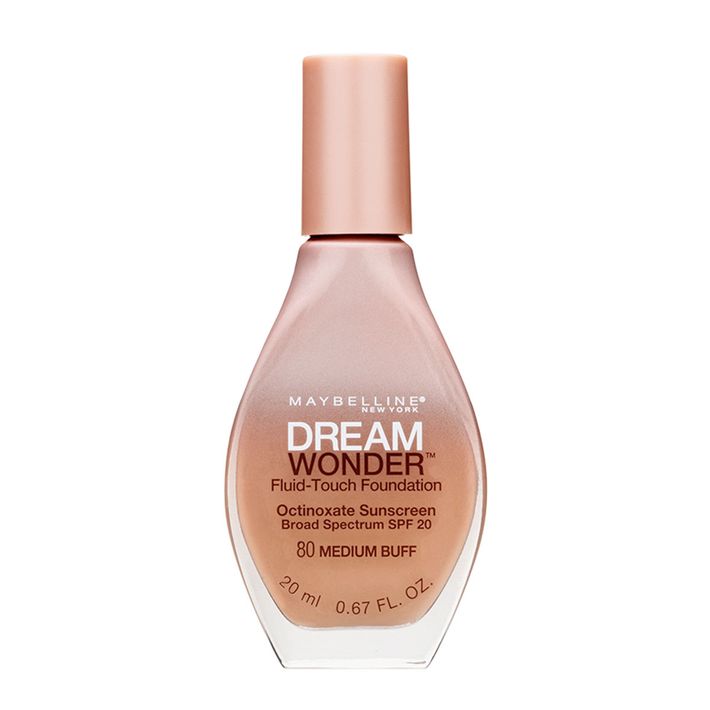 Best Overall: Maybelline Dream Wonder Foundation
Ashley: I think my biggest pet peeve about liquid foundations is that they always get all over my hands — a terrible tragedy given that all of my towels are white. The wand in Maybelline's Dream Foundation makes it easier (and cleaner) to apply the water-thin formula. The foundation carries a medium to full coverage and dries to a satin finish. It kept my oily skin at bay all day — is this why Maybelline calls the foundation a dream? Diana: I'm usually skeptical about drugstore foundations and their ability to match my skin tone. But, out of all the ones we tested, this was actually the bottle I reached for the most. Not only did the color blend in perfectly, it also created a flawless face. A word of warning: There may be some bit of alcohol in the formula, as I dotted it over an open blemish and it stung like hell, so use carefully.