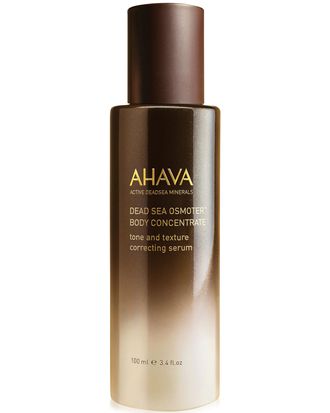 I've started to layer. Not the kind of layering that involves jackets, turtlenecks, and scarves, but the layering of my skin-care products. I begin each morning by applying a body serum called Ahava's Dead Sea Body Concentrate after I shower. Its label promises that it will "even tone, promote radiance, refine texture, and hydrate" — frankly, a big claim for a bottle that's just shy of four ounces.
I slather it liberally over my stomach, arms, and legs, paying careful attention to areas that require special care, like the stretch marks on my hips or the rough patch on my knee. The concentrate is a viscous, fragrant formula that renders skin dewy and soft after application. It dries quickly, creating a smooth foundation for a body moisturizer to follow.
Six weeks with Ahava's Dead Sea Body Concentrate has improved my skin. My arms appear to glisten, and the texture of my skin is smoother and softer, like the kind of skin one would achieve after ten days in Barbados. Although a body serum is a (seemingly annoying) extra step in any morning routine, this one, at least, is worth the precious extra minutes.
Ahava Dead Sea Osmoter Body Concentrate, $45 at Ulta.