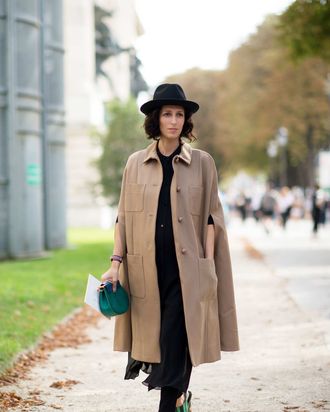 Photo: Youngjun Koo/I'MKOO
In recent years, the cape — a short, sleeveless, cloak — has emerged as a potential solution to the ongoing problem of winter dressing. Fashion media deems them chic and cozy, snuggly but still a silhouette. A cape (according to the cape-mongers) says, "I'm cool and warm under here." That is a lie. One I fell for, hard. On the contrary, the cape-wearer is just as impractical as the woman shivering in a bandage dress and fracket outside a club on New Year's.
My cape is vintage Pendleton, made of wool in bright-red plaid. It has blue buttons up the front and matching trim on the collar and the two vertical vents, which, in lieu of sleeves, allow my hands to escape (ideally into a furry hand-muff) as long as my elbows are tucked into my waist at right angles. I bought it a few years ago at a thrift store in Milwaukee. It was only $50 and it was the cutest thing I'd ever seen. I didn't understand how anyone could have given it up, until about two days later, when I understood completely.
The first reason is that a cape really messes with your purse situation. Tote, backpack, hobo, bucket bag — anything that hangs off your shoulder — is rendered useless by the cape. It all but forces you to acquire a status satchel and display it hanging off your wrist in a perpetual bicep curl.
Another thing the cape-mongers won't tell you is how radically the garment limits your movement. I thought winter was oppressive, then I tried not having sleeves. I believe there are more functional capes out there, but this particular design flaw has been replicated in new capes by Saint Laurent, Ralph Lauren, and Mango. Here's an incomplete list of things I couldn't do in my cape: swipe a credit card, sip coffee without spilling, open a car door, reach the subway handrail, shake a hand, give a hug. (On the other hand, I also could not swipe a credit card, light a cigarette, or pick at my face.)
And hands, I soon learned, are good for more than spending money. They also serve a stabilizing function in human locomotion. When you swing your arms in the opposite direction of your legs, you balance the rotational motion caused by walking; and, should walking fail you, your arms will break your fall. Unless they're trapped inside a plaid bell jar. Now add three cups of grog, wintry mix freezing overnight on the sidewalk, and low-heeled oxfords. (Capes look weird with flats!) I have never eaten more shit — cold, hard, frozen shit — than the holiday-party season I tried to make my cape work.
It now strikes me as irresponsible for the American Girl doll company to suggest that Victorian-era-girl Samantha could have feasibly ice skated in this winter-cape ensemble. The only safe activity for cape wear is standing very still, ideally for a street-style photographer. But it's not warm enough for more than a half-hour outdoors, if it's below 30.
I tried my cape on for the first time this year today and noticed that the seam at the top of the right arm vent is ripped from past winters' attempts to live my life inside the cape. I was ready to put it away permanently, when the man I'd spent the night with told me I looked like I'd stepped off a runway. When I got to the office, my boss told me I looked like a true fashion girl. Another colleague noted merely that I look cute today. Then I spilled scalding coffee all over myself. I effing hate my cape.