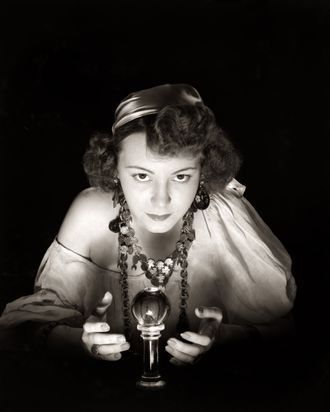 Photo: H. Armstrong Roberts/Getty Images
Last February, I visited a small house in New Orleans's Irish Channel where I had been told there were costumes for sale. It was a charming old house that smelled of cat, and was filled with all manner of costumes and accessories, glittery robes and wigs and headpieces, many of them vintage and gussied up for parades and parties. The place was a gold mine.
I'd never really been one for dressing up in costume (it's enough work being me as it is, let alone anyone else), but this was Mardi Gras season in New Orleans: If costumes weren't necessarily mandatory, they were highly recommended. I put on a silver lamé turban with a jeweled pin at its center and a woman next to me said, "You should buy that, it looks great on you." So I did. When I got in my car I put it on again and looked at myself in the mirror. "I'm a psychic," I whispered. I wore it the whole way home.
A week later, I went downtown for one of the early Mardi Gras parades, the Krewe du Vieux. I had been studying palm reading all week. It was not enough to merely dress as a psychic. If you're going to do this, do it right, I told myself. Now I could passably bullshit a few things. For example, I could identify the four major lines: love, head, heart, fate, and had a basic sense of how to interpret certain breaks and curves in the lines. I felt ready to become the person I never knew I was. For most of my life, I've been far too cerebral and analytical for my own good, more comfortable living an interior life. But what if I took my inside self and wore it outside?
Before I went to the first party of the night, I stopped for a poetry reading in the French Quarter at Faulkner House Books, held upstairs in the gorgeous private quarters once occupied by William Faulkner himself. The event was for a professor at Tulane who had recently published a new book, and I kept my turban hidden in my bag out of respect for the occasion. At the end of it, I chatted with a few of the older women in attendance and I showed them my hat. They oohed and ahhed over it. "I didn't want to be disrespectful by wearing it," I said. "Oh, honey," said one. "You could have worn it and no one would have noticed a thing."
Emboldened by their praise, I walked through the French Quarter, now proudly wearing my turban. Strangers complimented me on it. "I'm a psychic," I replied shyly at first, but by the time I reached my friend's house in the Marigny, I had convinced myself I was one. At the party many people were much more elaborately costumed than myself. In between bites of King Cake, I gave a few palm readings. And what I learned quickly was people were most interested in finding out about their love lines. (I don't blame them — me too.)
I also learned there was a way to shade everything in a positive light. People who had a love line that started in the middle of their hand technically fell in love too easily, but I told them they were romantics, overflowing with love. Wavy lines meant an excess of lovers, an absence of serious commitments. "Well, someone knows how to have a good time," I said enthusiastically. Straight, short lines meant they were less interested in love, but there's nothing wrong with that, is there, after all? "You're an independent woman," I whispered to someone. "You know what you want." At various times in my life I'd had a deeper understanding of all these states; I could spin it to them just as I'd spun it to myself.
Afterward, I wandered through the streets, following the parade, connecting with friends here and there, and dropping in on one more party at the house of three gorgeous men I know who are engaged in a polyamorous relationship. I gorged myself on Ro*Tel dip, made from Velveeta and served in a crockpot. I read a few more palms. Everyone got a good reading. Everyone was absolutely perfect at love. A friend texted me that she had joined a parade float on a boat being towed through the French Quarter, and she was making out with everyone else on the boat. "I'm being a psychic," I texted back.
On my way home, I ended up somehow in the back courtyard of a rum bar in the French Quarter, where I stood in line to use the bathroom. I was fully caught up in the decadence of the night and the spirit of the people on the street. I turned around to the woman waiting behind me in line, a pretty, petite, blonde woman with an immaculate blowout. "I'm a psychic," I said to her giddily. "I was hoping you were," she said. "I need your help."
"Tell me everything," I said.
"My fiancé just left me at the altar. We were supposed to be married tonight — we were coming from Colorado — and he just didn't show up."
I had her show me her palm. I squinted at it, ran my finger over her love line. It didn't matter what I saw. I knew what I was going to say.
"You don't need him," I said. "I can tell you that much."
"But I do," she said.
"I'm just telling you what I see," I said. "And also what I know. Any man who doesn't show up for his own wedding is not worth your time." I didn't have to be a psychic to know that much.
"But he's the nicest any man has ever been to me," she said. "He always spends money on me, buys me things, takes me on trips."
"But he didn't show up for your wedding," I said.
"I keep texting him, but he won't reply," she said. She looked down at her phone and frowned.
"You don't need him," I insisted.
"Maybe it's because he's European," she said.
"I can't help you," I said. "I thought I could, but I can't."
Mercifully, it was my turn for the bathroom. I said good-bye to her, but she was scrolling through her phone and didn't hear a thing. In the bathroom, I pulled off my turban and looked in the mirror, fluffed up my now-flattened hair. I couldn't make her feel better with my words. I couldn't free her heart. If she were a friend of mine I'd shake her by the shoulders, but she was just a woman I met in a bathroom line. That hat could only take me so far, I thought, glum for a second. It was when I really started telling the truth that my powers left me.
Still, I learned so much that night, dressing up as someone else; it was just one of the many lessons New Orleans has taught me. It had been bliss being the bearer of good news and wishes for strangers. And it had been the best sort of costume for me, one where the way I thought and what I knew was as much a part of my appearance as what I was wearing. At last, my interior life had been on the outside. All I'd had to do was put on a hat.