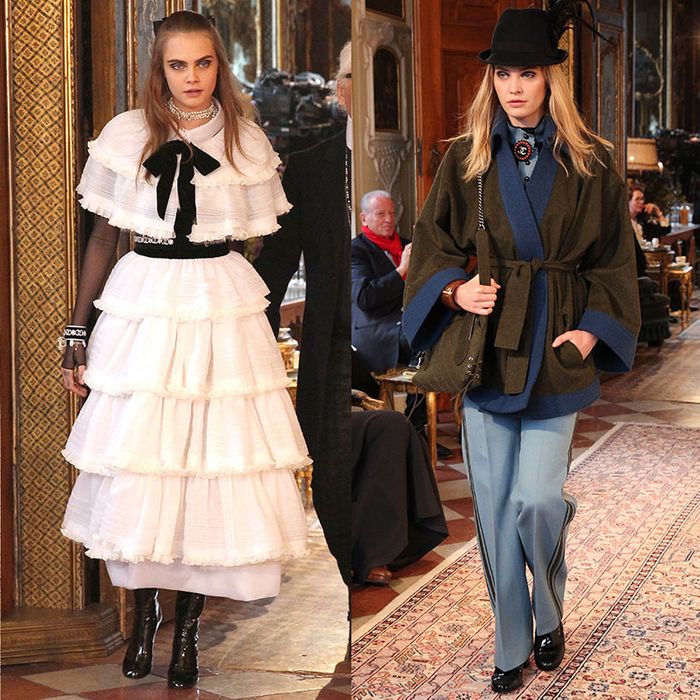 Karl Lagerfeld's riffing tends to get epic. In the LiLo era, he gave us the alcohol-monitoring ankle bracelet as status accessory. A few years later, our shared obsession with transparency brought 2.55s with their contents encased in clear plastic, for all to see. Most recently, when feminism with a capital F captured the cultural conversation, Karl was on the scene with a protest-themed show and a double-C monogrammed megaphone. The designer speed-reads culture — in fact, he has a habit of literally ripping the pages out of paperbacks the moment he's digested them — and spits back our zeitgeist.
Chanel's Métiers d'Arts collections could be considered travelogues, of a kind. Each is inspired by the sights and techniques of a different destination, whether that's Shanghai or Monte Carlo or Dallas. They're ideally suited to Lagerfeld's habit of digesting impressions of a culture and regurgitating his take in tweed. But with today's chapter, he came uncharacteristically close to getting personal. Lagerfeld set his pre-fall 2015 show a daylong drive from his birthplace of Hamburg, at a castle outside Salzburg, Austria. (The palace in question, Schloss Leopoldskron, was the setting for The Sound of Music.) The collection he presented recalled that heritage in the form of Lara Stone in an all-black dirndl, Audrey Marnay in earmuffs shaped like Heidi's cinnamon-roll braids, and everyone, down to little Hudson Kroenig, in loden coats. The lederhosen motif found its way onto H-shaped embroideries and even a bag in the shape of lederhosen — you have to open the "pants" to unlock the purse. Traditional embroidery, including the proverbial edelweiss and feathered Tyrolean hats, added to the rustic feeling. Kitschy? Sure, but in the best way.

Lagerfeld isn't the only designer to explore this Alpine terrain of late. For Givenchy spring 2015, Riccardo Tisci also took a Teutonic tack, but he used the traditional lacings and straps to bondage-y effect. Lagerfeld's vision was pure as mountain air, with a winking innocence to it. Cara Delevingne's all-white ruffled gown encapsulated the kind of wide-eyed (but of course not too wide-eyed) fräulein he was channeling.

There were enough house codes in the mix, however, to keep things thoroughly Chanel: tweeds, chains, and quilting naturally found their way into the goulash. (In fact, the inspiration is mutual — Coco's legendary tweed jacket was inspired by one she glimpsed on an Austrian elevator operator.) And as he is wont to do with these annual collections, Lagerfeld incorporated traditional French craftsmanship, from Lesage embroidery to feathers by Lemarié and millinery by Maison Michel.
Whether he's applying his scalpel to Dallas, Dubai, or the aisles of D'Agostinos, the designer is always looking for the core of Chanel in everything. In that sense, at least, he's a company man.