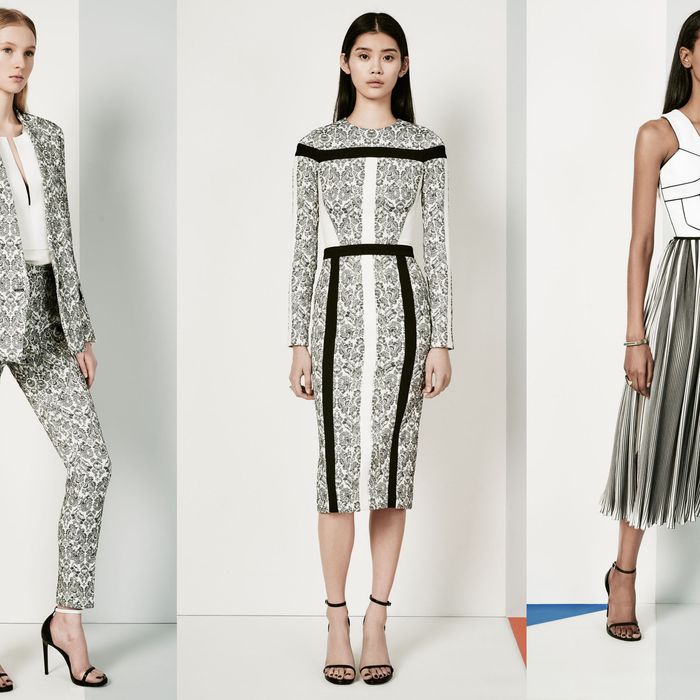 Photo: Christian MacDonald
It's hard to imagine Kimora Lee Simmons standing in front of her closet — well, actually, one of her four closets — struggling to find something to wear. But that's the predicament that inspired her new clothing line, KLS, which launches today.
"As I stood in my closet at 5 a.m. earlier this year," Simmons writes on her website, "running late for a flight and with a full day ahead of me, I felt defeated by a wardrobe of favorite pieces — the sequined gown, the cozy weekend sweater and stacks of jeans, the beachy dresses, the amazing red stilettos that only look right with a certain red suit and start to pinch after 20 minutes — that each fit a particular part of my life but none of which would get me through a busy Thursday."
KLS seeks to solve all that. In her 35-look pre-fall collection that she presented to a small group of editors in Chelsea on Friday morning, there are cinched-waisted dresses with peplums; a white, sleeveless dress with delicate pleats; businessy-but-still-fun separates with leather accents. The price point is high for a new brand (dresses range from $1,500 to $2,400) but, she says, it's geared toward professional women. The collection represents "where I am in my life," she says. "I juggle a lot of things; I have a lot of responsibilities. I want to throw on something and I don't want it to be too fussy."
It's a far cry from her BabyPhat days — there's nary a velour jumpsuit in sight — but Simmons says that her fashion comeback has been a smooth transition. "I love it," she told the Cut. "I've done crazy-big shows. I've done Radio City Music Hall, but now this is a departure from all that craziness. This is more intimate and a little more chic. You might have some preconceived notions, but what you see is very different." And, from the look of it, it suits her well.