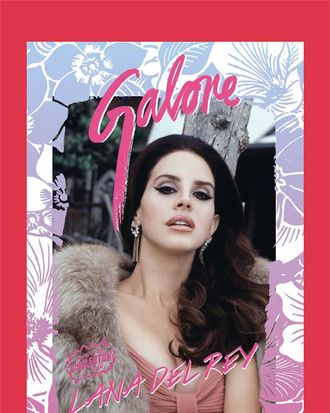 Photo: Courtesy of Galore
Sentient swoop of eyeliner Lana Del Rey is on the cover of Galore in all her pouty glamour. She was interviewed by her sister, Chuck Grant, who mentions that Lana would cover a whole wall of their New York studio apartment with "weird tropical backdrops from the Party City store" for an "amateur movie set vibe." There was lots of tinsel and an electric fish tank.
As a noted enthusiast of ironic imagery and decorative façade, Lana understands she is a source of image confusion. She says:
I choose to write about what I know … Sometimes when the things you say and the way you look don't add up people are quick to label you as an impersonator or feel like you're not entitled to the life experiences you've really lived. They're not deep enough to intuit.
Nonintuitive shallow life experiences are so frustrating, aren't they?