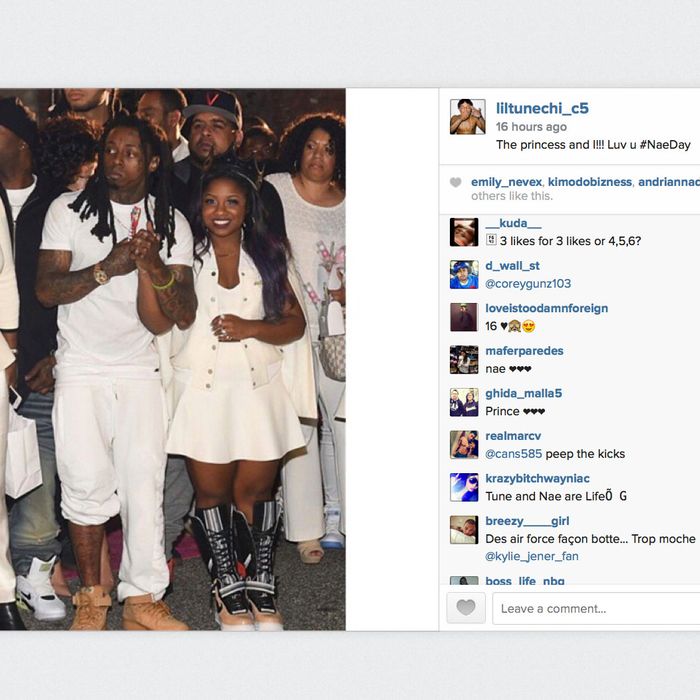 Photo: liltunechi_c5/Instagram.com
Remember that MTV show My Super Sweet 16? It featured privileged teens who stressed everyone out over their ridiculously expensive birthday parties, which included signature "mocktails," designer outfits, and, of course, the nail-biting sequence where we wondered if they would get their dream car. It was luxury porn starring humans who couldn't even qualify for their own line of credit yet.
But forget what you learned from your early exposure to underage decadence, because Reginae "Young Nae"  Carter, daughter of Lil Wayne, apple of Weezy's eye, had a sweet-16 party that transcended the idea of "super."
Young Nae chose to commemorate the ritual single-night journey from child to woman by going bigger than big. Nicki Minaj performed. She changed outfits a total of five times. She wore  a custom fur cape:
She also received two chariots to transport her into the realm of adulthood. A BMW and a Ferrari, because teenagers like options:
She received well wishes from all 700,000 of her BFFs and Twitter followers. Including a special "Aww, Dad" Instagram from her father, who is Lil Wayne.
All of her friends gathered around her in celebration. T.I. and Tiny came to bestow their gifts, as did Sean "Diddy" Combs, and the child of a Real Housewives of Atlanta star:
And to top it all off, she received a personalized video message from The-Game (who shares her birthday, but most likely had a much lamer party).
Happy birthday, Young Nae. This is what peak teen looks like.