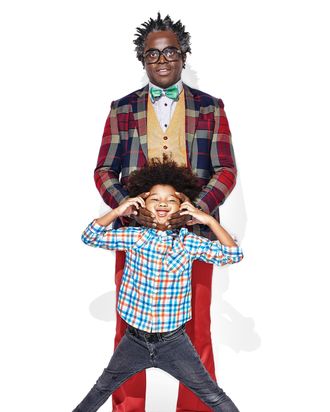 Josiah Esowe, Photographer, and Gaiden Tanaka-Esowe, Kindergartner
What are you guys up to today?
Josiah: I'm taking Gaiden to a photo shoot for the Mini Boden catalogue. He's been modeling since he was 4.
Gaiden: I like when they dress me up, but it hurts to smile because my tooth is hurting more and more—my wiggly one that's about to fall out.
Do you guys often coordinate your plaids?
Josiah: No, we don't—though we both wear a lot of colors. My jacket and pants were custom-made. My friends call my style "neo-vintage bespoke."
What are you all doing for the holidays?
Josiah: We're going to Thailand—I'm shooting a documentary about "ladyboys."
Gaiden: In Thailand, I'm going to go swimming, then I will brush my teeth, go to sleep, and then wake up, eat breakfast, and go to the beach again. I want to be a dinosaur when I grow up!
Josiah: That's a bit worrisome. I'll have to keep my eye on that.
Lightning Round
Neighborhood: Washington Heights.
From: Josiah: "Nigeria. I immigrated here with my parents when I was 12; we settled in the Bronx."
Last good movie you saw? Gaiden: "How to Train Your Dragon 2. I love Toothless!" Josiah: "Interstellar and The Homesman—they were both fantastic."
Favorite food: Gaiden: "Rice and beans, and quesadillas and pizza. With pepperoni." Josiah: "Egusi soup with ebà."
Best part of living in New York: Gaiden: "The park."
Least favorite part: Josiah: "The tourists."
*This article appears in the December 29, 2014 issue of New York Magazine.