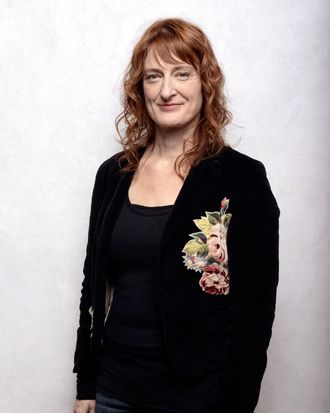 Photo: Jeff Vespa/WireImage
You know you've made it when the director of The Exorcist declares your first feature the most terrifying film he's ever seen. Earlier this week, Oscar winner William Friedkin offered to host a screening of Australian horror film The Babadook after observing the film's limited U.S. release.
Since playing at Sundance earlier this year, the debut feature of Australian writer-director Jennifer Kent has earned near-unanimous critical acclaim. Much like The Exorcist, The Babadook revolves around an unspeakable horror visiting an ordinary suburban family: a widow, Amelia (played by Essie Davis) and her troubled son, Samuel, who turns out to be telling the truth about the monster in his picture book coming to life.
Critics have praised the film for playfully subverting horror-movie clichés while intelligently addressing the nature of childhood trauma. In his Times review, A. O. Scott addressed Kent's ability to "pull Polanskian strings of helplessness and paranoia," while Anthony Lane, writing in The New Yorker, issued this startling decree: "Let a law be passed, requiring all horror films to be made by female directors." The law, Lane argued, would "restore horror to its rightful place as a chamber of secrets, ripe for emotional inquisition." (Stephen King also joined the chorus, calling the film "highly disturbing and highly recommended.")
On Monday, The Babadook was voted best first feature at the 2014 New York Film Critics Circle Awards.
So, who is Jennifer Kent, and how did she manage to make such an original horror film?
You used to be an actor. How did you get into filmmaking?
I'd always done both, but when I went to acting school they discouraged me to do anything except acting. So I put writing and directing aside. I did a lot of theater, particularly Shakespeare, which is a great way to learn about story. But I got bored very quickly. Something about the idea of self-promotion bugged me. I didn't like the focus to be on me. Also, truth be told, I didn't love people telling me what to do. With acting, you're only as good as the story you're performing. I wanted to go back to having more autonomy, and telling my own stories.
The Babadook is your first feature film. How did you know what would work and what wouldn't?
I have written a few others, but they were too ambitious. This is the first one I could actually develop. The process was quick: I wrote a draft, and then left Australia to go to Amsterdam, to a place called Binger Filmlab, to develop it for six months. Amsterdam has a history of fostering unique visions, and I really wanted to follow my instincts on this. Sometimes, [working in Australia], things tend to be done by the book.
I read you called up Lars von Trier, way before you had even written a film, and asked if you could come and watch him work.
It was around 2001, when he was doing Dogville in Sweden. I just sent him an email — nothing business-y, just a very earnest note in which I confessed I'd rather stick pins in my eyes than go to film school and asked him if I could come and watch him work. He doesn't normally let people on set, but I got a reply from his assistant telling me that I could come for one day. But they were clear I couldn't just stand around doing nothing — I had to work. So I flew to Sweden and saw the producer, and I was allowed to stay on. I ended up doing a lot of shit-kicking jobs in the directing department, but I didn't mind. I just wanted to watch a great director at work, to see how he does it. The biggest thing I learned from him was courage. He's stubborn, and he does what he wants. I needed to see those things up close. And also to see that he was a human being, not some god. It was the best film school I could ever have.
How did the idea for The Babadook come about?
I have a friend who's a single mother, whose son was traumatized by this monster figure that he thought he saw everywhere in the house. So I thought, "What if this thing was real, on some level?" So I made Monster [a 2005 short film] about that idea. But I couldn't leave it alone. I kept coming back to it. And that led to The Babadook.
Were you influenced by any particular horror films or directors?
I continue to watch modern horror films, despite the constant disappointment. I don't think a lot of the filmmakers making horror now know its worth, or realize the potential of the genre. Just because it's a horror film doesn't mean it can't be deep. I think a lot of filmmakers who make horror now go in with dubious motives — money, predominantly. They want to make a film that will feel like a theme-park ride, and ultimately make a lot of money.

But horror is a pure form of cinema. I think there are some modern-day filmmakers our there who understand that. The films that will stand the test of time are the ones that have depth — Tomas Alfredson's Let the Right One In, for example, or Honeymoon [directed by Leigh Janiak] and A Girl Walks Home Alone at Night [directed by Ana Lily Amirpour].
What do you think about Anthony Lane's opinion that a law should be instated that requires all horror films to be directed by women? Do you think female directors are able to bring a certain something to the genre that eludes male directors?
I think there's some truth to that, but we can't dismiss the masters — Polanski, Lynch, del Toro. They're all men. They're all capable of writing complex, beautiful characters. I take [Lane's] comments as a compliment, but I gently challenge him back. Regardless of my gender, I think I made a commitment to make my characters feel real. Male directors are just as capable of doing that, but perhaps that hasn't happened as often in the horror genre in the last decade, which is perhaps why Anthony said that.
I never think of my gender when I'm working. But, while I'm not bound or ruled by it, I think it might influence the output, which is what I think happened in The Babadook. It's different, and I think people find that refreshing.
Amelia, your main character, is also a pretty atypical horror-film protagonist.
I always wanted to make this film from her perspective, rather than a horror-movie perspective. The horror really comes from her loss and grief. In earlier drafts, she was so nice and pure and never did anything wrong. It really pissed me off — this wasn't really how a person in her situation would behave. The Amelia in the film lies. She's not a good mother. But that makes her human. For his part, Sam is an annoying, irritating little kid — but you would be too if you had a nebulous monster threatening you.
I wasn't interested in making likable characters, something we don't see a lot of in movies, particularly American ones. I think horror is the perfect genre to make flawed characters. It's built for that. Not everyone will agree, but then again I didn't make this film for everyone. I don't think that's really possible.
It's interesting because this film came out in Australia earlier this year, and while critics loved it, as they did here, no one really said much about it. The public didn't seem all that fazed.
Australians have this inbuilt aversion to seeing Australian films. They hardly ever get excited about their own stuff. We only tend to love things once everyone else confirms they're good. It's interesting, as an Australian, to observe this. I get really annoyed when I hear criticisms leveled at Australian filmmakers — we have some extraordinarily talented people in our country. The issue is cultural. It dates back to when Australia was first colonized — it's tall poppy syndrome at its best. We don't think a lot of our own output. Australian creatives have always had to go overseas to get recognition. I hope one day we can make a film or work of art and Australians can think it's good regardless of what the rest of the world thinks.

I'm stubborn — I'm writing two more films set in Australia, and I also intend to make them here too. But I do not intend them for an Australian audience, just as The Babadook was not intended for an Australian audience.

What's next?
A vacation. That, and we're publishing a book based on the book in the film. I'm happy about that — we've furthered the story a little, and it works as a stand-alone piece. And I think after that, I'm done with The Babadook.
I'm currently working on two new films, and I've also been speaking to Warner Bros. about various future projects. I'm open to working on other people's scripts, but it has to be the right idea. I'm going to wait and see what comes along.