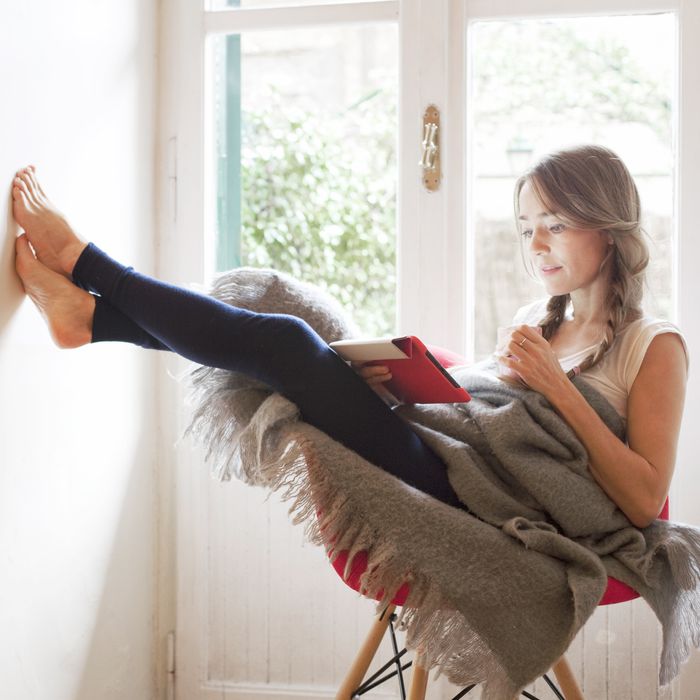 Photo: Kathrin Ziegler/Getty Images
Lawmakers in Montana are disturbed over the dress code approved by Republican leadership for 2015. The guidelines, which say women "should be sensitive to skirt lengths and necklines," are nonbinding. Nonetheless, state legislators told the New York Times they invited unnecessary scrutiny of female legislators' appearances.
Perhaps the most divisively, the dress code takes a hard-line approach to leggings — one of the great spandex-related feminist controversies of our time. See below. (Emphasis ours.)
1. "BUSINESS FORMAL" FOR MEN IS DEFINED AS A SUIT, OR DRESS SLACKS,

JACKET, TIE, DRESS SHIRT AND DRESS SHOES OR DRESS BOOTS.

2. "BUSINESS FORMAL" FOR WOMEN IS DEFINED AS A SUIT OR DRESS SLACKS,

SKIRT, JACKET, AND DRESS BLOUSE OR SUIT-LIKE DRESS AND APPROPRIATE

SHOES (FLIP FLOPS, TENNIS SHOES, AND OPEN-TOE SANDALS ARE NOT

CONSIDERED APPROPRIATE). LEGGINGS ARE NOT CONSIDERED DRESS PANTS.

3. WOMEN SHOULD BE SENSITIVE TO SKIRT LENGTHS AND NECKLINES.

4. JEANS OR DENIM MATERIAL, INCLUDING COLORED DENIM, IS NOT ALLOWED.

FLEECE AND JERSEY (SWEATSHIRT) MATERIAL ARE NOT CONSIDERED

"BUSINESS FORMAL.
Whether or not leggings are dress pants — or pants at all — the dustup is more proof that the athleisure trend is a subtle protest of the status quo.