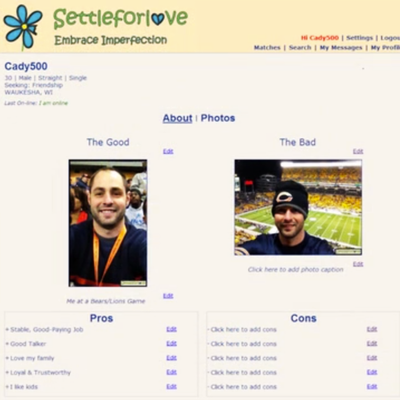 It's the wisdom of a romantic-comedy that flaws — like clumsiness or punctuality or wearing a messy bun — can be exceedingly appealing to the right person. Just be fastidious about ordering at a diner and you've started yourself a love-affair long game. 
In this spirit, a new dating site called Settle for Love is encouraging users to list whatever's wrong with them. Some have gone as far as to list: clinginess, loyalty, chubbiness, an addiction to Diet Mountain Dew, biking, a balding head, unemployability, and home ownership. There are helpful pro and con categories so you don't have to categorize these qualities on your own.
Currently, the site is asking for funding on Kickstarter. The prototype, according to the founder David Wheeler, "is slow." He continues, with music swelling, "It's also ugly. It's built atop unsustainable code with barebones functionality," but "it shows the potential this concept has bringing fun and honesty." It may have problems, but it's got a lot to offer, if you would just give it a chance. It's just a website standing in front of people who use websites, asking them to love it.