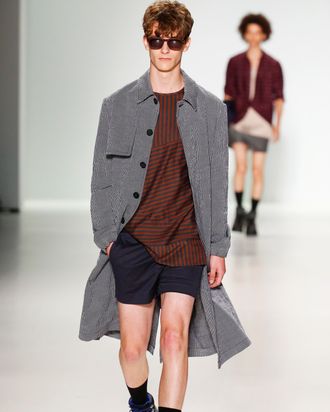 Photo: Edward Le Poulin/Corbis
The fashion world is the inverse of the real world: Men constantly getting shafted while women are the main event. At least, that's the way it works when it comes to Fashion Week scheduling. In New York, men's shows have typically coexisted with women's, as a sort of sideshow to the February and September events — while London, Milan, and Paris have their own separate men's weeks. But all that may be about to change. According to the New York Times, the CFDA circulated emails last fall to gauge interest in a menswear week that would be held in July. "I think what happens in New York is that your business gets to a certain point and then you feel compelled to show in Europe," Daniel Silver, who co-designs the men's label Duckie Brown, told the paper.
If the CFDA can pull it off, the move would be great not just for the profile of New York menswear but for the hospitality and restaurant industries, which already receive a biannual boost during NYFW. However, the organization still needs to meet a $2 million sponsorship goal in order to make it a reality. For the love of street-style photos of men in shorts, someone had better step in.