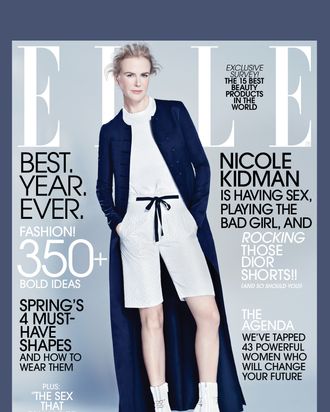 Photo: Paola Kudacki for ELLE
Lady-mag covers are usually a clusterfuck of impossible dictates (Buy These Jeans, Get That Raise,  Have 82 Orgasms,  Be Oprah), but Elle's January cover featuring Nicole Kidman challenges Americans to something truly unprecedented.
According to the cover line for her profile, the multitalented Kidman is "Having Sex, Playing the Bad Girl, and Rocking Those Dior Shorts."
"And so should you," they add.
Oh, "should" I? The real question is "Can I?" I mean, imagine trying to have sex while rocking those Bermuda-length shorts? You can't, can you. Thanks for another reason to feel like I can't have it all, Elle.