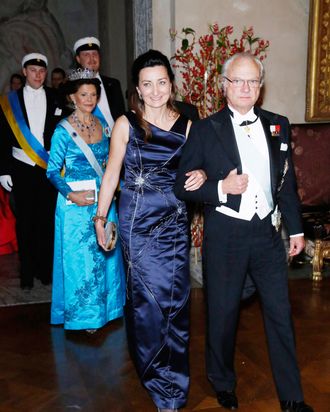 Photo: All Over Sweden/Corbis
While everyone in fashion is gaga over 3-D printing and wearable tech, one scientist has come up with a far more sparkly innovation. To accept her Nobel for Physiology and Medicine, May-Britt Moser wore a midnight-blue gown decorated with sequined representations of the neurons she discovered. The Mary Sue reports that designer Matthew Hubble — who has previously designed dresses inspired by the double-helix structure that makes up DNA, among other pieces — cold-emailed the Norwegian neuroscientist with an idea for the design. There were some challenges involved, Hubble admitted:
We used a mixture of sequins and beads for the cyton, and created the beautiful synapses similarly, but the myelin sheath on the axons we just couldn't make look beautiful and so decided a splash of artistic license is allowed after all.
Would it be too much to ask for a Nobels red-carpet preshow next year?