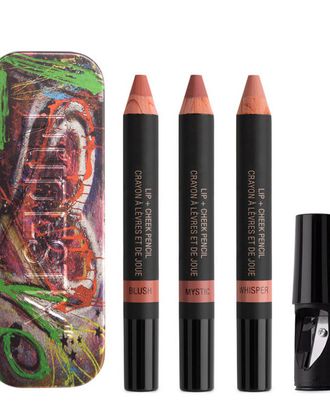 Photo: Courtesy of Nudestix
I'm a bit of a nude-lip connoisseur. I've cornered the market with an alarming attention to detail, and my handbag houses more nudes than an issue of Playboy. So believe me when I tell you that Nudestix's #GONUDE Holiday Set is your best chance for subtle but beautiful lips.
Nudestix is a pencil-only cosmetics line developed by Canadian teens named Ally and Taylor Frankel with the goal of helping you create no-makeup makeup looks. (Teens these days evidently love nude lips and hashtags as titles.) The #GONUDE Holiday Set contains three nude pencils: "Blush," "Mystic," and "Whisper," which are designed to add just a touch of color to both your lips and cheeks. On lips, the formula is creamy and smooth, like a lipstick with loads of moisture. On the face, the crayons blend to create three shades of a rosy flush. The sheerest of the shades, "Blush," gives the appearance of "just-licked lips." Mystic is Blush's more pigmented cousin, which delivers a pinkish, almost-mauve nude, and "Whisper" reminds me of the color of ballet slippers. I prefer to use the pencils for my lips rather than my cheeks, as the creamy formula didn't last long on my oily skin (on my lips, the color endured the better part of a meal). 
What's ultimately most impressive about #GONUDE is the versatility of the shades. I gave the sticks to two friends, one with a caramel complexion and another who is pale: The shades worked well for each of their skin tones, making #GONUDE a rare holiday miracle of the elusive makeup variety.
Nudestix #GONUDE Holiday Set, $49 at Space NK.