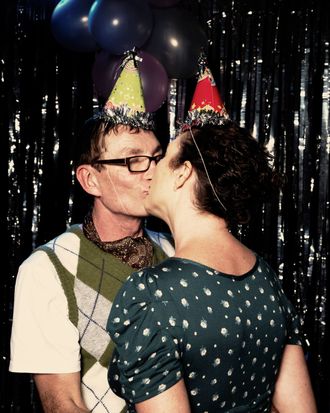 Photo: Bob Thomas/Getty Images
Office holiday parties are treacherous social minefields. The conventional wisdom goes something like this: Don't get too drunk, don't stay too late, don't say weird things to your boss. (Maybe just don't talk to your boss at all.) Don't get too ambitious with your karaoke choices. Don't dirty-dance with a co-worker. Definitely don't make out with your dirty-dancing co-worker. And absolutely don't take him home for a sloppy-drunk hookup. Think of the professional repercussions. Think of the awkward run-ins at the coffee machine. Only tragedy can come from an office-party hookup, right?
False.
I am here to tell you that everything you think you know about holiday-party hookups is wrong. Screw "cuffing season." The best time to be single is the holidays, and the reason is holiday parties — including, yes, the party that takes place in the lobby of your office building. Though the social-entanglement factor on a holiday-party hookup is high, there's also a built-in buffer — the holiday itself. "After the party, everyone goes out of town, and then by the time 2015 rolls around nobody cares anymore," notes a girlfriend who estimates her career make-out record to include 30 percent of all her male co-workers. (No repercussions beyond occasional mild awkwardness, she reports.)
Yes, in the pantheon of hookups available to modern man, workplace hookups are relatively risky. But if you are going to tap workplace ass, the holiday party is the time to do it. Everyone is drunk at the holiday party! Everyone has their own faux pas to worry about. Besides, an intern barfed on the floor of a corner office, and some klutz spilled mulled wine down the boss's winter-white dress — the rumor mill can't keep up with this stuff. Nothing will be confirmed before everyone goes out of town, and by the time they return, they'll be obsessed with their new diets and fitness routines. Your secret is safe.
But more important, when workplace hookups go well, the romantic potential is great. Several studies have found that workplace romances result in marriage more frequently than relationships that begin elsewhere. Partners are used to spending time together; understand each other's quirks and goals; and have had time to build propinquity. "I almost didn't go to the Christmas party," 29-year-old Miriam Datskovsky recalls. "I was at a friend's birthday but Bryan kept texting me to come, so finally I went."
Miriam was in her early 20s and an editor at the Daily Beast when Bryan Keefer, the company's director of product, fell for her. (Admittedly, this makes me a biased reporter: Miriam was my first boss, and her workplace romance was the first I ever witnessed. I cherish it like a fairy tale. For the purposes of this article, consider it a case study.)  "I was five or six drinks in at this point," the now 36-year-old Bryan recalls of his texts to Miriam. At the time, Miriam had been too consumed with another office crush to notice Bryan's advances. Still, she arrived in a "skanky holiday dress that I still can't rid of," and with Katy Perry's "Hot N Cold" blasting on the speakers in their office's lobby, Bryan made his intentions clear. When he finally leaned in for a kiss, Miriam, ever the practical careerist, replied, "I was expecting that. I need to think about this." As a baffled Bryan confessed this was not the reaction he was hoping for, Miriam announced, "Let's get another drink."
Both parties were young up-and-comers at the newly launched Daily Beast. Could they risk workplace drama, when their careers were just taking off? After getting "wasted enough to not worry about the fact that we worked together," Miriam went to Bryan's apartment that night.
"The holiday party was a Thursday, so the next day was the most hung-over workday. Upstairs in the lounge, all of the water and orange juice was just gone," Bryan recalls. Miriam went home for a fresh change of clothes, and then, as Bryan recalls it, "I'm super, way hung-over, and at some point in the day it's snowing and Miriam calls. 'You know what kind of weather this is? Sex weather.'" Twenty-four hours later, at Saturday brunch, "we both just knew," Miriam says.
Today is the six-year anniversary of Miriam and Bryan's "Hot N Cold" workplace seduction. Two years after that first hookup, they moved cross-country to Los Angeles. Two years after that, they got married. Today they work together again, as a screenwriting duo.
Yes, the couple admits, their situation was complicated at first. There was a period of unnecessary secretiveness. (Since both parties used company phones as their primary cell phones, they got burner phones just for sexting.) A stickler for rules — and also several years Miriam's senior — Bryan worried that the romance might get them in trouble. "We would do things like not walk into the office at the same time," he says, but the secrecy became part of the romance, too. "Whenever we were in the elevator alone we would kiss," Miriam says. "We still do that to this day."
Of course, their secrecy was wholly unnecessary. The conventional wisdom, on this matter, is right: "Everyone knows" who is sleeping with whom in the workplace, as at a high-school reunion, or in a tight-knit group of friends. But is that so bad? The entire institution of marriage rests on the premise that "everyone knows" is a condition that encourages romantic longevity. To take the plunge with a romance bound for public scrutiny, you have to really want it.
So consider the holiday-party hookup a test of mettle: If he's worth the risk, then he's worth considering seriously for love. (And if he's not, avoid him until January, and then resume normal behavior.) "Just go with your gut," Miriam says when I ask if she had any workplace-romance wisdom. "When people say to me, 'Sleeping with a guy on the first night is a bad idea'? It's not. We did that. It's six years later and we're married and we have a dog. If it's a bad work situation, you'll know that right off the bat."
"When you're in New York and you're dating, you end up being like, 'That was terrible, I'll never date someone like that again,'" Bryan adds. "So you end up with all these rules. I thought I'd never date someone who was under 25, a journalist, someone I work with. Miriam basically broke all my rules."
"I didn't know you had those rules!" Miriam interrupts.
"Clearly, they didn't stick," Bryan laughs. "Sometimes breaking the rules works out."
This article was originally published in 2014.