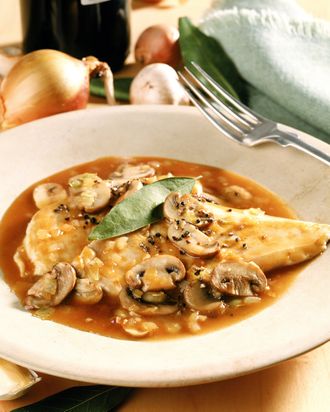 Photo: Brian Hagiwara/Getty Images
Typically, the Cut heralds the annual announcement of Pantone's Color of the Year, which usually involves pretty-sounding colors like "radiant orchid." But this year we just can't get excited about the shade, which is — drumroll — "Marsala." Pantone described the color as "reddish-brown," or "full-bodied." It's a color that makes you want to go to Olive Garden or order Tampax in bulk.
The company elaborated on the choice in a press release:
Much like the fortified wine that gives Marsala its name, this tasteful hue embodies the satisfying richness of a fulfilling meal, while its grounding red-brown roots emanate a sophisticated, natural earthiness. This hearty, yet stylish tone is universally appealing and translates easily to fashion, beauty, industrial design, home furnishings and interiors.
So, go on, look at the simmering pot of Marsala (do you want chicken or lightly breaded veal?) above and get inspired as you shop for 2015.