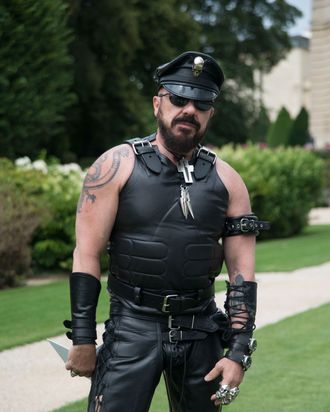 Photo: Kirstin Sinclair/Getty Images
"Star boutiques." That's what Peter Marino calls the stores he designs, and he's limned the luxury universe, from Dior to Vuitton. The former Warhol protégé got his start renovating the artist's Factory in the 1970s, and has gone on to make many of the world's most exclusive stores a reality.

Style.com's Dirk Standen spoke with the architect about his thoughts on department stores, "smart" mirrors, and the new Barneys New York. (And he has plenty to say about the competition. Dover Street Market? "They visually give you so much chaos that you're entertained or amused." Saint Laurent: "I don't think [its success] has anything to do with the shops. I think it has to do with the product.") Perhaps most surprising: Under that ever-present biker cap is a mohawk. Who knew the starchitect was a secret punk?

He's also one of the most outspoken figures in the often tight-lipped world of high fashion. Below, some highlights from his Q&A with Standen.
On department stores:
"Nobody thinks a department store is a luxury shopping experience anymore. Nobody. That's in the middle, and then you go down and at the bottom you'll have H&M … To me … the department experience in every way, shape, and form is a downer. … The luxury brands have been really good at pulling themselves away and distancing themselves from this, what I call a really unpleasant shopping experience. I mean … Have you been to Bloomingdale's lately? People push you. I mean, they just push you."
On the latest Barneys renovation [Marino did the original one in 1985]:
"No, I won't go in to see that dreadful gray floor since they pulled out my mosaics. It's appalling."
On the .01 percent:
"The superrich don't go to stores — they have couture, and [the couture houses] go to them. There's no change. The superrich are not going through dress racks. They're having Joel [Arthur] Rosenthal custom-make jewelry for them and they're having Dior custom-make dresses and they're having custom-made shoes. That's not who we are doing boutiques for. The superrich dress a little bit different from you and me."
On his advice to young architects:
"I'm not telling anybody because I've got a unique career here and I make a hell of a lot of money. Are you crazy? I'm not going to give tips to a young architect! Tell them to go fuck themselves. I don't know. [Laughs.] It's taken a looooong time to get here, buddy!"
On his Tom of Finland–esque personal style:
"I will say it creates quite a stir in the Middle East."