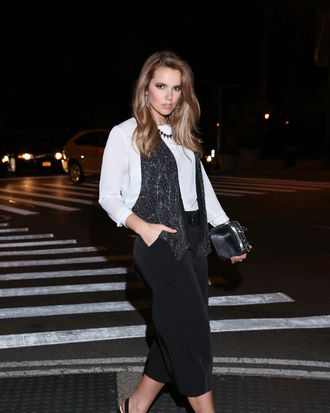 Photo: Courtesy of Eloquii
Back in 2011, the Limited launched an on-trend brand for women size 14 and above. Available in select stores, it grew a steady following for its flattering yet sophisticated pieces. Then abruptly in 2013, the Limited decided to shut it down. But due to its loyal customers, it came back as an ecommerce site this past February. At the design helm is Jodi Arnold. Formerly the creative mind behind the girly New York indie label Mint, Arnold's experience making feminine clothes that women want to buy and wear shows in every chic piece Eloquii has to offer. We caught up with the designer to talk plus-size style tips and why designing for a curvier figure isn't any harder.
Your background is designing for non-plus size clothes. Is it tricky to adapt for a plus-size woman?
I was afraid at first but then I realized it's all about fashion and you want it to fit nicely. We have technical designers to help tweak for shape and her size. It's about having a more contemporary or elevated eye to see what looks great on her shape and making it look like a younger proportion than what she's gotten in the past. Because she's either been able to get clothes that are older for her or really young and not appropriate.
Do you have a specific fit model who's been helpful to you?
We looked at a lot of fit models to see who we thought matched our customer. And then as we read reviews, we always tweak what we do to her. We see people saying, "Mmm, the tops are running small in the bicep" and we adjust accordingly.
Your customers are super-vocal then. What have they responded to most and what have they not liked within your designs?
You have people who were so happy to have fashion-forward clothes but then, because you're talking to the 60 percent of women [who] are above a size 14, of course not everyone is going to like that. Right now, it's about us getting a broad enough assortment. We don't want to become something more conservative. We want to be her place for fashion.
People often say, "I'm more top-heavy. I'm more bottom-heavy." As far as technical design, how do you address all those concerns?
You can't think one garment is going to be the silver bullet. We try in our assortment to have something for everyone, but not every single piece will work on every shape.
How important is tailoring? Can you wear pieces off the rack or do you recommend tailoring them more?
For our customer, we do recommend some tweaking with a tailor. But we're trying to be more accommodating [to different fits]. For example, a lot of our skirts have a hidden elastic in the back and we have it on pants and structured dresses too. We'll just sew a little piece and it helps her feel more comfortable. Also we just launched short, regular, and long pants because we're getting a lot of people who don't even want to hem a pant.
One of the trickier things is a button-down. How do you go about designing so it fits in the chest and waist? 
First, we always try to use fabrics that have a bit of stretch. They're more comfortable and forgiving without being sloppy. She wants to look neat and constructed because she is used to getting oversize and relaxed. We've taught our factories about pattern-making such as making a curved seam on the front versus under the arm. It's also important to get the darts placed correctly to flatter her bust.
What do you think about prints? Another common complaint is that everything is a muumuu in an awful print. What's your take on navigating prints for the plus-size range?
It starts with the trend. And right now, with dark florals being a trend, I have seen comments in social media where people will say, "I don't want to look like I'm wearing a bedspread." We want to break her out of the mold. You can wear horizontal stripes. You can wear florals. This customer has to get used to seeing something different and also seeing her peers in it. We have a program on our website called XOQ. And if you hashtag XOQ in our Instagram, it will feed to our site and we will monitor and upload.
As far as trends go, what have your customers liked best?
Right now, we're doing really well with midi skirts, and that's great for a person who has a smaller waist and fuller hips. We showed how you can wear it to work with a jacket and have a shirt neatly tucked in. And I love it with a slouchy sweater over it.
What about with a crop top?
Oh, yeah, they've been one of our best sellers. Especially for the person who is smaller on top, has a small waist and larger hips, that looks really good. It's a great silhouette for her to feel that she can wear the full skirt and still show a little stomach. We made one in a scuba fabric and it looks younger, but it still holds her in because it's thick. It smooths.
Do you tweak the cut of a crop top to make it more flattering?
You add a princess seam for bust projection. If you saw this at a straight-size store, you wouldn't have to have any seam in it at all for a flatter-chested person. But for plus-size, you either have to have a bust dart or a princess seam; otherwise, her chest would be flattened.
You're aiming to hit every major trend then?
There's nothing really that she can't do. It's just how you do it, how you give it to her. She's used to getting crappy clothes that she can wear a couple times and they fall apart. So our goal is also, aside from the fit, to give her nice fabrics and quality.We probably drop about 40 styles every two weeks. And we're doing it like fast fashion, so we do a sketch and then it goes straight into production.
Are there any styling tricks that you tell your client? What about shapewear?
I would say first, belting and accentuating your waist. And probably second is learning how to balance your top and bottom. If you're smaller on the bottom and bigger on the top then try a full skirt to even you out. As far as shapewear, we got into it but when I call customers to ask them about it, a lot of them say that they don't wear it regularly. For special occasions they probably will try it, but for day in and day out, a lot of people do it, especially in the summer.
Click ahead to see Eloquii's holiday collection, along with more advice from Arnold.
This interview has been edited and condensed.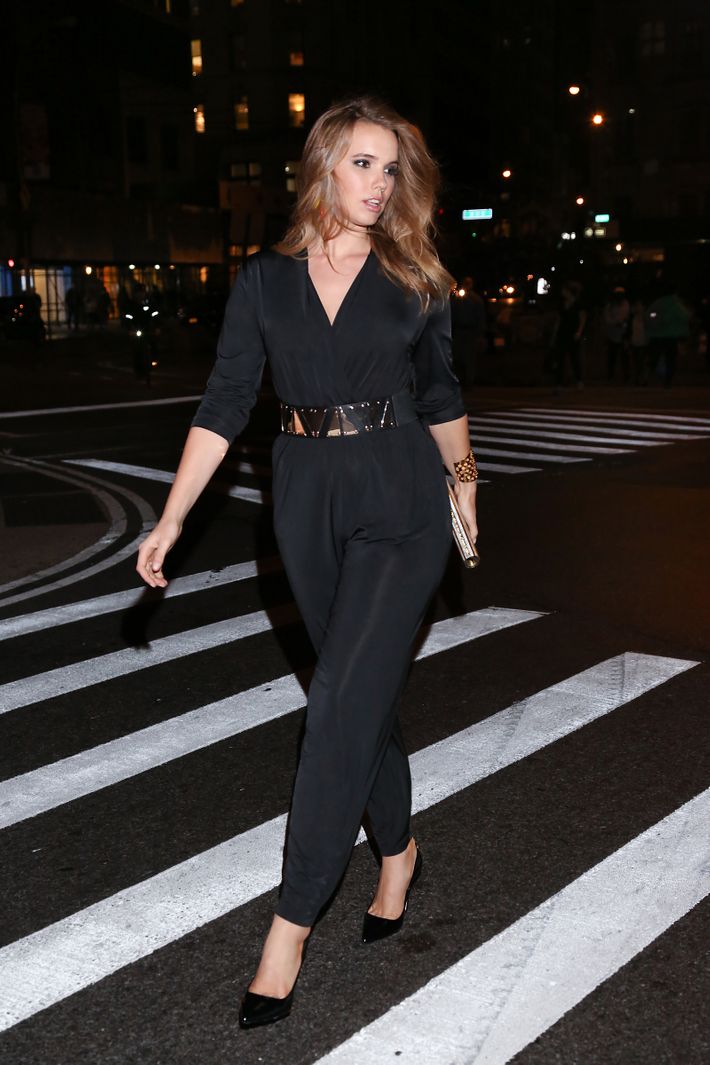 "Initially I thought a jumpsuit was going to be so hard to fit but she loved it. It sold well as short sleeves, so now we've brought it back in long sleeves. If you are not a dress girl, it's a cool holiday option. Made with stretch jersey that has a hidden elastic panel in the back, it works for many shapes. Plus, the plunging wrap neckline draws the eye upward. Add a belt to draw attention to the waist."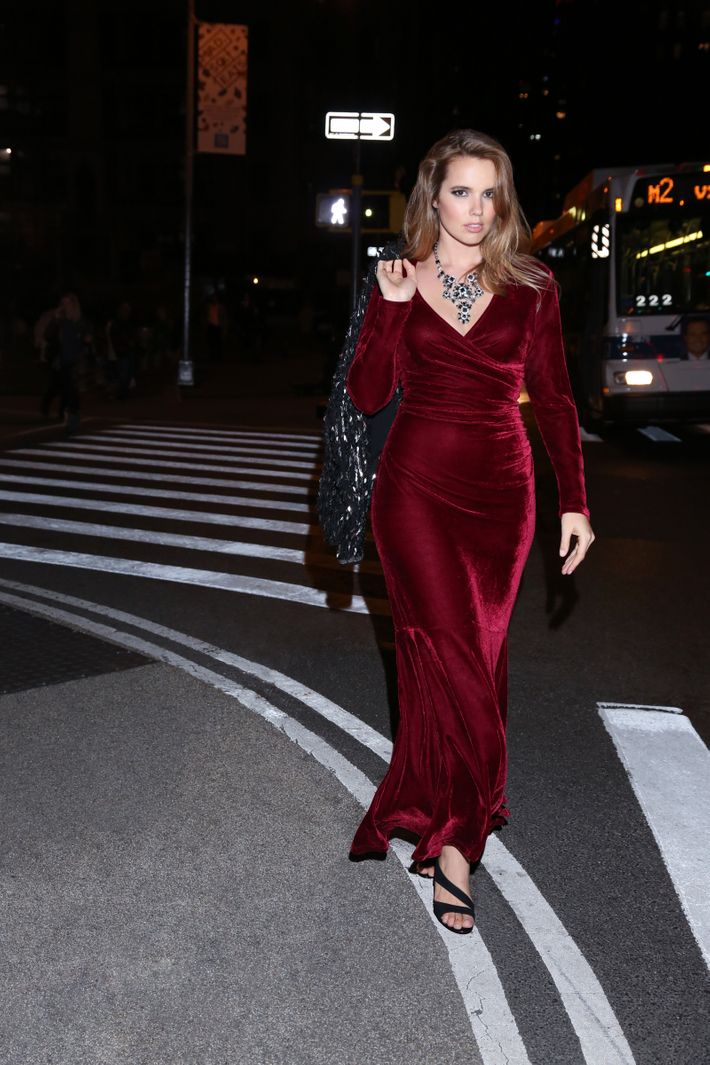 "We have started doing these long gowns, because again, she doesn't have anywhere to go for things that are a little bit younger and more contemporary. This is such a comfortable evening option — the wrapped and ruched style accentuates the neckline and hides the tummy. The stretchy velvet clings but it's not thin so you don't see bumps and bulges as you would with a regular knit."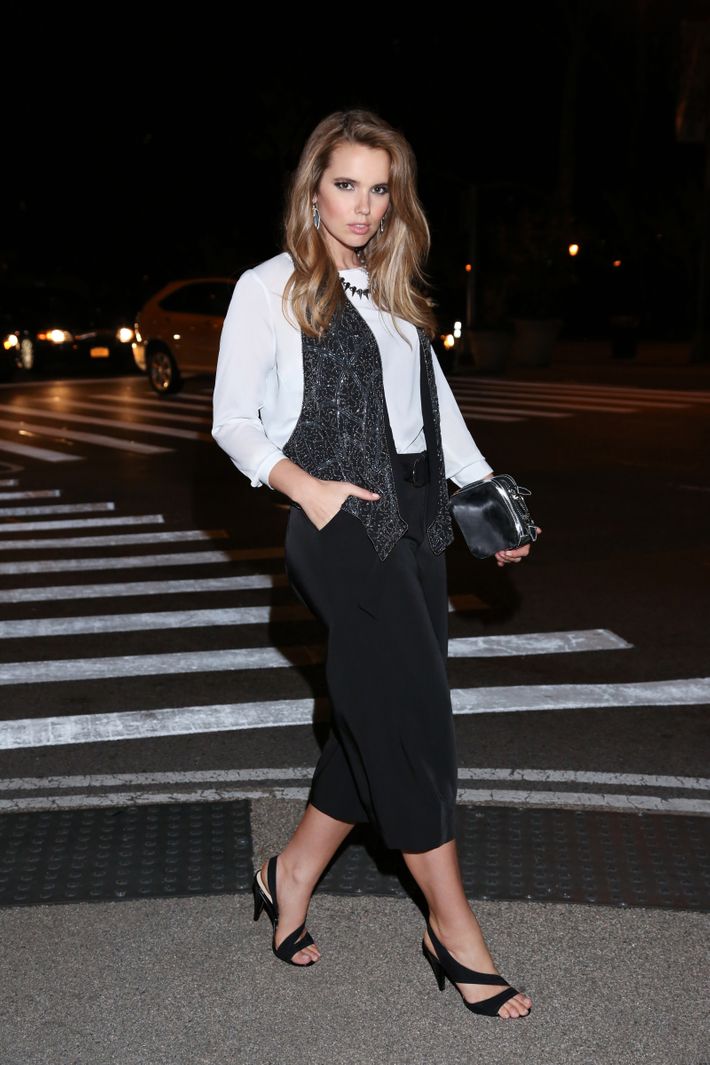 "Culottes can be a great option for evening when paired with a hand-beaded vest and a silky top. For women who don't want to go sleeveless, the sparkly layer dresses up a classic three-quarter sleeve blouse."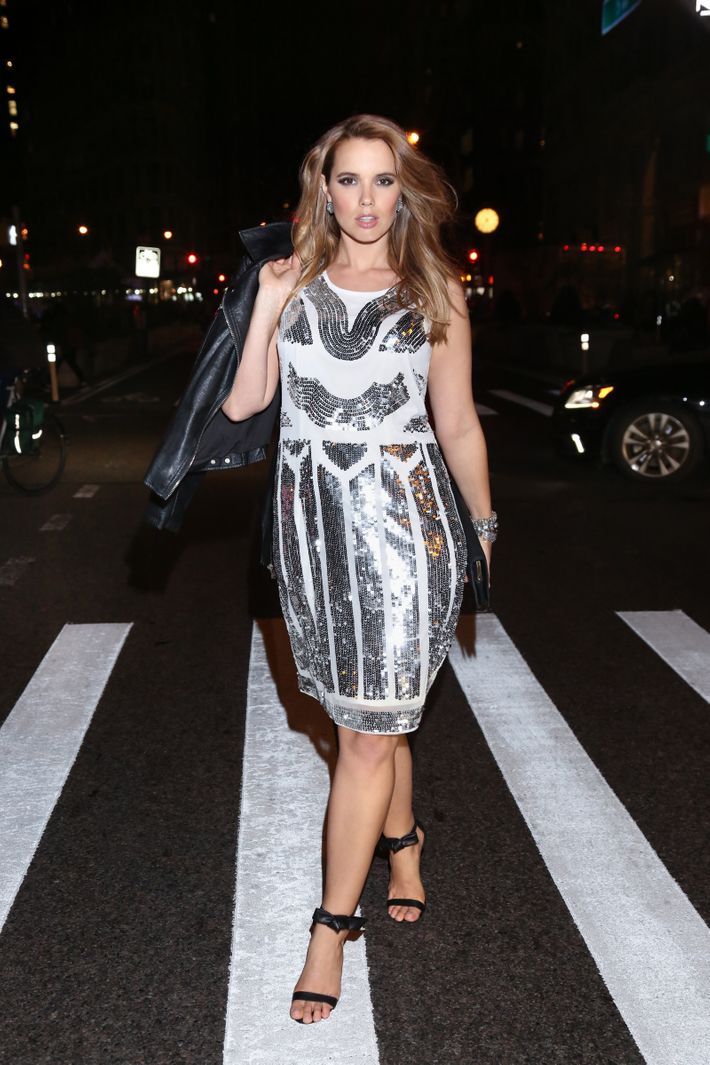 "For this 1920s-inspired dress, the shiny sequins stand out but it's paired with an off-white fabric, which is more sophisticated and unexpected than if it were against black. Add a moto to toughen it up."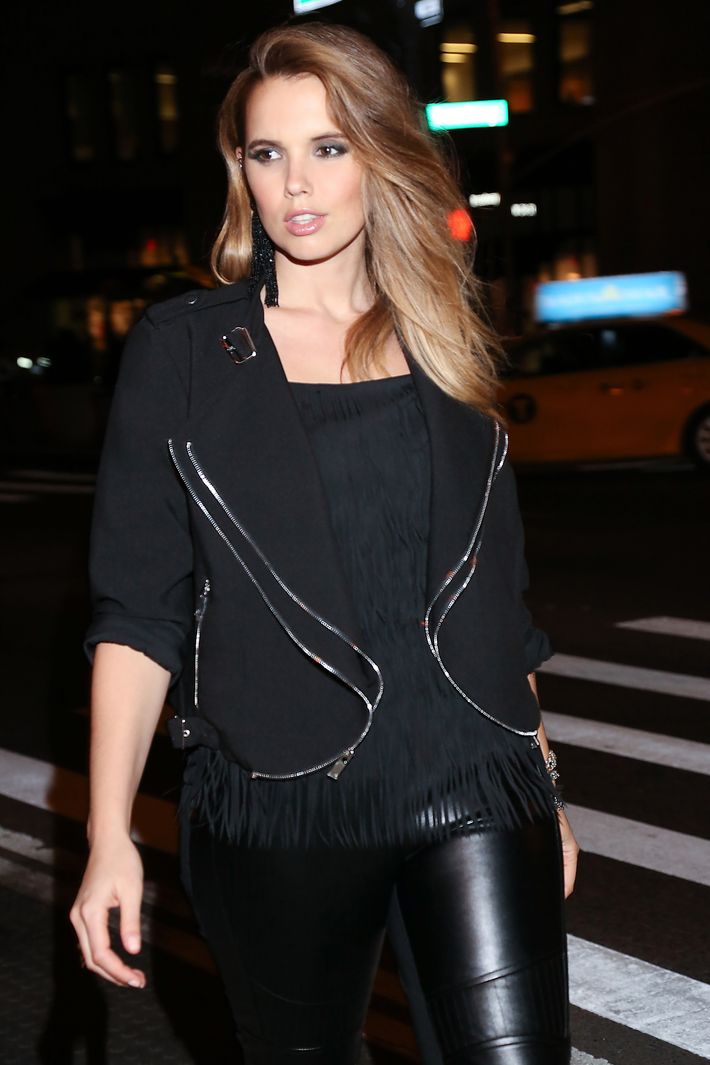 "I like to mix a trendy fringe top with a zipper detailed jacket thrown over a pair of faux-leather moto leggings. These leggings are just like many leggings that you would find in the straight-size market. For it to be comfortable on any size, you need stretch. Ours aren't entirely faux leather; there's a spandex back and an elastic detail at the waist."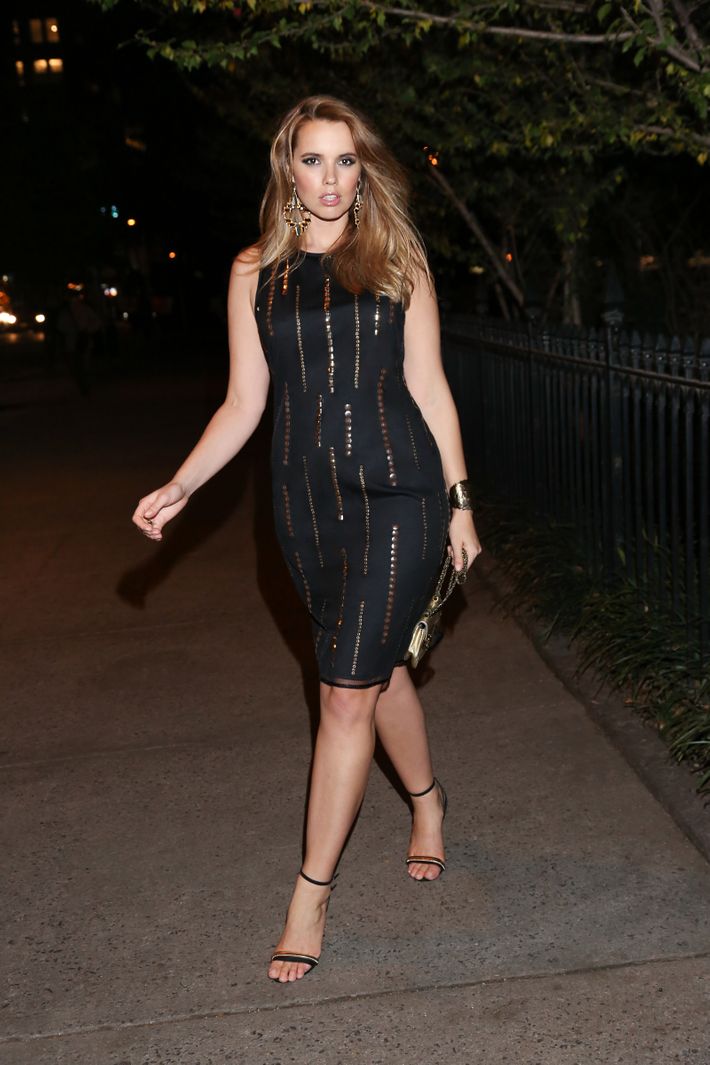 "For toned-down sparkle, this hand-embroidered mesh dress gets accented with antique brass and gunmetal-faceted beads for a vintage look that could work even after the holidays. We felt the vertical placement of the beadwork would be lengthening and more flattering than if they had been placed horizontally."