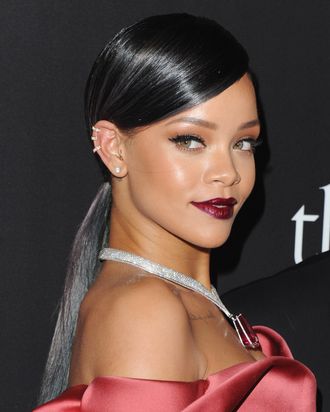 Photo: Jon Kopaloff/Getty Images
Puma headquarters in Germany were "in turmoil," according to WWD, when its fearless leader — er, creative director — Rihanna arrived earlier this week. The star, who just signed a multiyear deal with the Kering-owned activewear company, "descended softly," the paper reports, wearing a vintage bustier and track pants accessorized with a string of pearls and a pair of customized Puma kicks in true #athleisure fashion.
Her descent may have been a soft one, but in the accompanying interview, Rihanna announces plans to annex Puma and "basically [make it] Rihanna." It's not a hostile takeover, exactly, but she already has a first prong in her make-everything-Rihanna plan, and that prong is suspenders. She sees it as her mission "to come up with cool things that don't even belong in Puma. It could even be down to suspenders … that's what I'm most excited about — the creative freedom." Freedom to design suspenders is indeed a great thing.
After all, Rihanna is no stranger to collaborations, having designed a high-street line for River Island and a makeup range for MAC. And she promises, "The same way I treated MAC, I will attack Puma." Brace yourself, Puma.