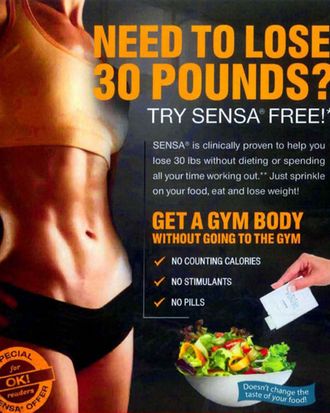 Fantastical products promising rapid weight loss are certainly the most underrated source of inventive fiction of our time. Pledges that a simple powder will transform 720 calories of pasta to 72 calories is a fiction only matched by a cream that promises to melt fat off of the upper thighs.
Sapna Maheshwari at BuzzFeed News sorted through nine weight-loss scams ruled on by the Federal Trade Commission this year, each of which is more fantastical, outlandish, and inventive than the last:
• Sensa, which sold $364 million worth of its dubious powder in four years, is a set of granules that make all food taste so good a person's appetite will ultimately be reduced because the person will be happy consuming a smaller amount. It's a worthy Twilight Zone episode about humanity's inability to ever actually be satisfied.
• HCG is a liquid of sorts placed below the tongue that pledges the user can lose a pound of body mass every day. Carmen Electra vouches for this. She has not been seen in a while, so perhaps these droplets really do cause a disappearance of the corporeal self.
• DERMAdoctor's Shrinking Beauty cream harnessed a little-known principle that mimics a "lobster's ability to shrink its body."
• Norm Thompson Outfitters and Wacoal America made underwear that was infused with caffeine that promised to slim and tighten up the bod by helping "mobilize fats." How fun for these fats!
Which of these short stories is your favorite? Mine is the one about the lobsters. It's Best American Fiction of 2014 quality.