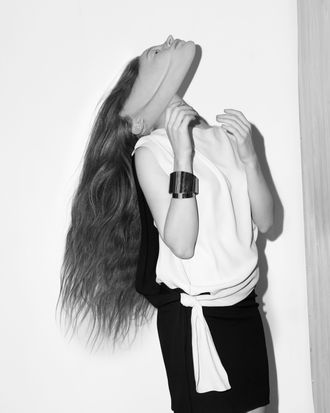 For our latest installment of Out of The Box, The Cut sent Danish photographer Asger Carlson a shipment of Resort fashion – and told him to photograph them in any way he pleased. What came back was a series of arresting black-and-white images, each with his signature element of distortion: lithe female forms punctuated by sculptural limbs. "I perceive photography as more of an object," Carlsen told The Cut. "I have a very sculptural approach to it. I make sure [my pictures] are in focus, but I don't necessarily make sure they're good photographs. My concern is how I build up a sculptural feeling in the most natural way."
He achieves this sculptural feeling through meticulous Photoshopping (he says a project that takes 20 minutes to shoot can require "two years of post-production work"). But it's in that stage that the images morph from human forms – images we typically associate with fashion editorials – into things that feels more inanimate and permanent. "Sometimes there are certain forms I'm trying to achieve," he says. "sometimes they're unrecognizable, sometimes they're pure abstraction. I think it's a successful piece when it holds something really familiar but at the same time is really unfamiliar." Click through to see Carlsen's portfolio, which he says was inspired by African masks, in all of its bizarre, abstract glory.
Styling by Simon Rasmussen at BRIDGE Artists; make-up by Sara Glick; modeling by India Salvor Menuez; stylist's assistant Louise Borchers.