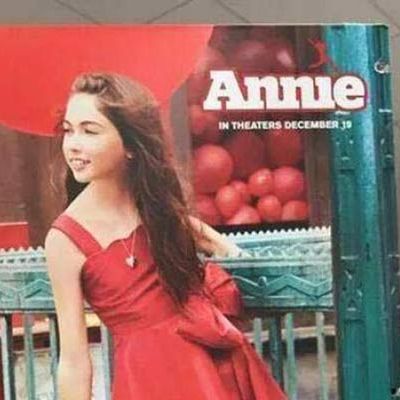 Annie has a little problem on its hands, and it's not the remake's current 27 percent freshness rating on Rotten Tomatoes. The Root reports that Target customers have started a Change.org petition protesting the store's ads for its capsule collection inspired by the film, calling them "whitewashed." While the look book for the line features a diverse array of models, the petitioners claim the in-store ads only feature white models. The petition states, in part:
Your recent Annie ads and in-store displays depicts [sic] a misleading depiction of the movie as it shows a Caucasian young lady opposed to the star of the film-Quvenzhané Wallis. Though the model is quite professional, she does not speak to the relevance of the movie or main character. When the original Annie came out, everything was about Aileen Quinn or a character/person that emulated her…why not now Target? If you can show it online, show it in ALL of your stores with multiple signage with different girls not one!
The petition has now been signed by over 3,400 people. Update: A rep for Target has responded with the following comment:
At Target, we appreciate the opportunity to hear from our guests. We're proud of our Annie for Target collection, which was inspired by the recently released remake of the family classic and designed by the film's costume designer … With regard to the marketing of the collection, girls from a variety of backgrounds were featured within the campaign, reflecting that anyone can embody the spirit and character of Annie.
 
As for the involvement of Quvenzhané Wallis, we had conversations with her team about being in the campaign, but ultimately it did not come to fruition. Fortunately, we had the pleasure of working with Ms. Wallis a number of times, including appearances at Target's sales meeting in September and a launch event in New York City in November. We had a great experience working with Ms. Wallis and appreciate her efforts in promoting this collection.