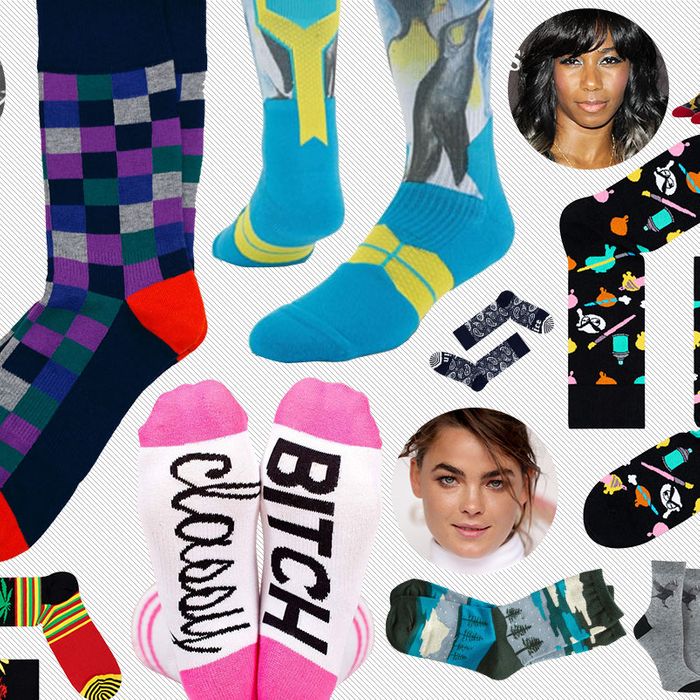 Does anything really happen in the last two weeks of the year? If it did, would you care? Welcome to Brain Dead Fortnight, two weeks of mental vacation. 
What did we do before celebrities? We walked around with our shoes pressing dangerously into our ankle flesh, devoid of comfort and warmth. Then celebrities stepped in to design a rich tapestry of socks in unique styles, colors, and textures. Today, we pay tribute to the entertainers — nay, heroes — who took time out of their busy schedules (whether it be of rapping, playing basketball, more rapping, or being related or married to other celebrities) to design socks.
Click through our slideshow for a comprehensive list of celebrities with sock lines. Meanwhile, those who still don't have sock lines — even though they totally seem like they would — include the Situation, Seth Green, and apl.de.ap from the Black Eyed Peas. Wasted sock-purtunities abound.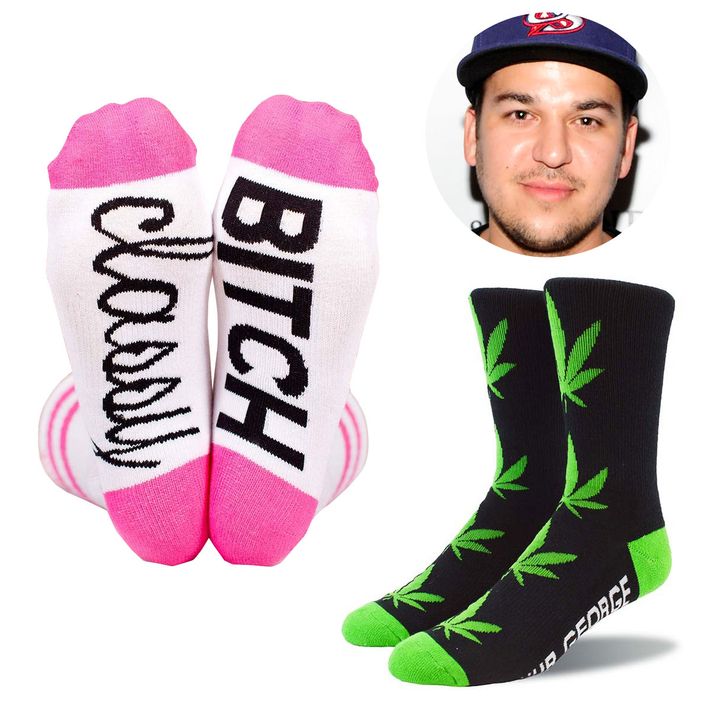 Rob Kardashian
Rob Kardashian, the O.G. of celebrity sock designers, named his "luxury" line Arthur George. He's made a signature of writing phrases (like "Classy Bitch") on the soles of his designs and maintains that socks are important to him — more important, maybe, than the people with whom he shares blood ties. "Literally, my job is I make socks. That's all I do," he told the The Wall Street Journal  last year. I don't necessarily care about the show. I would rather film this — me doing what I do [making socks] — than being around my family."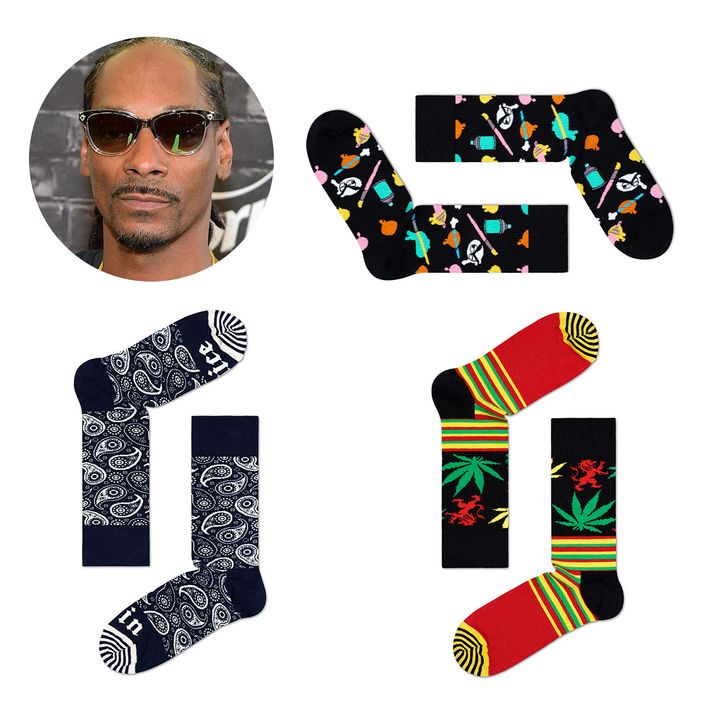 Snoop Dogg
If you love the Rob Kardashian cannabis socks, but balk at the $15 price tag, great news: Snoop Dogg's weed socks ring in at a reasonable $12. His collaboration with Happy Socks also includes a bandanna pattern and socks printed with tiny art supplies, which the website copy calls "a playful sock representative for Snoop Dogg's artistic side." If you're feeling semi-flush, a $40 box set contains all three. Better yet, a reliable source tells us they are suitable for wearing while rollin' down the street, smoking indo, sippin' on gin and juice.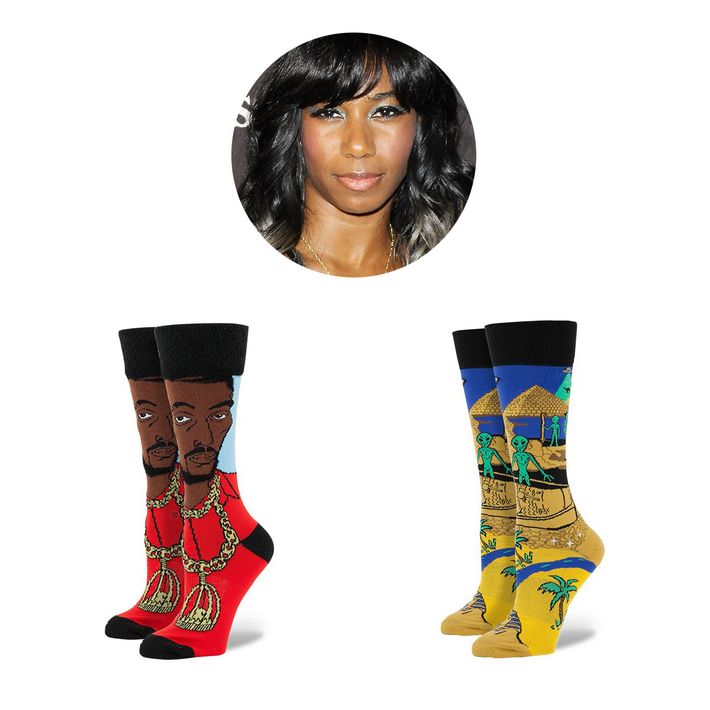 Santigold
Perhaps the most directional designer on this list, Santigold focuses on little-trod territory in her collaboration with the sock company Stance, which includes socks covered in Egyptian motifs and aliens. The display copy for the goods may or may not have been ghostwritten by the Illuminati, with marketing language like: "Whether aliens had anything to do with building the ancient pyramids of Egypt or not is beside the point — this tongue-in-cheek style is all about the possibilities." Another style bears the countenance of rapper B.D.K., complete with a chunky gold chain.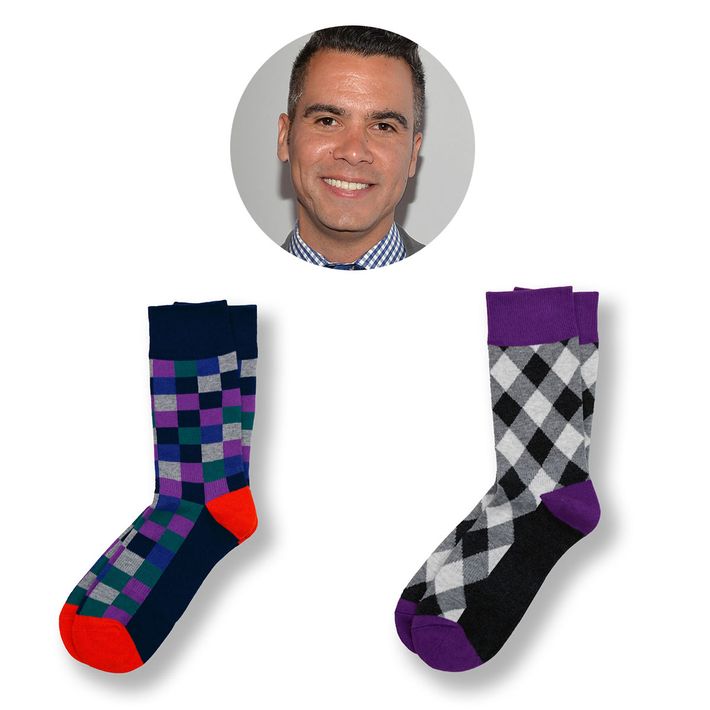 Cash Warren
Cash Warren is not just the spouse of Jessica Alba — he's also a sock designer. The name of his line, Pair of Thieves, is sort of like a pun, and Warren definitely does not shy away from wordplay. His sock styles have names like "Always Be Closing." (When David Mamet put pen to paper on Glengarry Glen Ross, do you think he ever imagined he would one day inspire a sock line by Cash Warren?) Regardless, Mamet could probably learn a thing or two about verbiage from the designer of such sock styles as  "Seasons Change, People Change," "He Did What?" and "Cray Cray."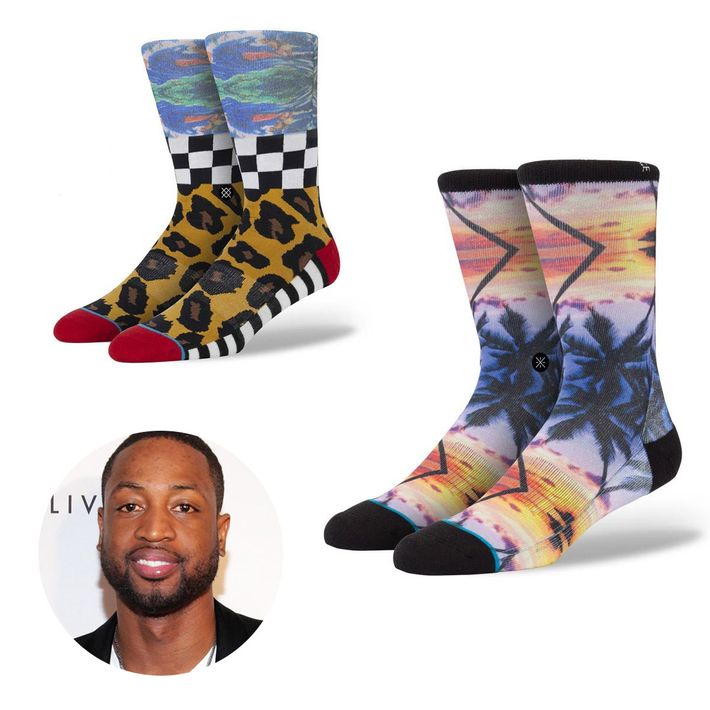 Dwyane Wade
The basketball player is inspired by far-flung destinations for his collection, with style names like Congo, Everglades, and Cubana. He mixes patterns like checks, stripes, and leopard prints with almost irresponsible abandon, while his Miami influence shows through in airbrushed designs. The result looks like what James Franco's character in Spring Breakers might wear to the gym.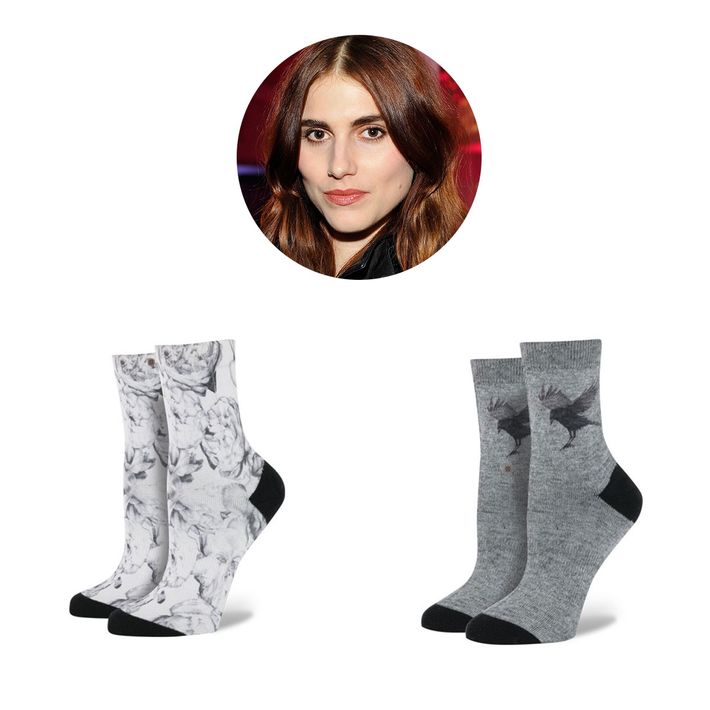 Langley Fox Hemingway
As part of Stance's "Punks and Poets" collaborations, the illustrator and model designed an appropriately bookish pair of anklets featuring Poe's raven, titled "As the Crow Flys [sic]." Another pair with a marbled design is "a poem of the senses, an ode to feminine allure doused in moody grays and shadow." Let's take a moment to appreciate the people who write this copy.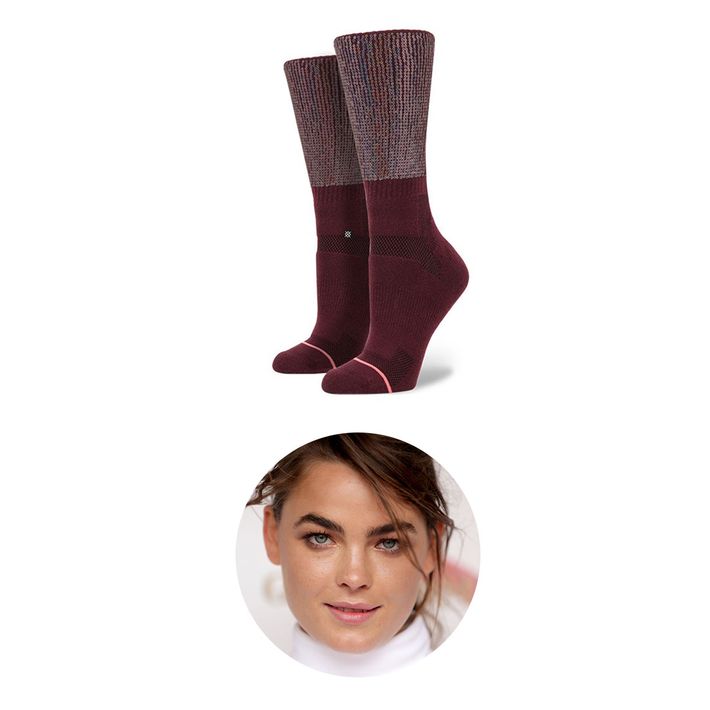 Bambi Northwood-Blyth
The Aussie model is a fellow "Punks and Poets" influencer, and she's definitely a bit of a sock obsessive. She told the Coveteur that she had socks custom-made for her wedding. Her capsule includes understated pairs in burgundy, gray, and black. Despite their simplicity, they're also the most expensive on this list — perhaps they're woven from the fur of endangered koalas or something?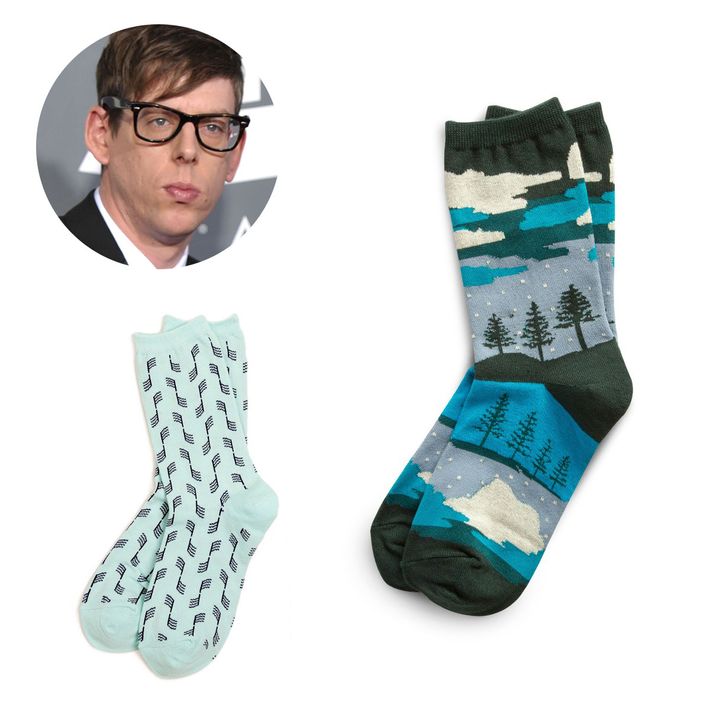 Patrick Carney
The Black Keys drummer strikes a twee note with Richer Poorer, a sock line in which he is financially, but not creatively, involved. Carney told WWD of his rationale, "I'd never invested in anything outside of stocks and real estate. Something as wholesome as socks sounded like a great idea to me." You could probably do worse than to curl up with a pair of mountain-printed socks and Turn Blue on vinyl.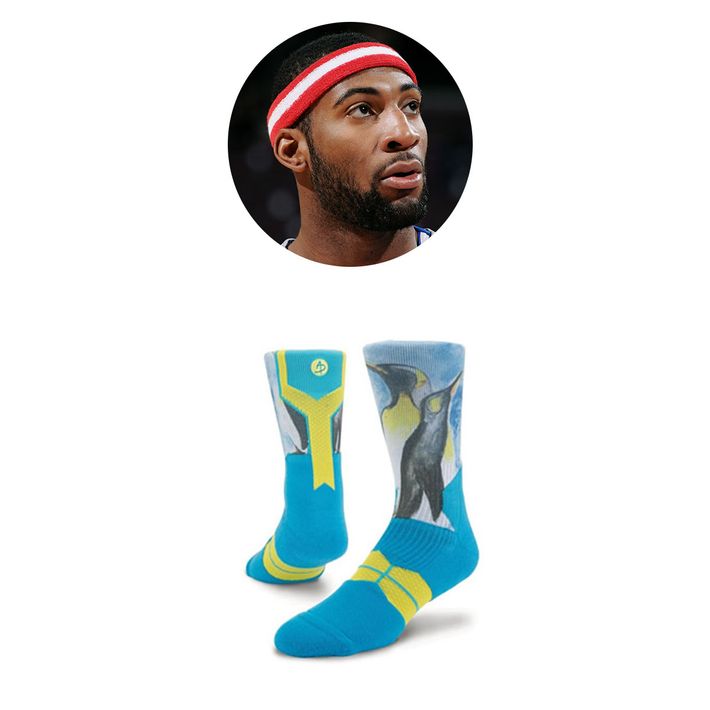 Andre Drummond
Why does basketball so uniquely lend itself to sock design? Who knows, but Drummond joins Wade in the ancient craft with this pair. As for the arctic motif he chose, according to a release from the company, it "symbolize[s] Drummond's lack of fear, unassuming approach, and cold weather upbringing." Seems totally fair.