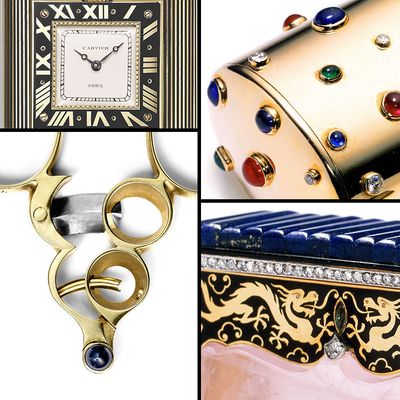 Photo: Coutesy of Cartier/Denver Art Museum
From now through March, "Brilliant: Cartier in the 20th Century" — an exhibit chronicling the influence and style of the iconic jeweler from 1900 to 1975 — is on view at the Denver Art Museum. The one-time-only display, designed by Nathalie Crinière (who also put together the Denver Art Museum's 2012 Yves Saint Laurent exhibit), features historic photographs and film clips as well as an impressive assortment of jewelry, timepieces, and other precious objects selected from the brand's 1,500-piece heritage collection.
In addition to some of the flashier items on display, like Elizabeth Taylor's ruby-and-diamond Cartier necklace (a gift from her husband Mike Todd in 1957) and a flamingo brooch worn by the Duchess of Windsor, the exhibit also includes a more unusual section: "The Art of Smoking" focuses on the glamorous smoking accessories favored by fashionable women during the first half of the 20th century, when smoking became a common activity for men and women of all classes. From jeweled cigarette cases and intricately designed lighters to luxury cigar cutters, click through the slideshow for a look at some of the most elegant smoking accessories from 1907 to 1940.