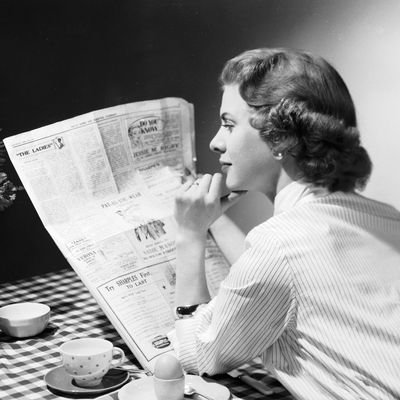 Photo: Chaloner Woods/Getty Images
Before everything became digital and Tinder-ized, personal ads were a way of telling the world beyond your immediate social group that you were single and looking to mingle or perhaps even settle down. For many years, such ads ran in the back of magazines like New York, where they were collected in a column called "Strictly Personals," written and paid for by folks on the lookout for love. In those analog days, you had to call a 1-900 number to "hear the voice behind the ad," after entering the four-number code at the end of their listing. You could also send a handwritten letter of response (and photo) to a P.O. box; the recipient would decide what to do with you after reading your note and gazing upon your studly/sultry visage. (So many more steps than swiping left or right!)
I scoured a bunch of "Strictly Personals" ads from issues of New York published in 1991 and 1992 (more than 20 years ago, unbelievably; a digital lifetime ago), collecting those that gave the best sense of how we did things back then, and some that I just found hilarious. Note the frequency (and totally un-objective nature) of the word attractive. Also, women go for leggy as a self-descriptor, while men often choose handsome and tall. A lot of people try to be clever, others play it so straight it's a little cringeworthy: just like today, and yet, retro! It seems like men have always been wanting younger women. The more we change, the more we stay the same.
What else can we learn about how we used to promote ourselves in the pursuit of relationships? Below, read some of the most interesting ads I found, presented with commentary.
1. I'm Not Dysfunctional — You're not dysfunctional. The only girls I've been meeting are very beautiful, very depressed, very bulimic and very dysfunctional. If you are from a functional family and are attractive, intelligent, well-read, focused, sarcastic, and not taking Prozac — let's get together and celebrate. I am Jewish, 35, have long hair and unconventional good looks, have owned my own business for the last ten years, and am not the least bit sarcastic. Letter and photo a must. 2526
I don't know about you, but I'm seeing some red flags this one.

2. Lovely, Lively, Literate — Lean, Lollobrigida-like NY lady — longs for love, laughter, languid lunches, lunar libations, with legally-free, long, lean, literate, loquacious non-lunatic, 40s–50s. recent photo, personal note. 2112
Whoa, allllllllliteration.
3. Moderately Famous — Academic scientist, fireside philosopher — attractive, tall, athletic, Manhattan-based, divorced white male of 52 years, with warmth, wit, convertible, canoe and Upper West Side real estate — seeks outrageously bright, attractive, and largely happy woman under 40, who, in the unlikely event that all should seem right, would be willing to consider marriage and children. Photo please. 2533
This is just an amazing blind item. What divorced fireside philosopher/sort of celeb who was in his 50s and dating in the early '90s in New York City might this possibly be? Also, kind of captivated by "largely happy" and "unlikely event that all should seem right." Hopes: appropriately middling.
4. Horses Can Talk! — Meet our owner. He's 28, sweet, sincere, thin brown hair, green eyes, 5'11", a corporate beach bum! A note and photo from a slim gal, 20s, will get the same! 2117
This would be like if you wrote your online profile from the perspective of your cat.
5. Witty, Warm Woman — Late 40s, attractive, interesting, outdoorsy, degreed, solvent, looking for easygoing Alan Alda/Garrison Keillor type. Should like animals, kids, farms, antiques, comfortable clothes and the company of close friends. Age, looks, riches of little importance, but must be physically affectionate, emotionally open and like a lot of communication. A fondness for gardening, good food and moseying around the neighborhood is a plus, as is an inquisitive mind and exploratory spirit — and enough self-indulgence to enjoy spending rainy days in bed. Lots of flaws accepted, if accompanied by sufficient warmth, humor. Note necessary/photo nice. 7262
The longer you write, the more you have to pay. (In 1992, when this ad ran, that was $33 a line, with a two-line minimum.) So this woman, whose missive goes on for 17 lines, shows that she's very much willing to invest in the right guy ($561!), should he be findable via the personals and her words. (One of the benefits of online profiles: less-stringent word limits, should you be a woman or man who likes a lot of communication.) P.S. I once saw Alan Alda in Soho and it was the best celebrity sighting of my life.
6. I'll Shoot My Dog! — If you don't answer this ad. Beautiful, green-eyed Rutgers grad, 5'5", 120 lbs, seeks tall, Jewish, athletic guy, 34–39, for Fire Island summers, bike trips, jazz music, NY Times, books and best friendship. Note/photo/phone. 4186
Confused about the dog. That seems unfortunate.
7. Bored by Post-Teenbopper Prattle — Articulate, handsome man — attorney, 31 — seeks svelte, sexy, unattached, white professional woman, 35–50, for intelligent conversation, laughter and relationship. Recent photo/note please. 8154
Note that age range! This is one progressive dude, though I'm dismayed by the cavalier dismissal of "post-teenybopper prattle." (I wonder how this fellow is doing today, what with the rise of emoji.)
8. We Shouldn't — Be meeting like this. Sweet, smart, pretty, professional Jewish woman, 30, seeks a wise, whimsical and basically wonderful Jewish man for lasting love. Note/photo/phone. 6413
Ah, the shame of reaching out in this strange newfangled way, in the pages of a magazine! Let's make a joke about it, shall we?
9. Somewhere Over the Rainbow — This Tin Man — a sweet, sincere, leading CEO with sterling character, devilishly handsome, heart of gold, body of steel, young, fit, tall, with multiple facets/degrees/residences/millions, lots of fun — seeks his Dorothy under 37. Photo required. 8666
I love a metaphor but the Tin Man was the guy without the heart, right?
10. Can a Right-to-Lifer — Be a liberal Jewish woman? Single Jewish woman, 32, nonsmoker, social worker, politically aware, unusually compassionate, likes theater, square dance. Seeks responsible, full-time employed man, 28–45, who believes that ultimately the purpose of life is to make the world a better place and is at least a little troubled by the concept of abortion. 6273
Well, this is a bold move, invoking the specters of both abortion and square dance.
11. I Want to Get Married! — Are you a single Jewish woman, 18–27, who is adventurous and a bit daring? Are you voluptuous and pear-shaped? Do you want children and a traditional Jewish family? Then, a life of luxury, sensuality and excitement can be yours with this dynamic, wealthy, 31-year-old, Jewish-Australian business tycoon. 8642
There is both something refreshing and disturbing about this. (I think it's the word sensuality.)
12. Brown-Eyed Girl — Attractive, long-legged Jewish woman, MD, with passion for rock & roll, Szechuan food, romantic comedies and the Stairmaster, seeking handsome professional man who can make me laugh. Must be over 5'10" and know who Neil Young is. Photo/note/phone. 9399
Add points for using "passion" for the Stairmaster to indicate you like to stay in shape without saying something as tawdry as "I like to stay in shape." Subtract points for having "passion" for the Stairmaster. This is like a very specific kind of Joe Versus the Volcano–era of Meg Ryan time capsule, though clearly we should all still know who Neil Young is.
13. For Your Eyes Only — Optometrist — can write prescription for looking at life through rose-colored lenses. Single Jewish male, 29, Cornell grad, muscular, 6', nonsmoker. For RX to happy times, write with snapshot. 8655
Gotta love a theme. (How quaint, too, is "snapshot"?)

14. Single White Male — Of NYC, 44, 5'9", amiable, healthy. Seeks divorced/single white female, 30–41. 9884
When a personal ad lacks specificity to the point that you worry it might be a front for a serial killer. (Note: Single White Female, the movie starring Bridget Fonda and Jennifer Jason Leigh that changed the phrase "SWF" irreparably for me, came out in August of 1992 — almost a year after this particular ad, which was published in September of '91.)
15. Have It All — Female, 50, professional, seeks male counterpart. 2140
When having it all meant something very different.