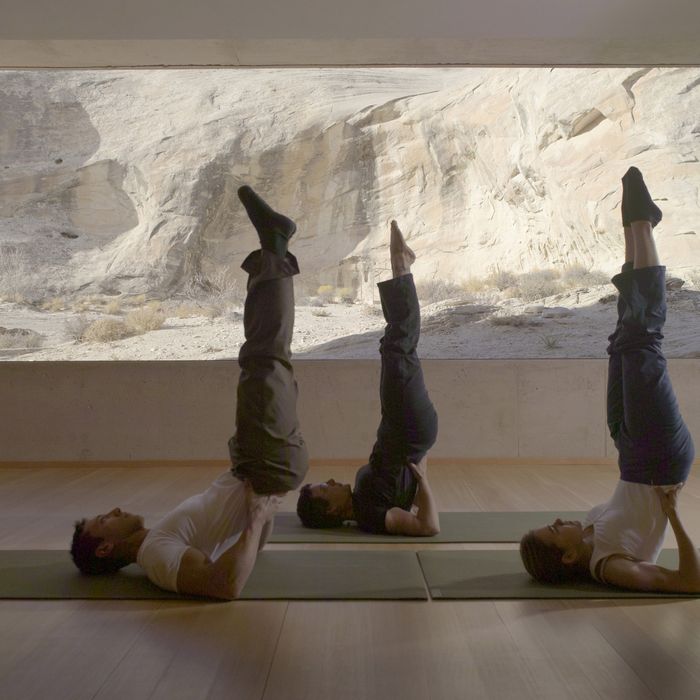 Photo: Courtesy of Aman Resorts
Last month, a friend filed for divorce after a year of emotional wreckage generated by her husband's emotional affair. Then she disappeared off the face of the earth for 24 hours. Everyone was worried, but I was not. Because I was the one who got the text: "Caviar." A week earlier, we had read about the "All Caviar Package" at the La Prairie Spa at the Ritz-Carlton Central Park — caviar cocktails, caviar facials, caviar massages, and caviar dreams — so I knew exactly where she was and what she meant. My response: "Za zda-ró-vye!"
Whether you're the dumper or the dumpee, it's essential to take some distance and indulge in self-care after a split, and a spa, wellness retreat, or feel-good haven can be a great first stop. Why? "Spa treatments have been shown by institutions like the Mayo Clinic and Cleveland Clinic to help reduce stress, promote relaxation, and soothe the rough edges of anxiety, which is what you need when you're going through a major life change like a divorce or a devastating breakup," says Rona Berg, editor-in-chief of Organic Spa magazine. Sometimes it's even more helpful than therapy because "the results are more immediate. When you are hurting, sooner is better when it comes to healing." Here are ten jaunts to jump-start your next chapter after a split.
1. Enroll in a proper Divorce Detox in Southern California …
Based in Southern California but with clients from all over the world, Divorce Detox workshops come in various à la carte packages depending on how much time you can devote and how much cash you're willing to spend. The retreats can include group sessions, individualized sessions, communal meals, beach walks, hikes, yoga, massage, confidence-building exercises, and stress-releasing lessons. Seminars include topics like "establishing healthy boundaries" and "self-forgiveness." Co-founder Allison Pescosolido, M.A. emphasizes that, as opposed to plush bathrobes and infinity pools, these programs are strictly drawn from psychology, sociology, and the behavioral sciences. Packages start at $489.
2. Get Zen at the Bedford Post Inn …
This marriage between country inn and Zen palace in Westchester County is a good option to regroup, re-center, and surrender to some serious inhales and exhales. The adjacent Yoga Loft, set inside a big, cozy barn, has unlimited back-to-back yoga classes, silent meditations, and group chants. The loft is open all day and night, with classes taught by world-famous yoga instructors, Ayurvedic healers, and life coaches that focus on things like deep breathing exercises and other day-to-day coping techniques. A rich-bohemians haven, it's only an hour away from the city, and all the food (farm-to-table, obviously) is done by chef Michael White and the Altamarea group. Bonus: There's a solid chance you'll spot Richard Gere on site (he owns the place with his ex-wife!). Rooms start at $395 and include continental breakfast.
3. Climb away from reality in Yosemite …
Sign up for "Girls on Granite," a rigorous, emotionally charged two-day vacation package offered seasonally by Yosemite Mountaineering School, where world-class rock climbers take women on life-changing treks up, down, and all around Yosemite. Participants are encouraged to camp out at Curry Village with other Girls on Granite trekkers. Girl-bonding is not optional, but the camping part is — guests can also stay at the Ahwahnee Hotel. Packages start at $200.
4. Balance your Chakras at the Inn at Loretto in Santa Fe …
Rona Berg recommends this tiny spa in the heart of Santa Fe, "where the healing traditions run deep." She suggests any treatments that involve chakra balancing because, "it removes energy blockages from the body and, without getting too 'woo-woo,' is an incredibly revitalizing treatment, perfect to help pull you out of a sad mess." One Loretto full-day spa package option is "365 Minutes of Bliss" which includes: Native Reflections, a Zen Flower Organic Facial, the Loretto Manicure and Pedicure, a Milk and Honey Wrap, and Chakra Balancing … and costs just over $700.  Rooms start at $130.00.
5. Embrace Navajo rituals at Amangiri in Utah …
The wondrous Amangiri (which means peaceful mountain), located on 600 acres of heart-stopping peaks and valleys in Utah, is for intense solace-seekers who can afford the best in luxuriously earthy vacations. The Amangiri spa, with its sky-lit reflection pool and wood-burning fireplace, practices the healing traditions of the Navajo people and the four elements of life and destruction — earth, wind, fire, and water. Think: Floatation therapy (a deep-relaxation treatment that makes you feel as if you're floating over water) and an outdoor hot stone massage overlooking an endless sweeping valley, full moons, coyotes and all. Rooms start at $1,200.
6. Lose yourself in a woozy haze at the Calistoga Ranch in Napa …
If Napa is God's country, Calistoga is God's country on Xanax. The Calistoga Ranch is one of those luxe-treehouse sanctuaries where the chicken coops are featured in glossies, and guests are all dressed in Calypso caftans. But all that really matters is that the ranch is one of the best places to calm down in the country.  The crisscross of wine and wilderness results in a profound sense of distance from reality. When you are there, you are gone. They offer private wine cave meditation sessions, candlelit yoga, and morning meditation hikes. There's a spa built into a canyon, running over a creek, with treatments like the Classic Cure, a 120-minute outdoor mineral salt bath, followed by an energy-balancing session, and finished with a massage. Spa treatments start at $150; rooms start at $750.00.
7.  Channel cowgrrrrl power at Triple Creek Ranch in Montana …
Besides being co-owned by Barbara Barrett, a card-carrying feminist, the Ranch has an annual Women's Rendezvous where women are invited to explore the Rocky Mountains and get consumed with badass, you-only-live-once cowgirl culture. Daytime activities include shooting guns, archery, fly-fishing, ATV adventures, and a cattle roundup. Evenings are dedicated to mountain grub, good wine, camaraderie, self-reflection, and serious, old-fashioned fun. Then you drift into sleep in a Relais & Châteaux–approved log cabin. (Neat fact: This area of Montana is where Sacagawea played a pivotal role with Lewis and Clark — she was the only female on the expedition.) Cabin rates starting at $950 per night and include accommodations, meals, house wines and spirits, and all on-ranch activities.
8.  Go uptown for energy healing at the Surrey …
Every few weeks, the Cornelia Day Spa at the Surrey offers sessions with the illustrious energy healer, Diane Goldner, who specializes in remedies for all sorts of "life challenges," from insomnia to heartache. Goldner will meet with a guest, "set an intention," and then lay the guest down to run positive healing energy into her body through hand-work. Her goal is to release the underlying root of one's pain or anxiety, and create an open flow and expanded consciousness. Clients say results kick in immediately, or within a week … and hey, if that doesn't work, Madison Avenue is always right there. Sessions start at $185 for 60 minutes.
9. Explore Watsu healing at Travaasa Austin …
Another Rona Berg suggestion is the spa at Travaasa Austin, overlooking Texas hill country, where the staff is super-knowledgeable about the human body and the ability of plants and essential oils to naturally treat, heal, and revitalize the soul. Treatments involve aloe wraps, avocado massages, and Watsu — a "profound stress reliever," says Berg. "You enter a heated pool of water with a massage therapist who cradles you like a baby, while you stretch, buoyed by the water. It is so relaxing and meditative, it almost feels like you are going back to the womb for a bit, and helps clear a tangle of emotions." Watsu sessions cost $140; rooms start at $250.
10. Have a Rain Dance Massage at Amara Resort in Sedona …
The Amara Spa at the Western-chic Amara Resort just launched a series of mystical, super-Sedona-esque services involving Native American rattles, sage smudging, healing crystals, and chakra balancing. The Rain Dance massage doesn't just sound cool, it's actually highly therapeutic, with oils of lavender, rosemary, and sage rhythmically dropped down your spine, then massaged into your system. A vortex of earthy-crunchy wellness centers, Sedona is like a mecca for the broken-hearted looking to do the emotional and spiritual work to feel better and stay better. The Rain Dance Massage is $140; rooms start at $150.