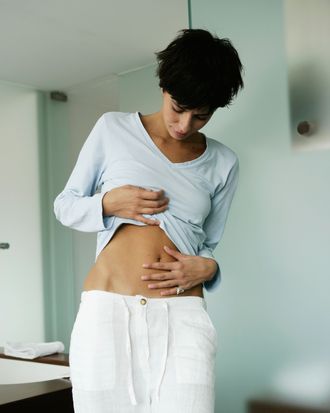 Photo: Sie Productions/Corbis
"Nice manicure. What's the occasion?"
I glance down at my bubblegum-pink polish and smile inwardly. The color is in celebration of the fact that I'm giving birth to a baby girl on the 27th of April. I saw her on the ultrasound yesterday, distracted from the grainy image of my future daughter swimming in amniotic fluid by the emails piling up on my iPhone. I'm 30 years old, single, and 22 weeks pregnant. I'm also tenuously employed, and, like most American women in my situation, I'm very nervous about what will happen to my job once work knows about my status as a mom-to-be.
"I was just in a pink mood." I shrug toward my co-worker.
I work as a full-time in-office freelancer, meaning my job is in no way protected. My workplace broadly falls into the fashion industry; although my department is female-dominated, few of the women I work with have children. I got pregnant unexpectedly, on a one-night stand halfway through what was supposed to be a yearlong trip around the world. The father is a personal trainer from New Zealand. I don't know his last name, haven't spoken to him since that night, and hadn't planned to have sex with him when I'd invited him back to the room I was renting after we'd met at a bar. In the heat of the moment, one thing led to another. My supply of birth-control pills had run out in Montenegro two months prior, but I figured, based on where I was in my cycle, everything would be fine. Plus, I took the morning-after pill as soon as he left.
Four weeks and five countries later, when I found out I was pregnant, I seriously considered having an abortion. I felt betrayed by my body. Then I thought about how I'd always wanted kids, how the sight of the positive sign on the test made me feel more excited than panicked, how deep down, even if I didn't have a permanent address, having a baby seemed like the right move in my life.
And just like that, I'd made my decision: I knew that I wanted this baby, on my own. I didn't want to tell the father because I didn't know the father, not really. There was no way I wanted to force some sort of relationship with a stranger halfway around the world whom I'd only spent two hours of my life with. Selfish? Maybe. And while I kept his contact information and knew there could be a slight possibility I might change my mind on my decision to get in touch with him in the future, I also I knew I had other things in the moment to worry about, including getting my career back on track, ASAP. So at ten weeks pregnant, I flew back to New York City and threw myself into interviewing, trying not to hurl while ordering iced coffee during early morning meetings and wondering why every single person I knew in a position to hire suggested we meet for lunchtime sushi to catch up. Three weeks later, I found what seemed like the perfect gig: an open-ended, in-office freelance position as a copywriter that paid more than double what I'd been making at my last full-time job. Although I have a high deductible, the insurance I purchased as a freelancer is covering the cost of maternity care (thanks, Obamacare!). During the interview, I made it clear that it was unlikely I could commit past the spring, but didn't give details as to why.
Now, nearly three months into the job, the thought of announcing my pregnancy makes me feel like I have a lot to lose and very little to gain. So I haven't said anything. Thanks to a relatively long torso, an allegiance to a 500-crunch-a-day regimen as a teen, and sheer force of sucking-in will, I don't yet have a discernible bump. My doctor thinks I can maybe go another month without it being obvious. I wear maternity skinny jeans with an oversize sweater or button-down shirt almost every day. I make sure my hair is blown out, my makeup is perfect, my manicure is never chipped, and my accessories are immaculate. I hope that my attention to detail makes up for the fact that I'm wearing a variation of the same outfit every day and am the only person at the office who eats snacks at her desk (to stop myself from fainting, which has been a recurring issue throughout my pregnancy). I wear six-inch heels and ignore that my feet are swelling. I fake-sipped Champagne at our holiday party and make up stories about what I did over the weekend instead of telling the truth — that while I used to go out, now I do what I like to call "bumping out," where I wear a form-fitting maternity top as I run errands. I like the attention I receive; I like looking pregnant.
It's a different story Monday through Friday. It's no secret that the job world is hostile to parents-to-be. Pregnancy discrimination has reached the Supreme Court in the case of a UPS worker placed on unpaid leave after disclosing her pregnancy. The Chicago Board of Education is being sued for discrimination against pregnant teachers. A story line in a 2011 30 Rock episode had Jack Donaghy's pregnant wife, Avery Jessup, wear wizard robes to work during her third trimester to keep her pregnancy under wraps. And I've seen it in my own career: the co-worker fired two weeks after she came back from maternity leave, the assumption that moms-to-be suddenly are no longer interested in assignments that require late hours or travel.
I know that not wearing a wedding ring has bought me even more time before I have to tell — even if I may look a little bit pregnant, it's easy for co-workers to chalk it up to too many cookies rather than a bun in the oven. But if I were coupled up, at the very least, I'd have someone to strategize with when it came to a work-life-balance plan, as well as to share the financial burden that comes with a baby-to-be. Just the thought of day care alone — the average annual cost is $15,000 in New York, but much higher in the actual city — makes me panic. The financial burden and stress about the future is intense. And that's why it just seems easier to at least go through my work life without a baby onboard.
Of course, "easier" is relative. I threw up every other morning during my first trimester; an initially inconclusive genetic test result had me panicking during the first half of my second. And the worries keep piling up: At my last ultrasound, my doctor found that while my baby girl looks great, I have what's known as placenta previa, which is where the placenta covers the cervix. Not only does this lead to an almost-certain C-section delivery, it also means I have to be worried about internal hemorrhaging in the interim. Now, I cringe remembering my own clueless pre-pregnancy days, when I'd ask clearly expecting colleagues how they were feeling or whether they knew if they were having a boy or a girl. It wasn't any of my business, and I had no idea about the internal struggles the women I spoke with may have been experiencing.
I have told one person at work. (Once I heard the phrase "possible hemorrhage" from my doctor, I realized it was in my own best interest to let someone else know what was going on.) Sure, I didn't want to risk her blabbing to other colleagues — but I also didn't want anyone to find me covered in blood with no idea what was going on. She was surprised, excited — and just as in the dark as I was about how anyone we worked with would react.
That's the thing: This is the first time in my professional life I've ever truly felt I was truly navigating uncharted territory. In the past, whenever I was ready to ask for a promotion or had trouble dealing with a difficult boss, it was easy to get advice from mentors who'd been there and done that. But pregnancy seemed shrouded in secrecy, with every woman's story vastly different, and all dependent on her unique relationship with her bosses, her savvy networking and negotiating skills, or simply the fact that she'd done pregnancy the "right" way — waiting until she got a full-time gig with benefits, working the requisite year, knowing that maternity leave benefits were available for the taking.
Not following the traditional script makes me feel completely uncertain, not just about my career, but about my life. Which is why at least part of the reason I've kept it a secret — beyond the political and professional reasons, beyond the fact it simply hasn't come up — is because I'm afraid my pregnancy will define me, and I'm still trying to figure out what that means. In my "real" life, where everyone now knows I'm pregnant, I'm constantly peppered with questions I don't know how to answer, from whether I've researched day-care options to where I plan on living when my lease runs out next fall. At work, I feel in control. I know what I'm doing and I'm good at it. I also like the fact there's a little corner of my life where I can still be the "old" me, where I can sympathize when a single co-worker talks about a date gone awry during a conversation in the office kitchen. While I do know how to be a fun single girl, I don't yet know how to be a mother. I'm navigating this brave new in-between world one day — and one sideways glance at my profile view in my bathroom mirror to make sure the bump is still under wraps — at a time. I do sometimes worry that my two lives will collide — and sometimes I wish they would. It would at least put an end to the when do I tell drama I'm putting myself through.
But I'm not delusional: I know that this baby is coming. I know it'll soon be obvious, and that I'd rather announce it myself than have people wonder behind my back. And when I do, I sincerely hope they'll follow my lead and keep the focus on my work, not on my bump. I promise to do the same in the future for any co-workers who are probably pregnant, possibly freaking out, and clearly working for two.