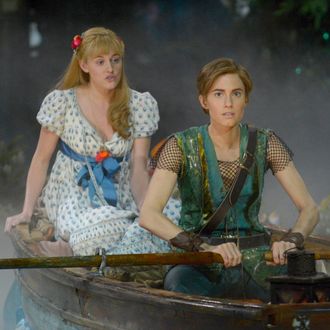 Photo: Virginia Sherwood/NBC
Overall, reviews are kind of mixed for Peter Pan Live!, although judging from Twitter last night, it seems like many people didn't hate the live television musical spectacle as much as they expected to. But personally, I had to turn the thing off around 45 minutes in, even though I am the sort of person who loves both musicals and live television spectacles. I have a theory as to why, and it's the same reason I found The Sound of Music Live! to be so excruciating: It's way too uncomfortable to watch the actors deliver their lines to absolutely no one. No live audience means the laugh lines, for example, are said and followed by a pause for laughter — and all we hear at home is dead air. 
It reminds me of a study I wrote about back in June, led by Joshua Clegg, a psychologist at CUNY's John Jay College of Criminal Justice. He asked the participants to prepare a speech defending their point of view on a subject the researchers gave to them; they then were made to give the speech, all alone, while being recorded by a camera. "It was excruciating for most of them; many of them were sweating, fidgeting, looking at the ground, tongue-tied," Clegg told me in an email at the time. "Some of them even had to quit in the middle because it was too difficult for them."
This, Clegg ventured, is why leaving voice mails can feel so terribly awkward; we need that human feedback to reassure ourselves that what we're saying is understood, and accepted, and generally not-weird. And this, I think, is the root of my personal discomfort with both the live musicals NBC has done so far. 
Add to that, maybe, a bit of fremdscham, the sorely underused German word meaning vicarious embarrassment. A 2011 PLOS ONE study showed that when people simply viewed an illustration of something embarrassing happening to someone else — for example, a man in line at the post office who bends over and rips his pants wide open — activity increased in the region of their brains associated with pain. There's a reason some things are to painful to watch. (And I didn't even make it to the Clap if you believe in fairies! bit.)