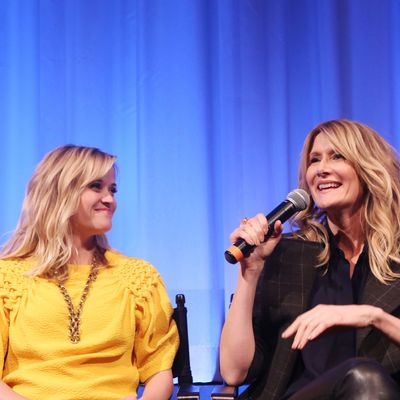 Photo: Bennett Raglin/Getty Images
"Put yourself in the way of beauty": it's a piece of wisdom that Cheryl Strayed's mother passed to her, and Cheryl carried those words after her mother's death while hiking 1,100 miles on the Pacific Crest Trail. This was a journey that inspired her best-selling memoir Wild and the new movie of the same title. The film's stars, Reese Witherspoon (Cheryl) and Laura Dern (Cheryl's mother, Bobbi), as well as producer Bruna Papandrea gathered at an intimate Peggy Siegal luncheon at La Grenouille hosted by Katie Couric and Marlo Thomas, where the women each shared advice from their own mothers. 
"My mother always said, 'If you want something done, do it yourself,'" noted Witherspoon, which she says has been a motivation for her production company. "Instead of getting frustrated that there's not the right kind of roles out there for women," she says, "I just decided to start making them myself."
Couric similarly cited bolstering advice from her mother: "'Let 'em know you're there.'" She says she interprets this as encouragement to be present and "not shy away from controversy or who you are."
Dern expanded on a piece of advice from a fourth-grade teacher, who told her to keep her eyes on her own paper: "I think that's a very good lesson for creative people. We do what we do. We stay with our own unique storytelling. If we get too caught up in what the rest of the world is doing, it's hard to be unique."
In sum: Wisdom from mothers (and excellent fourth-grade teachers) should be repeated often, maybe all the time.