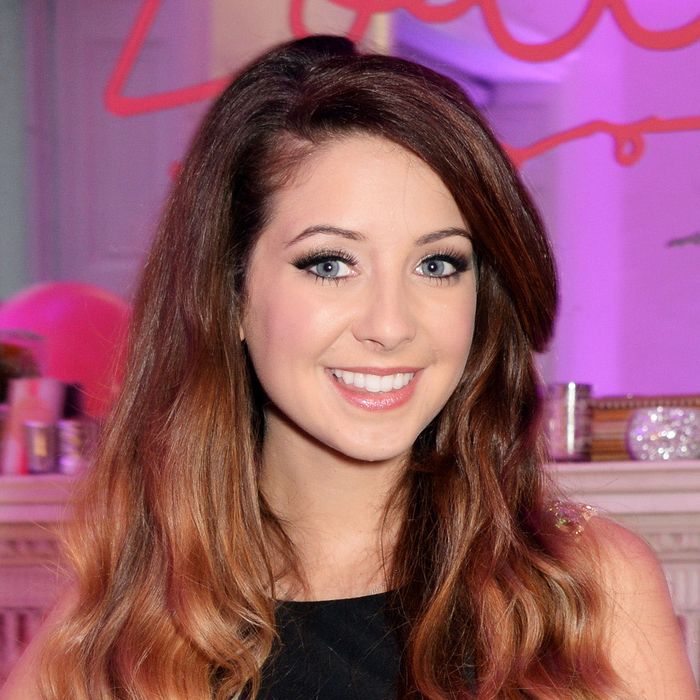 Photo: David M. Benett/Getty Images
Zoe Sugg (24 years old; outstandingly cheerful) just sold nearly 80,000 copies of her debut novel in the first week. The book, Girl Online, has snagged the record for first-week sales of a debut novel and is on track to be the U.K.'s fastest-selling book of the year.
So who is this supernova author? First, you're about a million years old for asking. Second, call her Zoella, Grandma.
Zoella is an exceedingly popular video-blogger. With the endless enthusiasm of a wee British Zooey Deschanel, Zoella charms millions of subscribers (6.6 million to be exact) to her YouTube channel. The plot point of many of her videos involves the unpacking of purchases from drugstore beauty aisles. She's got delicately arched brows, a sunny disposition, and a soothingly benign way of describing blush tones. All of this, it should be noted, monetizes superbly. Sugg doesn't disclose her earnings, but estimates say she hauls in hundreds of thousands of pounds a year. 
But what of her literary contributions? Oh, well. Girl Online has been described as a Notting Hill for the youth, but probably more of that modern internet stuff. Here's the enticing hook:
I have this dream that, secretly, all teenage girls feel exactly like me. And maybe one day, when we realize that we all feel the same, we can all stop pretending we're something we're not… But until that day, I'm going to keep it real on this blog and keep it unreal in real life.
Layered, modern, unafraid of an ellipsis … no wonder it's selling like sugary little hotcakes.