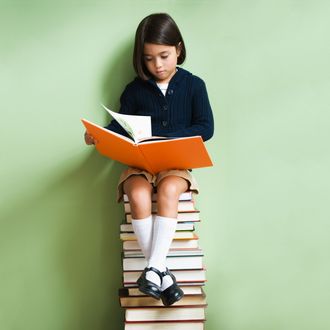 In January, Scholastic is publishing the fifth edition of its "Kids & Family Reading Report," a big survey on kids' reading habits and preferences. A sneak peek is up here, and while not all of it is surprising — did you know that people of almost all ages really, really like Harry Potter? — one finding in particular sticks out: According to Scholastic, "73% of kids ages 6-17 say 'I would read more more if I could find more books I like.'"
This suggests a seemingly easy way to get kids to read more: expose them to more books, and ones that are a better fit given their interests. Easier said than done, of course: It's easy to imagine tired, overworked, but otherwise good parents falling victim to the busyness of daily life and failing to take an active approach to helping their kids find good books. For a lot of folks, it's probably an uphill battle just to carve out a couple of hours to make a family trip to the library, let alone to take the time to join their kids in exploring the stacks. But if this survey's any indication, doing so will probably pay off.
In an earlier version of this post, I'd said that since the study hasn't been released yet, I couldn't vouch for its methodology. That was an error on my part: The methodology is available here. Scholastic used YouGov, a respected market-research firm, for the survey.