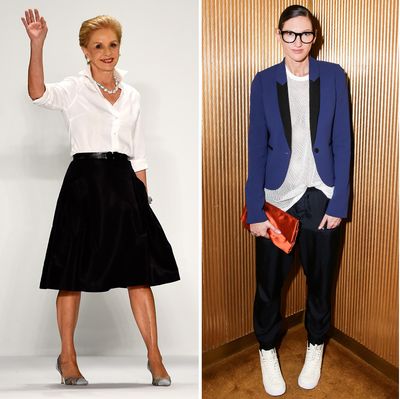 Photo: Getty Images, BFAnyc
This week on the Cut we're exploring how to get your act together when it comes to personal style — from organizing your closet, to finding your signature scent, to figuring out your work uniform.
It's one thing to want a uniform to make your life easier — it's another to actually find one that works for you. In the spirit of paring down our closets and finding our signature looks, the Cut asked stylists, designers, and creative types for tips on how to find the perfect uniform. "I don't wear skirts," J.Crew's Jenna Lyons told us. "So I've fallen into my own uniform, which is always a blazer. There are a lot of crazy pants in my wardrobe — I seek them out." From adding your own beauty statement to writing down four go-to outfits on your phone to save yourself time, here are tips from the experts on how to build a lewk that's all your own.
1. Don't be a trend-monger. "I remember when low-rise jeans were coming in — I remember my mom being really confused about what to do, and I was like, 'You don't have to do that.' I think people look best when they feel comfortable, so worrying about a trend is a dangerous thing for most women. There are things I should just not do." —Jenna Lyons 
2. Be more mindful of how you shop. "If you know you like something, try to figure out why. Are you happiest wearing pants? Are you happiest wearing dresses? We shop as a social thing; people forget the reason you shop is to wear the clothes, and it is not quite as intentional as it should be some of the time. I think I am more specific when I am shopping because of the uniform." —Kate Young, stylist for Michelle Williams, Rachel Weisz, Emilia Clarke, and Natalie Portman

3. Double down on the styles you feel most comfortable in. "I'm a little bit all over the place, so I embrace that and make it ragamuffin-chic, and I make the sloppiness part of my look and it is cute suddenly. You have to embrace who you are. If you are a perfectionist, kind of like these equestrian moms that you see, perfect head to toe, then that's their look, and that's a really nice look. Jennifer Aniston is a good example; she always looks very polished, and that's her look. " —Ilaria Urbinati, stylist for Bradley Cooper, Nina Dobrev, Lizzy Caplan, Ryan Reynolds, and Krysten Ritter

4. Don't be afraid to look for a little inspiration. "For my clients what I do is I usually find somebody, an iconic look that kind of looks like them. I have a client that has a very Sophia Loren vibe. She has the dark skin, the curvy body, the big, voluptuous hair, so we always get very inspired by Sophia Loren, and we kind of plan outfits around that. Figure out which old iconic looks would work on you as well, who has a similar body type and a similar look to you who looks amazing, and look up old photos of them." —Ilaria Urbinati

5. Know what's flattering on you — and what's not. "For me, I always just gravitate to one of my shirts because it is easy for me to wear the same thing every day. But if you're working in an office, it is a lot more complicated. I think it is really just the shape of what you're wearing and just finding something that is really just flattering and functional and you feel like yourself wearing it." —Steven Alan
6. Come up with four outfits and write them down. "I tend to have about four outfits that I wear at any given time, which I like and repeat often. I tend to write them down in the notes section of my cell phone. I think the best thing to do is to start with a piece or an outfit that you look really good in. Some people know what they love, and then from there, kind of buy into that more, and just expand upon that — stick with the brand or the silhouette." —Kate Young
7. Get your brutally honest friend to come over and take your picture. "The big thing that stylists do with clients is take a lot of photos. Get a friend to come over and go through your closet, try a bunch of different stuff on, see what works, and pre-plan some outfits. Then start wearing them, and if you felt good, if you got compliments, go buy more of that and get rid of the rest. If it was something that you were uncomfortable in, get rid of it." —Ilaria Urbinati
8. Pick a color palette. "I will also find a color palette that I'm going for and work within that color family. But so, I'll have something like that and go head to toe with that. If I'm going for sort of a Céline vibe, it is always a little '70s, so I'll do a camel coat with a skinny white jean, and maybe a cashmere camel sweater, or a beige sweater, and I'll do a brown flat equestrian boot. This way, there is a palette of creams, browns, camels, and whites, but it has a really specific look to it." — Ilaria Urbinati
9. Find your signature item. "I have been wearing white shirts all my life, when I was riding, when I was playing tennis; I find them very snappy, and they are very seductive. You can dress them up or down." —Carolina Herrera
10. Find a shirtdress you can wear year-round. "I feel like a button-down shirtwaist is one of the most practical and easy-to-transition things. I love to wear shirtdresses with over-the-knee boots. The same silk dress I will wear in the summer, I will wear with a blazer, so it looks more put together." —Kate Young
11. Keep fewer things in your closet. "I don't want to have to sift through 20 things I know I'm not going to wear to get to the three or four cute things. If you get rid of everything that you don't wear and narrow down your look, and there are the four things in there, getting ready is super-easy and then you are more likely to go out and buy more of that look and get better versions of it." —Ilaria Urbinati
12. Find a signature beauty look. "Find something that you feel sharp and comfortable in, and always have a signature. I wear a red lip."—Karla Welch, stylist for Felicity Jones, Amy Poehler, Olivia Wilde, Zooey Deschanel, Hailee Steinfeld, and Jena Malone