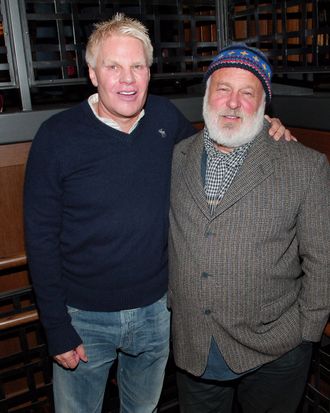 Photo: Michael Loccisano/Getty Images
Bloomberg Businessweek's new cover story is about the travails of Abercombie & Fitch's ex-CEO Mike Jeffries, who retired last month. While we already knew of Jeffries's oddball private-plane etiquette, penchant for making employees do push-ups, and Beyoncé-related litigation, the story unearths even more details about his time at the company.
Abercrombie's declining fortunes pushed the CEO toward making some end-of-term changes. For instance, after years of dousing the stores in its "Fierce" cologne, Jeffries allowed a slight tactical retreat. Sprays of the scent, which scientists have identified as an anxiety-producing compound, were reduced by an ultrascientific 25 percent. He also authorized the removal of the shutters that lent the store its darkened, claustro-chic vibe.
Other gems from the story include:
• Retail associates were required to greet customers with the exact phrase "Hey, what's going on?" which, while appropriately casual, doesn't exactly inspire confidence in their wherewithal.
• Jeffries traded his A&F flip-flops for "lucky" Tod's loafers when reviewing the store's numbers.
• Store reps went on "blitzes" (A&F's wording, not ours) to ensure that every detail — including the number of buttons left unbuttoned— was perfect.
• Male models served as household help at Jeffries's home, which closely resembled an Abercrombie store.
• Ever-sensitive about scent, Jeffries employed an advance team to ensure his hotel room smelled just right before he checked in.