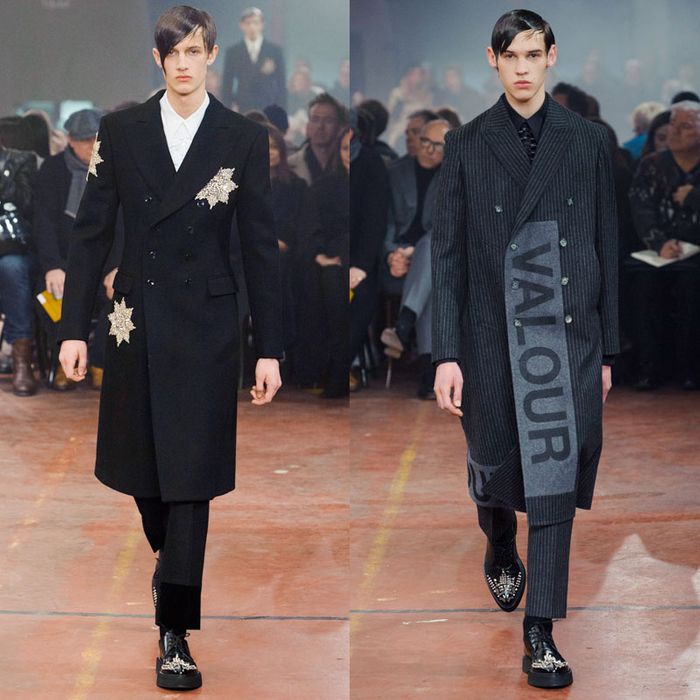 Yesterday's Alexander McQueen FW15 show, held in a dusty old warehouse near London's Albert Embankment, was as no-frills as they come. As guests arrived, the space was dimly lit and smoky — and then the last of the day's sun disappeared, leaving us in darkness. An old fire truck was parked in one corner — apparently the warehouse is used to clean them — and guests sat on wooden chairs, waiting for models to walk out on the concrete. There was a preshow soundtrack of indecipherable whispering, which only added to the creepiness of the scene.
Back in June, creative director Sarah Burton surprised us with a Missy Elliott–soundtracked SS15 show full of primary colors. This season, she returned to the darkness. In two months, the Alexander McQueen: Savage Beauty exhibition will finally open in London, having been constantly hyped by the press since it was announced in April — and despite all the recent images of Kate Middleton in sensible McQueen coats, the show will remind us how good the brand is when it is spiky and theatrical. So Burton was right to leave it to other designers to coddle their guests with plush carpets, champagne, and pop music.
The collection was a celebration of old-fashioned military elegance, as strong as it comes. Beautifully tailored jackets, overcoats, and frock-coats were printed with dark poppies and worn with leather gloves. Black flowers covered suits and sweaters, and leather details on jackets and coats gave them a power. Toward the end of the show, models wore glittering silver stars like they were medals. Models walked out in cropped pinstripe suits printed with the words "truth," "honor," and "valor." Maybe Burton was inspired by the First World War Centenary, which was recently marked in London with a public art installation of poppies — or maybe she wanted to remind us all what Alexander McQueen really stands for.