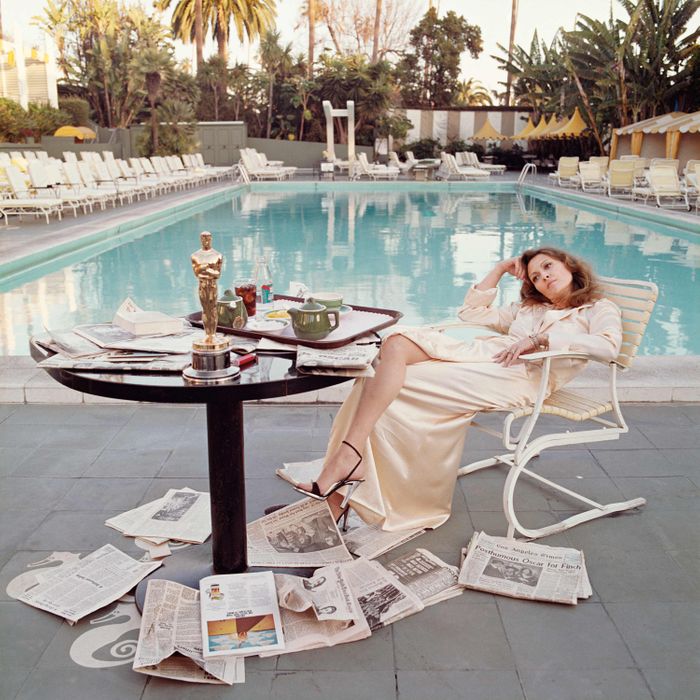 Photo: Terry O'Neill/Iconic Images Limited
Though he took some of the most iconic celebrity portraits of the 1960s and '70s, it was never Terry O'Neill's plan to become a photographer. In 1960, he was 20, and his immediate goal was to get a job as a flight attendant. "I was a jazz drummer, and I thought I'd become an air steward. The flight from London to New York was 14 hours in those days, and then you had three days off in New York. Then you'd fly back, and have three days off in London," he told the Cut. "I saw this whole new future for myself as an international jazz drummer."
But when he went to apply to the BOAC (the British Overseas Airway Corporation, now British Airways), O'Neill was told there were no openings for stewards, and was directed instead toward the photography department. "I took a job in the photographic unit just as a means to become an air steward," he explains. "I never really wanted to be a photographer. I just snuck in."
Within a year, O'Neill had secured a job as the youngest photographer at The Daily Sketch — a now-defunct British tabloid — where his early pictures of the Beatles and the Rolling Stones became some of the first pop-music photography to be published in newspapers. It wasn't long before he was shooting stars like Audrey Hepburn, Elizabeth Taylor, Paul Newman, and Frank Sinatra. His current traveling exhibition, "Big," features large-scale blowups of some of his most famous images, including Faye Dunaway lounging by the pool the morning after winning the 1977 Oscar for her performance in Network, and a sullen Brigitte Bardot smoking in the wind. The photographs are currently on view at Miami's Black Square Gallery and will open in New York later this spring.
The Cut spoke with O'Neill about spending time with Frank Sinatra, the role of luck in photography, and how he convinced Faye Dunaway to wake up at 6 a.m. the morning after she won her Oscar.
Do you remember the first celebrity photographs that you shot?
Well, when I first started working at the newspaper, the first job I was sent on, they said, "I want you to go down to Abbey Road and photograph a group called the Beatles who are recording a song called 'Please Please Me.'" That was my first big job. I mean, it was unbelievable. Next, they asked me what bands I liked, and I said I liked the Rolling Stones. So they said, go photograph them, and I did. My editors thought they looked like five prehistoric monsters, so they sent me out to photograph a good-looking group, the Dave Clark Five, and they ran the two sets of pictures as "Beauty and the Beast." Those were the first pop pictures in newspapers. That really set me up. Suddenly all sorts of people were ringing me up to photograph them, because I was a photographer who could get them into newspapers. In England, we didn't have a Life Magazine — the newspapers were the magazines. So, I had the luckiest start to my career. I've never been intimidated by personalities or famous people. I sort of started at the top and never looked back.
How were your portraits different from what other photographers were doing at the time?
They were candid and real, I think. And I did understand light. I made them look good, so they'd always ask me back to take more pictures, and then it just grew from there. After about four years, I got fed up with the newspapers — I started to feel like I was intruding on people's lives. It wasn't right.  So then I went out on my own and started working on films. I met Ava Gardner, and I said, "They want me to go photograph your ex-husband [Frank Sinatra]." So she wrote me a letter, and I don't know what it said, but whatever it did, it opened every door in the world for me, with him. That's when I realized that he always loved Ava Gardner, because he was great to me. He let me into his life totally. I spent three weeks with him, and we barely talked, but we made a bond. And I worked with him on and off for the next 40 years.
What were your relationships like with the people you photographed?
They were all very professional. I never liked getting too close to personalities. I'm a photographer — I'm there to do a job. I didn't want to get any more in their lives than I did. I would be in their lives for weeks at a time, photographing them, and it was great — sometimes I pinch myself when I look back. I only stopped about ten years ago, but when I look back at all the people I've photographed, I can't believe it. When you're doing the job, you don't realize — it's only when you look back at your work, you're like, God, I really had a fantastic life.
One of your most well-known photographs is the picture of Faye Dunaway the morning after she won her Oscar. Where did the inspiration for that photo come from?
Funny enough, I was photographing her on an assignment for People Magazine at the time — they always did a piece on the girl they think is going to win. Anyway, they picked Faye Dunaway, and while we were doing the pictures, I said to her, "I've been to the Oscars before. If you win, they always take the same pictures of you receiving the statue in the press room." I knew that wasn't the real story — the real story is the next day, when they realize suddenly they're getting all these offers to do films, their value goes from $100,000 to $10 million, and they're just sort of stunned. I wanted to capture that, so I told her my idea, and she was sport enough to do it early in the morning at the Beverly Hills Hotel. She got up at 6 a.m., and we got that great picture. It's become one of the most Hollywood pictures of all time. [Editor's Note: O'Neill and Dunaway later married, in 1983, and stayed together until 1987. They have one son, Liam Dunaway O'Neill.]
You've said that your famous photograph of Brigitte Bardot with the wind in her hair was just luck. How often does getting a great shot come down to luck?
It's all luck. Some people are lucky, you know. I think God pointed down a finger at me when he sorted out my life and said, Let him do it! and he set me up. I've come through all the best times in show business — and the best personalities. There just aren't any real good personalities around anymore. There aren't any stars. I grew up with Paul Newman, Robert Redford, John Wayne — you name it. Today's actors all sort of look the same in black suits, and they just make sequel after sequel.
Do you think the notion of celebrity has changed since you first started out?
Oh, yeah. Now you get them on talk shows. It's not a surprise to see them anymore. In my day, if celebrities did TV, it was a unique hour-and-a-half program. Now they're on talk shows every other night. They've lost all the mystique. Plus, the way the business is run, all the pictures have to go through PR, and PR only wants a certain shot here, or this shot there. They even want approval of the copy. It's a joke. We need better magazines. They should restart Life Magazine, and Look Magazine.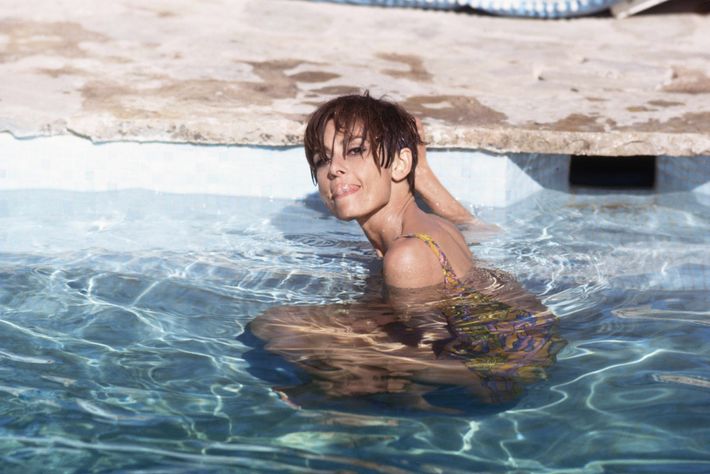 Audrey Hepburn, 1967
In the exhibition catalogue, you mention that Audrey Hepburn was afraid of water. How did you get this shot? Yeah, she had to be flung into the pool. But she was such a pro — she'd always make a picture. I couldn't take a bad picture of Audrey Hepburn. She was a stunning girl and a really fabulous woman. There's no girls like that around anymore.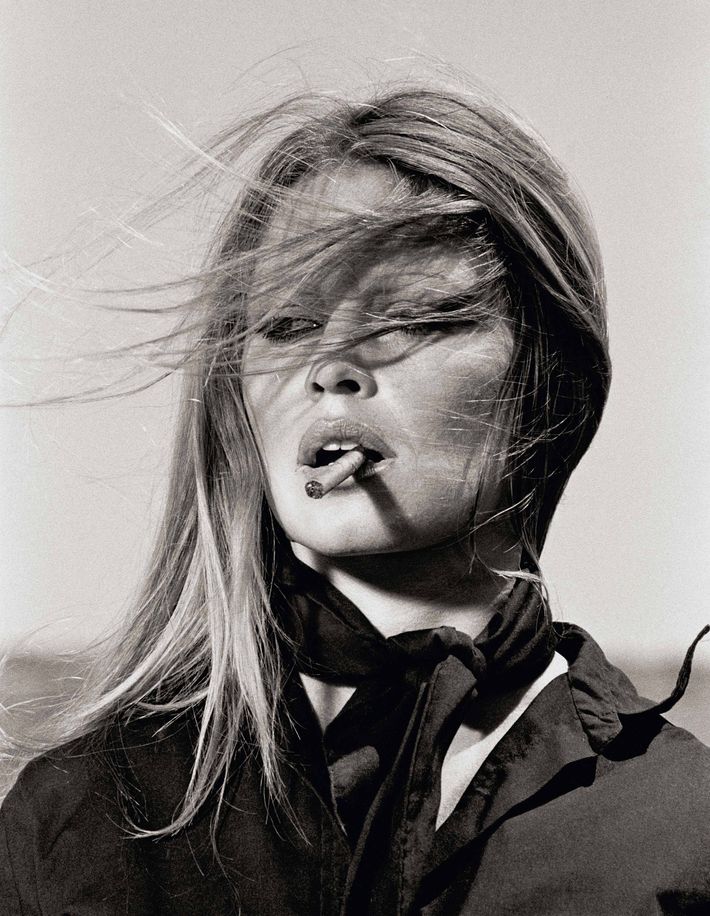 Brigitte Bardot, 1971
"I was lucky with this one. I was on the last frame on my roll of film, and I thought, Should I take it? The wind blew, and I took a chance — and it turned out to be a winner."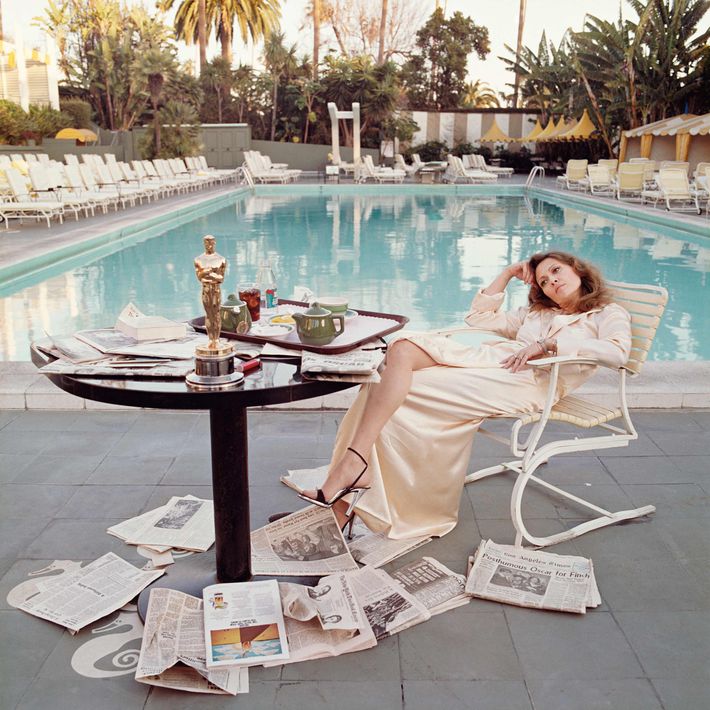 Faye Dunaway, 1977
How did you persuade Faye Dunaway to wake up at 6 a.m. the morning after the Oscars? I don't know. She went to bed at 3 a.m. and got up at 6 a.m. She was great. The whole mood of it was great. It was the perfect thing that she was tired, because it was the morning after — literally, 6:30 in the morning. We shot it at the Beverly Hills Hotel pool before anyone else came out, because you're not allowed to take pictures there.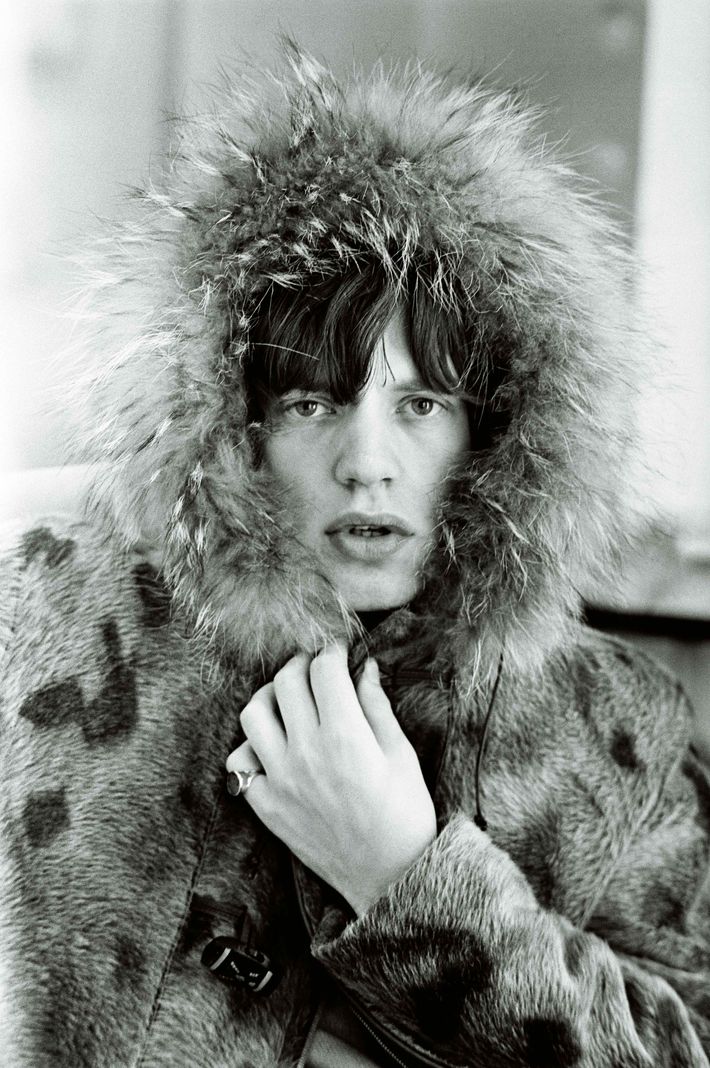 Mick Jagger, 1963
"This was taken the second time I met the Rolling Stones. After I published the first set, I was friendly with their manager, and he had me come down to the BBC Television studios. I went into the dressing room and there was Mick Jagger having his hair done, and then he put on this fur jacket and I shot them in the makeup trailer."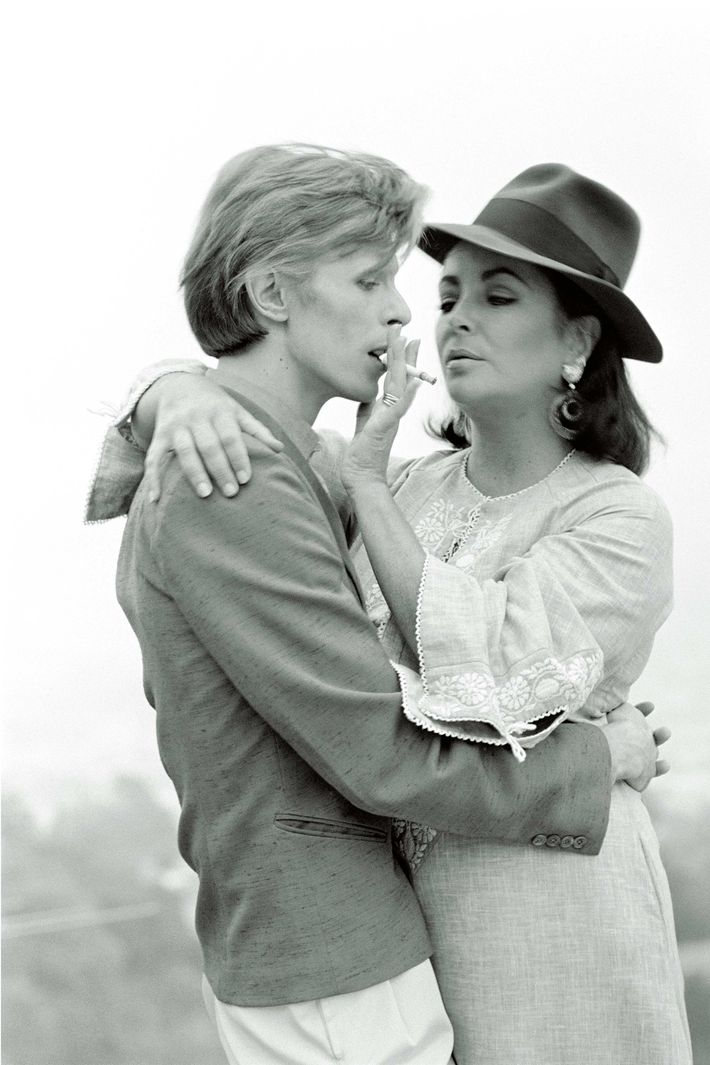 David Bowie, Elizabeth Taylor, 1975
"[David Bowie] was out of it at the time. [Taylor] had wanted to meet him, but she showed up four hours late, and she was just about to leave. But she's such a pro, you'd never guess that she was angry or anything. She just grabbed him, we did all these pictures in about ten minutes, and then she left. She was great. He didn't know what hit him. "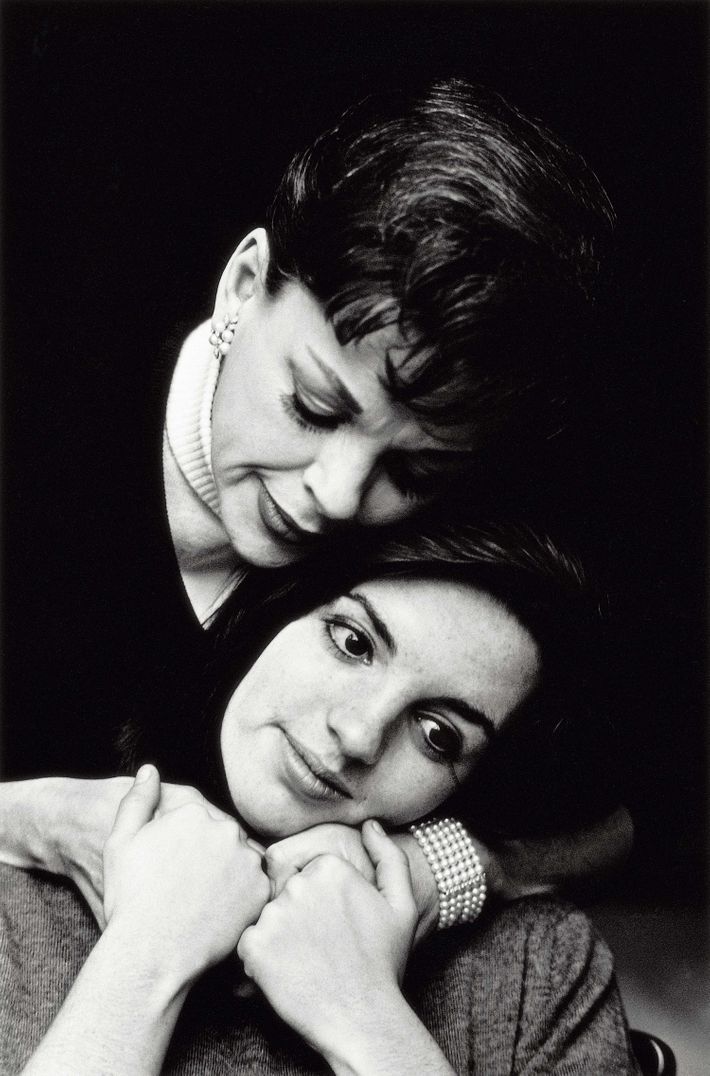 Judy Garland, Liza Minnelli, 1964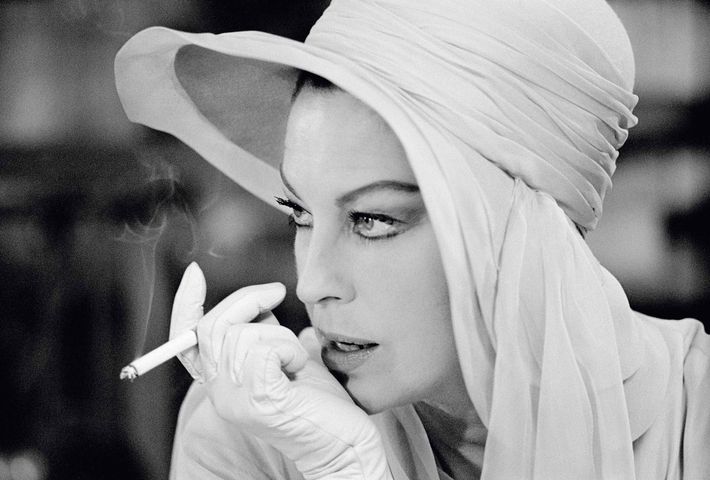 Ava Gardner, 1973
"She was the most beautiful woman I ever met. I can imagine why all those men fell in love with her. I met her sister as well. They'd say, 'We're just two little girls from Texas.' They used to run around all over the place. They hated wearing shoes."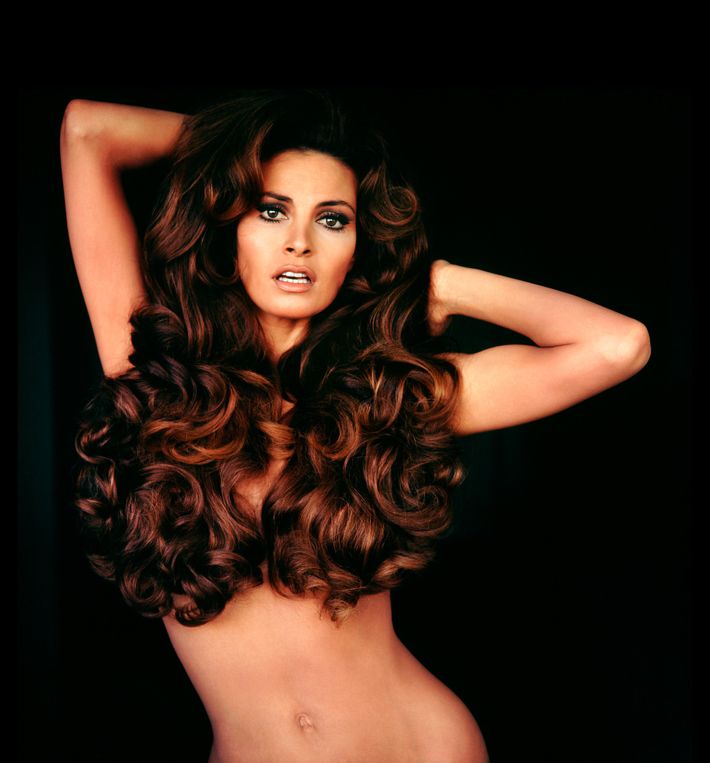 Raquel Welch, 1970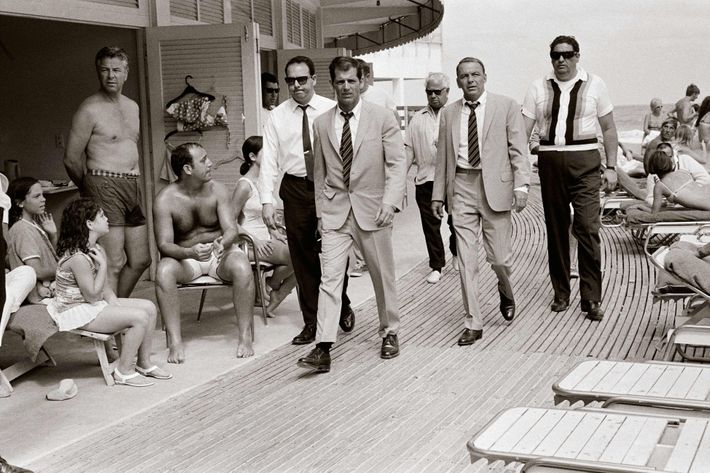 Frank Sinatra, 1967
"I loved photographing Sinatra. He was a special personality. It was just a one of a kind."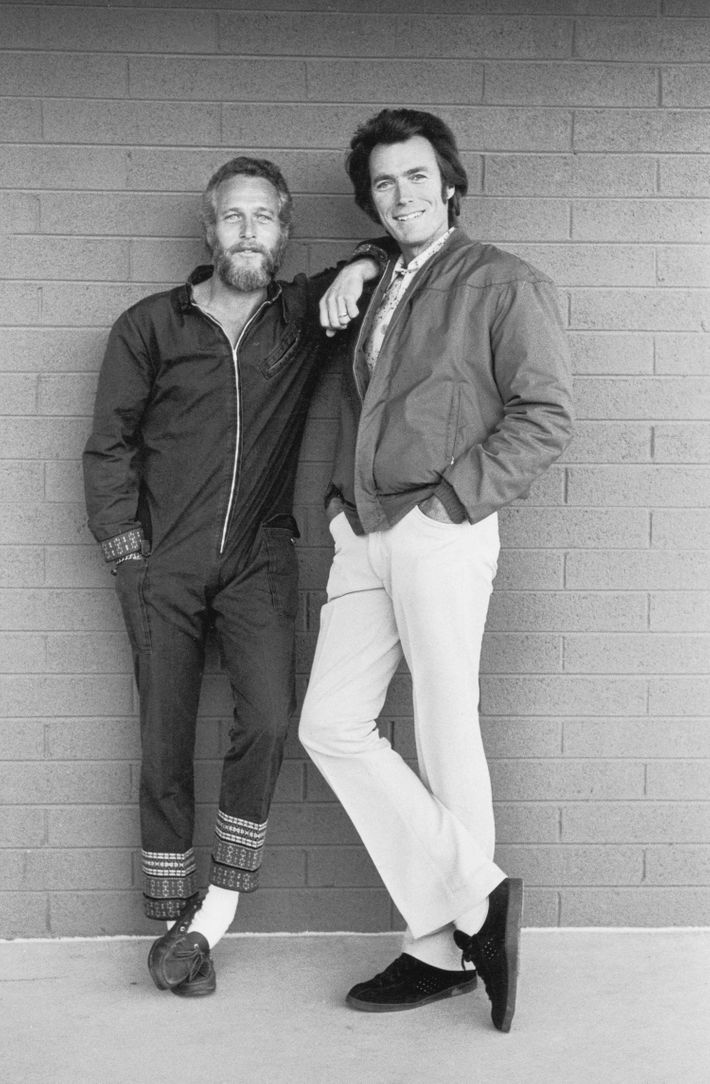 Paul Newman, Clint Eastwood, 1972