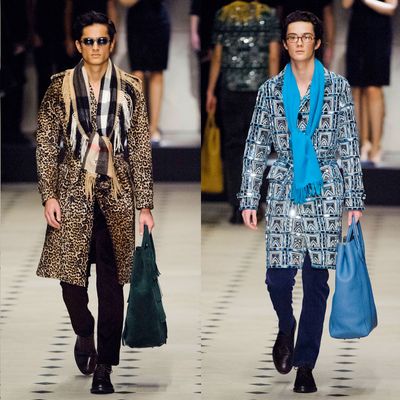 Yesterday under London's gray skies, Burberry continued its quest to become the supplier of clothes that make men look like affluent-yet-sensitive artists. Last season's show was inspired by the travel writer Bruce Chatwin — and before that there were collections titled A Painterly Journey and Writers and Painters. Christopher Bailey, we see where you're going with this.
The new fall-winter 2015 collection is titled Classically Bohemian, and ticked off many of Bailey's recent signatures — a vibrant color palette (ink, green, ocher, camel, purple, charcoal, red, fuchsia, and turquoise), scarves (this time in check cashmere), and luxurious combinations of shearling, wool, and suede.
There were many fresh elements too: Animal and camouflage prints felt like new additions to the artist's wardrobe, and one coat came covered in intricate mirror-embroidery. Bailey also gave the models horn-rimmed glasses — from the Burberry Scholar Eyewear Collection, of course. All the better to look intellectual with.
As usual, Bailey had picked an acoustic musician to perform during the show — this season it was the singer Clare Maguire. Front row, Anna Wintour and Hamish Bowles — in town for Galliano's Maison Martin Margiela debut — sat opposite Jourdan Dunn, star of Burberry's spring-summer 2015 campaign. They were in prime position to be caught by the snowstorm of glitter that rained down during the finale, as models walked out in a new version of the house's monogrammed scarves.
At Burberry, there's a very clear journey from one season to the next — and perhaps that's part of what makes the brand so successful. Bailey knows exactly how to steer his customer toward new purchases without making each collection feel like a change of heart. It could have been the glitter-storm, the music, the clothes, or a combination of all three — but the applause at the end seemed louder than ever.