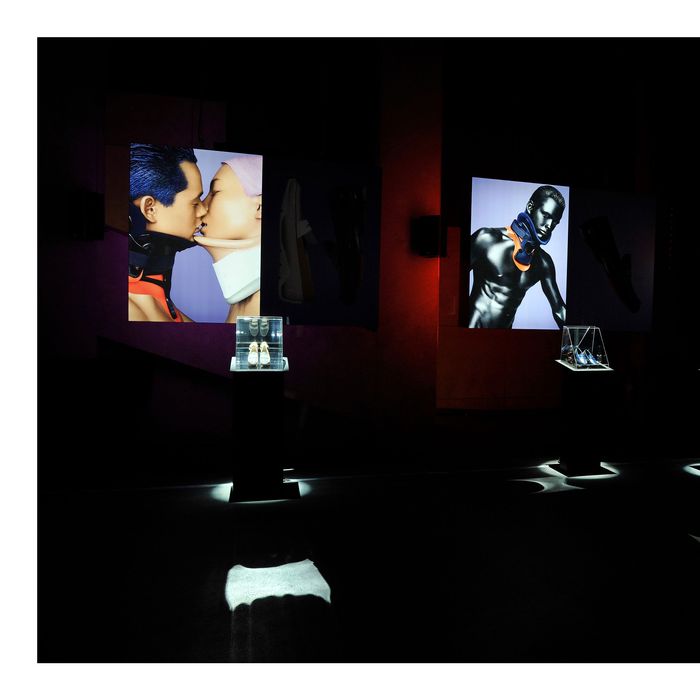 PARIS — When I entered the Camper presentation in the basement of the Palais de Tokyo yesterday, I was greeted by a spotlit photograph of a cadaver-complected girl, a dead ringer for one of the creepy telepathic kids in the 1960 English horror film Village of the Damned. It's — perhaps unexpectedly — an image from the staid Spanish shoemaker's new ad campaign, and it represents the company's edgy new direction.
"The idea was to have this little devil angel," the brand's newly anointed creative director Romain Kremer, told the Cut. "A little spooky."
The walls around the room showed a visual interpretation of each shoe displayed, artifactlike, in a Plexiglas box beneath. "The shoe is called 'Teen,'" the 32-year-old Kremer continues, "which to me is what being a teenager is about — cute and scary and fragile."  
Another image (the campaign and its accompanying video were art directed by Kremer) depicts a couple, both apparently whiplash victims in neck braces, Frenching. "They are the lovers," Kremer says. "This is about protection. We use a lot of rubber; it's an interesting material to play with, mixing leather and rubber. So we have this classic moccasin, but it's protected. So, the softness of the kiss is with this idea of being protected." Got it?
Camper is, in fact, the young designer's third major gig since finishing fashion school. His self-titled menswear line debuted in 2005 (winning the Creativity Award at Festival de Hyères). But he is best known for helming the Mugler men's collection with Nicola Formichetti until he parted ways for Diesel. "It was a good time to start and a good time to stop," Kremer says. "It could have continued, but we achieved what we wanted to do. It was the time to move on. I was not like, What am I gonna do? I wasn't stressed to have nothing. It was nice to step back."
Kremer is enjoying his frequent jaunts to Camper's offices in Majorca and focusing on just footwear. "I'm still a clothing designer," he says, "but it's true, I'm not making clothes anymore. I've devoted time to really make this project work and I enjoy it. It's a different approach. I don't spend my nights doing fittings. I slept yesterday. After ten years of not sleeping, why not?"