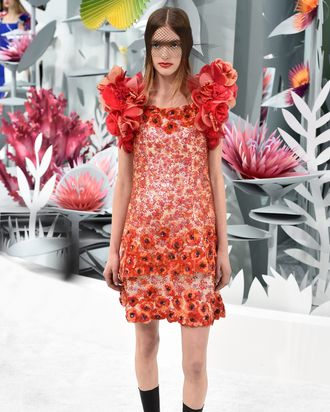 Photo: Pascal Le Segretain/Getty Images
For Chanel's spring-summer 2015 couture presentation this morning, Karl Lagerfeld invited us inside a magical greenhouse. Chanel favorites Kristen Stewart and Vanessa Paradis watched from the front row as origamilike flowers opened and came to life when the show music — a thumping dance track — began.
In succession, the collection morphed from ascot-ready, tweed twinsets to diaphanous gowns embroidered with tulle flowers, which were fit for the Hesperides. Karl's garden nymphs (Kendall Jenner among them) were mischievous at times, with their belly buttons bared, wearing skirts and dresses that were "unfinished," or coming apart. The models also wore black veil-like tulle over their eyes and playful flower-pot-shaped beanies, covered in blooms.
Some aspects of the collection, like the low-slung skirts in particular, which came paired with cropped tops, weren't the most flattering silhouette (even on a model), but the work at Chanel is always an example of couture at its finest. The maison's petite mains really hit their stride after look 49, building up to the finale: the Chanel bride wearing an exquisite tulle skirt with a train, and bouquet-bearing men in tow.