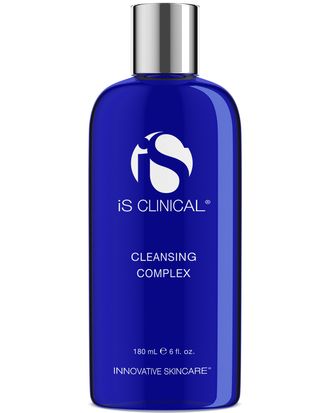 Photo: Courtesy of Is Clinical
Finding a cleanser for oily, acne-prone winter skin is a difficult dance. A cleanser too strong will strip your face of natural oils and trigger glands to overcompensate by producing even more; a weak formula won't thoroughly cleanse. Somewhere between the barren wasteland of overpowering cleansers and puny formulas lies iS Clinical's Cleansing Complex, the Goldilocks of cleansers for oily skin in the winter.
The gel formula from the brand lauded by Rosie Huntington-Whiteley is a gentle-but-mighty mix of skin-smoothing ingredients that sweep oil and dead skin from clogged pores. I gave the face wash a twice-daily whirl in my cleansing routine for two months. Willow bark and sugarcane extract provided a natural source of salicylic and glycolic acid, two exfoliating ingredients that gently sloughed away dead skin and ensured that my pores never saw a clogged day. It kept breakouts at bay, too. Fragrance-free and loaded with vitamin E, the wash never made my skin feel taut after using it, a rarity among gel cleansers.
If you've grown accustomed to high-lather mutant cleansing formulas, Cleansing Complex may feel strange at first. The silky wash only lightly suds and feels almost like an oil cleanser. But unlike the others, after using it, my skin always feels smooth and nourished.
iS Clinical Cleansing Complex, $38 at SkinStore.com