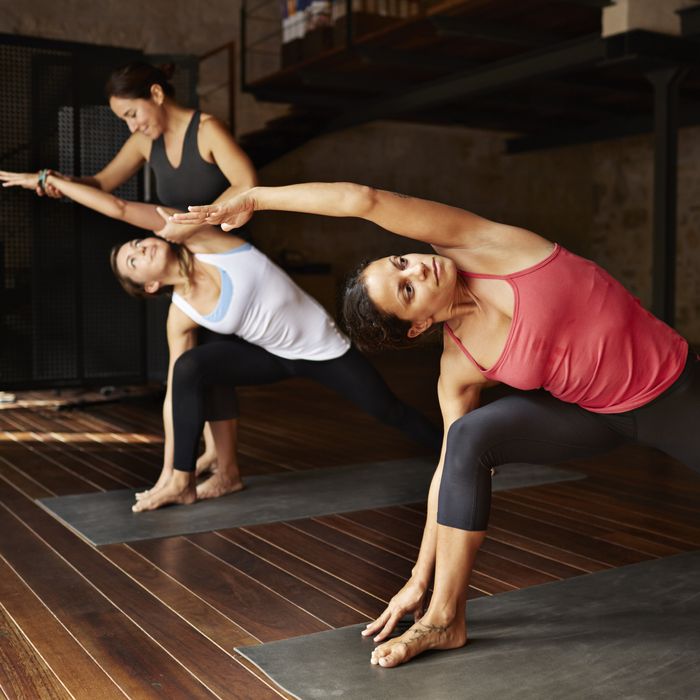 Photo: Klaus Vedfelt/Getty Images
For the past decade, yoga is the only exercise that remains popular among the bevy of trends in ways to sweat. Yoga reigns victorious in our healthy hearts. It's balanced perfectly, gripping its toes onto its plasticized mat, steady and stable, and prepared to stay forevermore.
Yoga's dominance is cited by fitness-trend expert Walter Thompson, who wrote American College of Sports Medicine's Worldwide Survey of Fitness Trends for 2015. The survey analyzes the top 20 exercise trends worldwide. It's seen the rise and fall of Zumba, spinning, Pilates, and the current spike in high-intensity interval training. But yoga is the only steady factor, as Thompson tells NPR's Alison Bruzek: "The yoga folks surprise me every year."
Everything else will continue to boom and bust, Thompson says. Soon, CrossFit will go the way of Zumba. For the next exercise trend, get ready to granny-up, because "fitness programs for older adults" is next. Leisure sports will be prioritized. Music choices will follow suit, with Bach trumping Beyoncé. Prepare yourselves. Consider a light morning stretch and an after-dinner stroll for some cross-training.