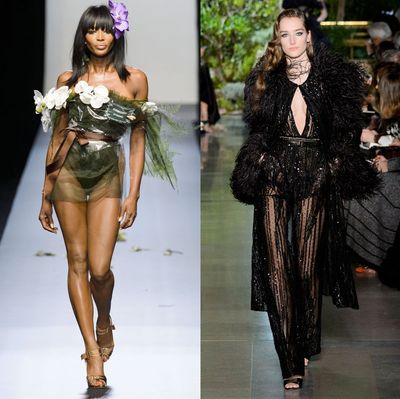 PARIS — The "death of couture" has been a phrase bandied about for decades now; it's a milieu, people argue, for unbridled id and artistry (or at least a spectacle to drum up perfume sales). But the shows today, on the penultimate day of couture, seemed like a backlash against this simplistic generalization. And there were a lot of flowers.
An electric current of "buy buy buy" ran through the air of Elie Saab's show at the Théâtre National de Chaillot early this afternoon, where a new regime of couture clients gathered en masse, outnumbering the press. Women queued up to check their furs in the vestiaire, and I spotted multiple tiaras in the crowd. My seatmate was there to pick out a wedding dress.
The Lebanese-born designer presented a collection filled with diaphanous dresses, inspired by the peaceful days of Beirut. He clearly didn't skimp on the organza or plumage — but threw a few wildcards in, like a revealing, black wisp-thin jumpsuit. This was not the kind of couture one would wear to the supermarket with sneakers, à la last season's Chanel show — they were clothes for very special occasions. Frankly, it was just darn pretty, and the seamstresses should be prepared to start churning the pieces out.
This was the first Jean Paul Gaultier show since the designer's announcement in September that he would shut down his ready-to-wear lines to focus on couture. "It's a nice day to start again," crooned Billy Idol over the loudspeaker, in a heavily remixed version of "White Wedding" — which basically summed up Gaultier's spectacular show. He concentrated his sharp wit and knack for spectacle into a laser-focused show themed around marriage. Throughout the show, he reinvented wedding garb, at times intertwining the concepts of bride and groom by splitting dresses down the middle, merging a suit and a dress into one. In the show notes, one python and satin dress was dubbed "Mariage Pour Tous." It was all a play on nuptials, and an exhilarating one.
I counted 18 times when the crowd spontaneously erupted into cheers during the show, hurling flowers that were placed on the seats at the runway. In pure Gaultier fashion, the couture show began with a bride, her hair a beehive of curlers. Another bride paired her tulle-overall wedding dress with a beekeeping mask, and many more brides cropped up, as well as multiple bridesmaids, grooms, and hybrids wearing riffs on le smoking. Naomi Campbell closed the show, dressed as a bouquet — and, unsurprisingly, garnered the loudest applause.
Viktor & Rolf certainly caught the bouquet. The Dutchmen's show in an intimate gallery of the Palais de Tokyo today was an acid pastoral, filled with floral dresses blooming so wildly (and widely) that models had to turn sideways to pass each other on the runway. There was a sinister psychedelic quality to all of the clashing patterns and proportion-skewed flora — the fashion version, perhaps, of Mrs. Venable's primordial garden in Suddenly, Last Summer.
See the full Elie Saab spring 2015 couture collection here.   
See the full Jean Paul Gaultier spring 2015 couture collection here.
See the full Viktor & Rolf spring 2015 couture collection here.