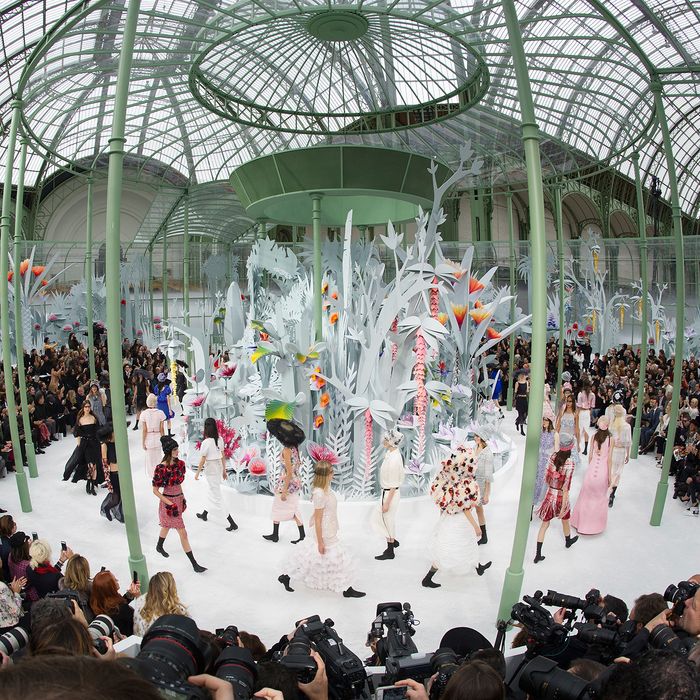 Photo: Kristy Sparow/2015 Kristy Sparow
For the last few seasons, couture has gone normcore. Or at least, it came as close to it as it could — there were Chanel flip-flops, Dior bike shorts, and sneakers from both houses (price upon request). But this season's shows, which conclude tomorrow, seem to have — no pun intended — already flip-flopped on that casual-is-king stance. They took full advantage of what couture is for: selling an ineffable dream to people who will never so much as touch a swath of Lesage lace.
So Karl Lagerfeld took us to a fairy-tale Chanel garden complete with Goodyear-sized beekeeper hats and bejeweled flower-bedecked hats. The models strolled the runway like Alice in Wonderland lost among the flowers. As the 73-look lineup (a volume usually found only in couture) continued, things got zanier — flowers-as-pockets, blooms covering the entire bodice of a dress, trailing from the hem of a frock coat, or forming massive ruffled sleeves. There was winking humor in this extreme extension of a theme, but mostly, the collection made full use of all the resources in couture's power, and flaunted that fact.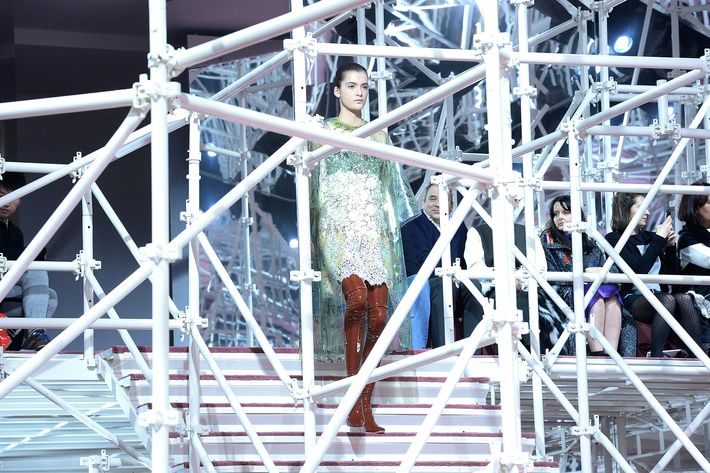 Not to be outdone, Donatella Versace marshaled a crew of supermodels — Amber, Eva, Karlie — to sell the sexed-up Versace glamazon ethos, while at Dior, Raf Simons bet big on psychedelia, and poured extravagance into details large and small, from the gigantic jungle-gym set to jewel-encrusted boots with crystal-embellished heels. Valentino featured the most overtly romantic vision, with amorous lines painstakingly embroidered onto the clothes.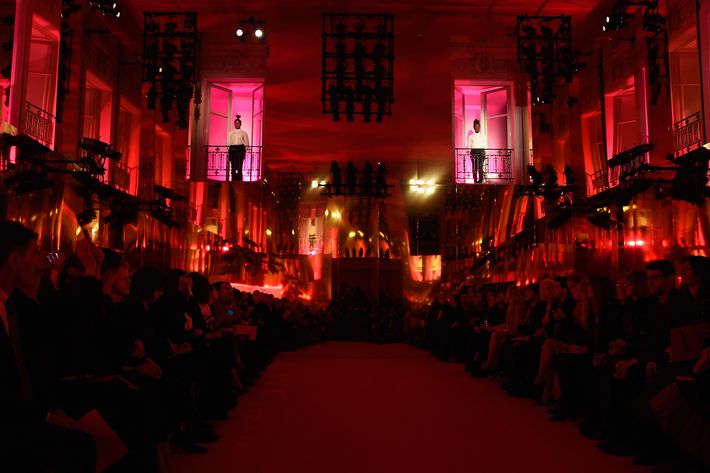 Absent a designer after Marco Zanini's departure, Schiaparelli called on the creative eye of fantasist Jean-Paul Goude, the controversial photographer who most recently brought us Paper's "Break the Internet" shoot. Goude designed the set, the centerpiece of which was a shocking-pink runway in true Schiap spirit, and placed a gospel choir onstage. The models walked out in ruffled, bejeweled gowns and jaunty Stephen Jones fezzes, an eccentric touch that you have to think Elsa Schiaparelli would have applauded.
Couture is the last place where true fantasy, unencumbered by any concessions to reality, can exist and thrive, and it's nice to see designers carrying the flag for it. As Schiaparelli said, "In difficult times fashion is always outrageous." This week, it's managed to be stunning, too.
See the full Chanel couture spring 2015 collection here.
See the full Versace couture spring 2015 collection here.
See the full Dior couture spring 2015 collection here.
See the full Schiaparelli couture spring 2015 collection here.