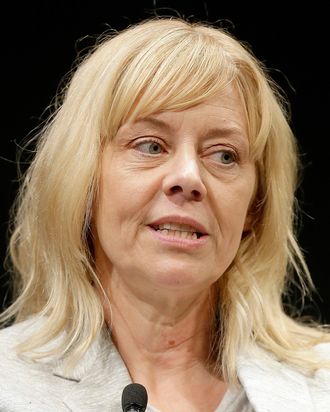 Photo: Tony Avelar/Bloomberg via Getty Images
What's the opposite of falling into the Gap? Rebekka Bay is doing just that. Bay, a veteran of COS and Danish label Bruuns Bazaar, was appointed creative director in 2012, but today a company statement reveals that she has parted ways with her employer, and will not be replaced in the role. In fact, the position of Gap creative director has been axed entirely. Instead, the design team will take over.
Said global brand president Jeff Kirwan in the release, "I would personally like to thank Rebekka for her passion and the creative processes she's brought to the brand. She has helped develop a dynamic design team, some of the best creative talent in the industry, and I'm confident that our strong bench of senior designers will see the brand into its next phase."
The company has had several recent shakeups — last week, it closed Piperlime, and under incoming CEO Art Peck, there has been some executive reshuffling. Time will tell if the old faithful "dress normal" slogan will live on.