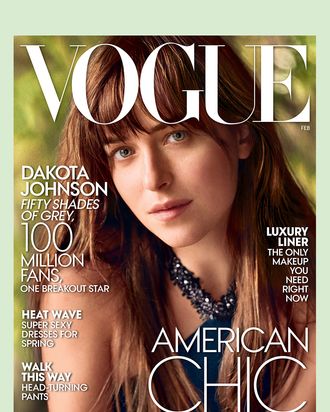 Photo: Mario Testino/Vogue
Unsurprisingly, Fifty Shades of Grey star Dakota Johnson is on the cover of Vogue's February issue. And, also unsurprisingly, the accompanying profile is the standard Vogue fawn-a-thon featuring the starlet as effortlessly glamorous manic-pixie-every-girl. Johnson almost plays her part perfectly — at one point, she removes her heels to sprint across the streets of London (so zany! So down to earth!). But she forgets to feign ignorance at how megafamous she is about to become when she stars in the Fifty Shades trilogy. Johnson says:


"I think about my dwindling anonymity and that's really scary because a very large part of me would be perfectly happy living on a ranch in Colorado and having babies and chickens and horses — which I will do anyway."
She proceeds to discuss the Fifty Shades phenomenon as if no trilogy (Twilight) about a sexually inexperienced young woman (Twilight) who falls for a dark and tortured masochist (Twilight) has ever made an actor famous beyond their wildest imaginations: "It's just the most insane thing to be a part of. I've never experienced anything like this; I don't think anyone has. It's terrifying — and it's exciting."
Twilight.