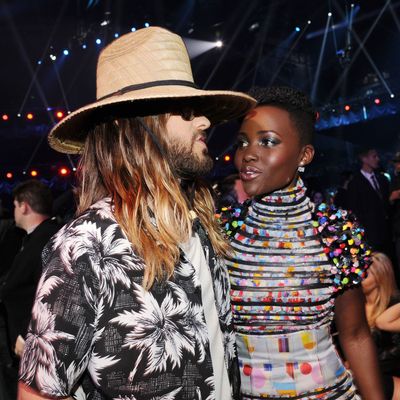 Photo: Kevin Mazur/WireImage
Outrageously beautiful humans Lupita Nyong'o and Jared Leto were spotted canoodling at the SAG Awards after-party last night. A source tells Us Weekly that the two were "majorly flirting," and that Leto made a beeline for Nyong'o upon entering, reportedly whispering sweet nothings in her precious ear.
Lupita, real talk: Even from afar, we understand the magic powers of Jared Leto's Glorious Locks. And though at close range, his hair probably smells of cupcakes and musk and all sorts of heavenly things that are hard to resist, and your babies would probably be the most beautiful creatures to ever walk this Earth, we'll say the same thing we say to our friends who fall under the spell of that Bushwick-bartender-type good hair: Please don't go there.