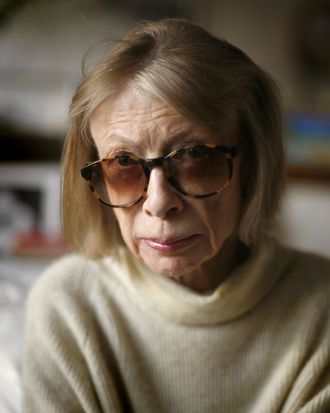 Photo: Aristide Economopoulos/Corbis
While certain corners of the internet have been freaking out about her appearance in the spring 2015 Céline ads, cool customer Joan Didion has been sailing on a smooth, untroubled sea. "I don't have any clue. I have no idea," she told the New York Times' Alexandra Jacobs when asked whether she was aware that people have been losing their minds. 
And on how the shoot came about, she responded plainly, "They got in touch with me." She did concede that she is a longtime Céline-wearer, and occasionally visits its Madison Avenue store — perhaps dangerous info to release to her fangirls. (Didion also reminded the reporter that this isn't her first time at this particular rodeo: She appeared in Gap ads in 1991.) While she has never been to a Céline show, she says simply, "I would love to." For the love of all that is holy, someone seat her next to Kanye, please.