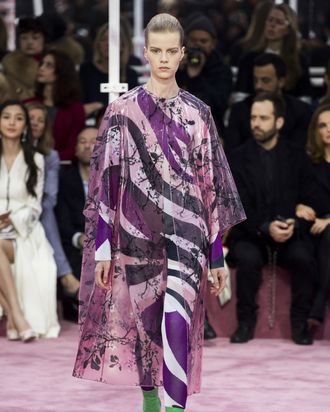 PARIS — Raf Simons took us back to the future yesterday at Dior, conjuring up the romance of the space race during the '60s and '70s (with a Bowie soundtrack to boot). In the show notes, he explained that he wanted to "express something that felt relevant for today, learnt from [the past] and [from the] point of view of now …" The result, while undeniably a retro redux, was striking and contemporary; or magnifique, which was certainly the word most overheard post-show.
He opened first with a series of '60s-inspired shift dresses, in guipure lace and encrusted with silver sequins, and vinyl upper-thigh high boots in bright orange and liquid black. Worn atop were printed plastic raincoats, which added an interesting play on texture and light.
Those ladylike Dior circle skirts had their cameo, of course, but this time they featured cutaways at the waist, allowing for a flash of skin. Most impressive was this silhouette as a skirt — fashioned with pleats and embroidered with strips of brightly colored ribbon. The tops were fitted and the upper panel of the skirt hugged the waist and hips. The look was less demure, and more dynamic.
While they divided many attendees, the trippy, knitted all-in-ones were a welcome and unexpected addition to a couture collection; a nod to the '70s (an overarching trend at the moment) and the sense of liberation associated with that epoch. As was a jailbird-striped sequin jumpsuit, which was pure Ziggy Stardust.